Honoured Posthumously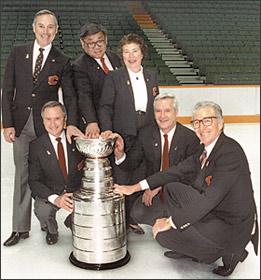 Doc Seaman was an original owner of the Calgary Flames and helped bring the Flames to Calgary.

Doc was born in Rouleau, Saskatchewan. He became one of Alberta's most successful oilmen and industrialists through his company, Bow Valley Industries, and many other ventures. He and his brothers, B.J. and Don Seaman, were among the first wave of adventurous oilmen who pioneered the industry after the Second World War. Doc's war record was itself remarkable; he flew eighty-two successful combat missions out of North Africa as a sub-hunting pilot, earning a Government of France citation for bravery.

An original Calgary Flames owner, Doc followed the team passionately to the end. Besides bringing the Flames to Calgary, he was a key player in building the Saddledome and bringing the 1988 Olympic Winter Games to Calgary.

A true hockey fan, Doc joined a small group of visionaries to save Canadian hockey from mediocrity at a time when the European game was becoming dominant. Canada's five straight junior hockey gold medal wins have their roots in Project 75, now called the Seaman-Hotchkiss Foundation. He was a strong supporter of Hockey Canada's grass root development programs as well as Hockey Hall of Fame's founding principals of "Entertainment, Education and Excellence".
Doc Seaman was a strong supporter of Hockey Canada's grass roots development program.

Some of Doc's many honours include:

1979 - Founding Governor of Hockey Canada Foundation
Member - 1980 Calgary Sports Advisory Committee
Honorary Life Member - The Association of Professional Engineers, Geologists and Geophysicist
1989 - Saskatchewan Oil & Gas Industry Hall of Fame
1993 - Officer, Order of Canada
1997 - Canadian Oilmen's Hall of Fame
2001 - Honorary Regent, Athol Murray College of Notre Dame
2007 - Alberta Sports Hall of Fame
2008 - Alberta Order of Excellence