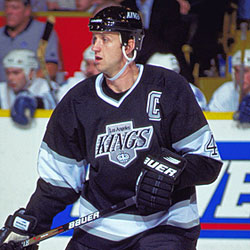 Rob Blake captured the James Norris Memorial trophy as NHL's top defenceman in 1998.

Born December 10, 1969 in Simcoe, Ontario, Rob Blake was starring in his freshman year at Bowling Green State University in the Central Collegiate Hockey Association (CCHA) when he was drafted 70th overall by the Los Angeles Kings in the 1988 NHL Entry Draft. Blake played three seasons with Bowling Green, earning CCHA and NCAA West First All-Star Team honours in 1990 as well as the award for Best Offensive Defenceman in the CCHA.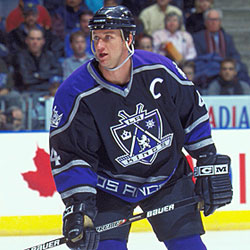 Blake played in three Olympic Winter Games for Canada, where he was named Best Defenceman in 1998 and won gold in 2002.

He turned professional with the Kings late in the 1989-90 season, joining an L.A. team that featured Wayne Gretzky. An offensive defenceman who was equally adept in his own end, Blake cherished the opportunity to join the rush when Gretzky had the puck, and in his first year he had 12 goals and 46 points from the back end. In his rookie season in 1990-91, Blake was named to the NHL's All-Rookie Team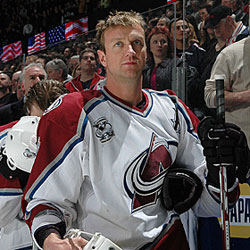 Blake was a member of Stanley Cup championship team with the Colorado Avalanche in 2001.

In his third season (1992-93), Blake played a key role in helping lead Los Angeles to the Stanley Cup final, although they were defeated by the Montreal Canadiens. The following season, he enjoyed a career-best 48 assists and 68 points. In 1995-96, Blake suffered an injury that restricted him to but six games. That same season, team captain Wayne Gretzky was traded to the St. Louis Blues, and Rob Blake was named captain; the Kings' eleventh in franchise history. Blake served as captain from 1996-97 to 2000-01. In 1997-98, he was awarded the Norris Trophy as the NHL's top defenceman. After eleven seasons in L.A., the Kings traded Blake to the Colorado Avalanche in February 2001.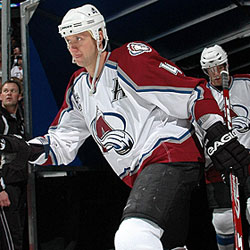 Blake is a member of the IIHF Triple Gold Club by virtue of winning the Stanley Cup, Olympic gold and World Championship gold.

In his first season in Colorado, Blake helped lead the Avalanche to the Stanley Cup championship; the first in team history. In 23 post-season games, Blake recorded an impressive 19 points, while providing a stable and physical defensive presence.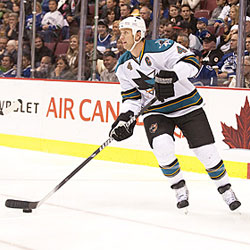 Blake appeared in the NHL All-Star game on seven occasions: 1994, 1999, 2000, 2001, 2002, 2003 and 2004.

His stay in Colorado lasted four seasons. During the summer of 2006, he re-joined the Los Angeles Kings as a free agent. He was once again named captain prior to the start of the 2007-08 season. His second tenure in Los Angeles would be short-lived, however. In summer of 2008, once again a free agent, Blake signed on to join the San Jose Sharks. Blake would spend his final two seasons with the Sharks and went on to wear the 'C' there, too. Rob Blake also participated in significant international action. He was a member of Team Canada in three consecutive Winter Olympics (1998, 2002 and 2006), winning Olympic gold in 2002 and earning top defenceman honours in 1998. He represented Canada at the World Championship on five occasions, taking home the gold medal in 1994 and 1997, and silver in 1991. He also added a silver medal at the World Cup tournament of 1996.

By virtue of winning the Stanley Cup championship and gold medals at the World Championship and Olympic Winter Games, Rob Blake became the eleventh member of the prestigious Triple Gold Club.

On June 18, 2010, Rob Blake announced his retirement. Through nineteen NHL seasons, Blake played 1,270 regular season contests, scoring 240 goals and 537 assists for 777 points, adding 1,679 penalty minutes. In 146 playoff games, he added 26 goals and 47 assists for 73 points. He also served 166 minutes in penalties. He was a First Team All-Star in 1997-98 and was named to the Second Team in 1999-2000, 2000-01 and 2010-02.




CAREER STATISTICS

REGULAR SEASON
PLAYOFFS
Season
Club
League
GP
G
A
TP
PIM
+/-
GP
G
A
TP
PIM
1985-86
Brantford Alexander B's
ON-Jr.B
39
3
13
16
43
1986-87
Stratford Cullitons
ON-Jr.B
31
11
20
31
115
1987-88
Bowling Green University
CCHA
43
5
8
13
88
1988-89
Bowling Green University
CCHA
46
11
21
32
140
1989-90
Bowling Green University
CCHA
42
23
36
59
140
1989-90
Los Angeles Kings
NHL
4
0
0
0
4
0
8
1
3
4
4
1990-91
Los Angeles Kings
NHL
75
12
34
46
125
+3
12
1
4
5
26
1990-91
Canada
WEC-A
2
0
2
2
0
1991-92
Los Angeles Kings
NHL
57
7
13
20
102
-5
6
2
1
3
12
1992-93
Los Angeles Kings
NHL
76
16
43
59
152
+18
23
4
6
10
46
1993-94
Los Angeles Kings
NHL
84
20
48
68
137
-7
1993-94
Canada
WC-A
8
0
2
2
6
1994-95
Los Angeles Kings
NHL
24
4
7
11
38
-16
1995-96
Los Angeles Kings
NHL
6
1
2
3
8
0
1996-97
Canada
W-Cup
4
0
1
1
0
1996-97
Los Angeles Kings
NHL
62
8
23
31
82
-28
1996-97
Canada
WC-A
11
2
2
4
22
1997-98
Los Angeles Kings
NHL
81
23
27
50
94
-3
4
0
0
0
6
1997-98
Canada
Olympics
6
1
1
2
2
1997-98
Canada
WC-A
5
1
0
1
6
1998-99
Los Angeles Kings
NHL
62
12
23
35
128
-7
1998-99
Canada
WC-A
10
2
5
7
12
1999-00
Los Angeles Kings
NHL
77
18
39
57
112
+10
4
0
2
2
4
2000-01
Los Angeles Kings
NHL
54
17
32
49
69
-8
2000-01
Colorado Avalanche
NHL
13
2
8
10
8
+11
23
6
13
19
16
2001-02
Colorado Avalanche
NHL
75
16
40
56
58
+16
20
6
6
12
16
2001-02
Canada
Olympics
6
1
2
3
2
+2
2002-03
Colorado Avalanche
NHL
79
17
28
45
57
+20
7
1
2
3
8
2003-04
Colorado Avalanche
NHL
74
13
33
46
61
+6
9
0
5
5
6
2004-05
Canada
W-Cup
2004-05
2005-06
Colorado Avalanche
NHL
81
14
37
51
94
+2
9
3
1
4
8
2005-06
Canada
Olympics
6
0
1
1
2
0
2006-07
Los Angeles Kings
NHL
72
14
20
34
82
-26
2007-08
Los Angeles Kings
NHL
71
9
22
31
98
-19
2008-09
San Jose Sharks
NHL
73
10
35
45
110
+15
6
1
3
4
4
2009-10
San Jose Sharks
NHL
70
7
23
30
60
+14
15
1
1
2
10
NHL Totals
1270
240
537
777
1679
146
26
47
73
166