HAGGAR HOCKEY HALL OF FAME LEGENDS CLASSIC
TEAM BELFOUR VS TEAM FUHR
Sunday, November 11, 2018 at 3:00pm
Scotiabank Arena (formerly Air Canada Centre), Toronto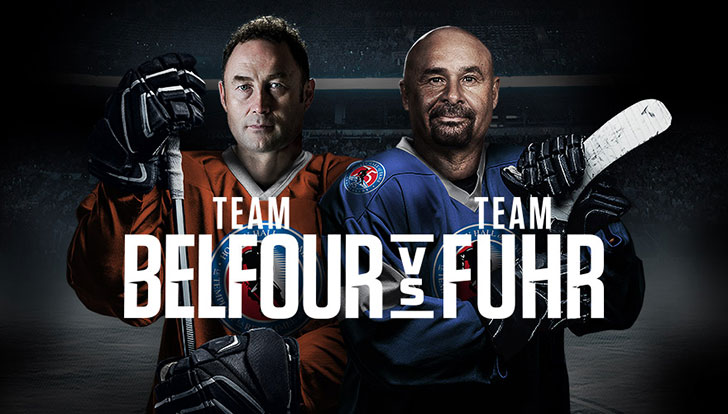 Highlighting the Sunday afternoon schedule of the 2018 Hockey Hall of Fame Induction Weekend Celebration.

Legends Ed Belfour and Grant Fuhr trade in their goalie pads to skate alongside an unparalleled line-up of Hall of Famers and hockey all-stars, spotlighting this year's Class of Inductees — Bettman, Brodeur, Hefford, O'Ree, St. Louis and Yakushev.

PRE-GAME CEREMONY
Witness hockey history as the Induction Class of 2018 will receive their Official Honoured Members Blazers at centre ice.

FREE SOUVENIR PROGRAM
Upon entry to the game, each ticketholder will receive a complimentary souvenir collectible program.

LEGENDS SCHEDULED TO APPEAR
Ed Belfour "C" (HHOF 2011), Grant Fuhr "C" (HHOF 2003), Dino Ciccarelli (HHOF 2010), Doug Gilmour (HHOF 2011), Dale Hawerchuk (HHOF 2001), Angela James (HHOF 2010), Larry Murphy (HHOF 2004), Scott Stevens (HHOF 2007), Wendel Clark, Gary Leeman and Jeremy Roenick.

Stay tuned as full rosters are confirmed. Tickets on sale July 19, 2018.