---

1998 Inductees, Player Category

---
Peter Stastny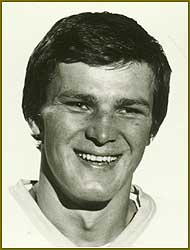 Peter Stastny was one of the game's most respected centermen in a record setting era dominated by Wayne Gretzky. The European-trained forward was a craftsman with the puck. Blessed with excellent skating skills, tremendous balance and uncanny anticipation skills, Stastny made a regular habit of making deft plays and leaving the opposition standing in their tracks.

Peter Stastny was born on September 18, 1956 in Bratislava, Czechoslovakia. He starred for HC Slovan Bratislava from 1973-74 to 1979-80 winning the championship in 1978-79. He was the Czechoslovakian league Player-of-the-Year in 1979-80.

In 1980, Peter defected from Czechoslovakia to pursue a career in the National Hockey League. On August 26, 1980 he signed with the NHL's Quebec Nordiques. Success was immediate as he was rewarded with the 1981 Calder Memorial Trophy as the NHL's Rookie-of-the-Year. That season he set league records for most assists (70) and most points (109) by a first year player. He topped the 100-point plateau in his first six seasons adding another during a fifteen year NHL career that also included seasons with New Jersey and St. Louis. Named captain of the Nordiques from 1985-86 to 1989-90, his point totals in the 1980's were topped only by Wayne Gretzky. In all, Stastny recorded 450 goals and 789 assists for 1,239 points in 977 regular season games. He added 33 goals and 72 assists for 105 points in 93 playoff games. Upon his retirement, he was the highest-scoring European-born and trained player in NHL history and the first 1,000 point man. Peter also played in the NHL's All-Star Game six times between 1981 amd 1988.

At international tournaments, Stastny was a natural choice for the Czechoslovakian National Team. He participated at the 1975 and 1976 World Junior Championships and later helped the senior national team win the 1976 and 1977 World and European Championships followed by a silver medal finish in 1978 and 1979. He also competed at the 1976 Canada Cup when the Czechoslovakian National Team finished second to Canada. Stastny enjoyed personal success at the 1980 Lake Placid Olympics finishing second in scoring with fourteen points. Peter's international colours changed when he became a Canadian citizen on April 2, 1984. That fall he participated with Team Canada at the 1984 Canada Cup tournament. A decade later he was able to join the Slovakian National Team prior to the 1993-94 season for an Olympic Qualification Tournament in Sheffield, England. He rejoined the team as a member of Slovan Bratislava in early November to play at Telehockeycup in Norway. He played at the 1994 Lillehammer Olympics and the 1995 World Championship (Pool B) as a member of the Slovakian National Team.