---

1998 Inductees, Builder Category

---
Monsignor Athol "Pere" Murray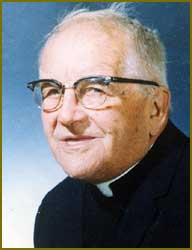 Monsignor Athol Murray blessed the many people whose lives he touched with unbreakable determination, intelligence, high ideals and an unwavering belief in God. The Athol Murray College of Notre Dame in Wilcox, Saskatchewan has become a famous educational institution, combining academic and athletic pursuits in the heartland of the Canadian prairies.

Athol "Pere" Murray was born on January 9, 1892 in Toronto, Ontario, Canada. He was educated at Montreal's Loyola College, Toronto's St. Michael's College, St. Hyacinthe College in Quebec and Laval University. It was during the time he was studying law at Toronto's Osgoode Hall that he read the words of St. Augustine. The latter made a great impact that would affect the rest of his life. He entered Toronto's St. Augustine's Seminary being ordained in 1918 and was sent to Regina, Saskatchewan in 1922 on loan from the Diocese of Toronto. One of his initial projects was starting an athletic club for boys. Five years later he was appointed to St. Augustine's parish in Wilcox. "Pere" Murray provided teaching and coaching lessons to help shape the lives of the many youths that attended Notre Dame College. He challenged young minds with academics and provided opportunity through sport to maintain a balanced curriculum.

Quoted in the Calgary Albertan in 1944, "Pere" Murray had a clear vision for the future of the game. "Young hockey players can look forward to a lucrative future in the sport. Not only in England, but all Europe as well as the United States will soon be clamoring for hockey." he said. "They'll want our players. Get those hangars turned into rinks and build up the juniors and we'll have the players to send."

More than one hundred "Hounds" have been drafted by the NHL, including Vincent Lecavalier, the number one selection at the 1998 NHL Entry Draft as well as Rod Brind 'Amour, Wendel Clark and Curtis Joseph. A large number of alumni have also received NCAA Division I scholarships.

Athol Murray was the recipient of our countries highest honour, the Order of Canada, in 1968. He was inducted into Canada's Sports Hall of Fame in 1972. He passed away on December 15, 1975. Notre Dame College was officially renamed Athol Murray College of Notre Dame on May 19, 1981.