---

1998 Inductees, Foster Hewitt Memorial Award

---
Howie Meeker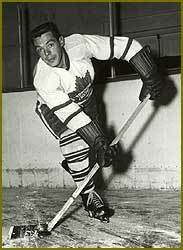 Howie Meeker, former Calder Memorial Trophy winner for the Toronto Maple Leafs, former MP for the Conservative Party in the early 1950's and long time hockey broadcaster is the recipient of the 1998 Foster Hewitt Memorial Award as voted by his fellow broadcasters.

Howie Meeker was born in Kitchener, Ontario on November 4, 1924. His goal like most Canadian boys growing up was to play in the National Hockey League. Meeker's path, although he did play in the NHL, took a turn or two before and after his playing days. Even though Howie had been recruited by Hap Day for the Toronto Maple Leafs while finishing his junior "B' career in Stratford, he decided his country was far more important than hockey. At the tender age of 18, Howie enlisted in the Canadian Armed Forces. Three years later he returned from overseas and decided to again pursue his dream - the Toronto Maple Leafs. In the 1946-47 season, Meeker captured the Calder Memorial Trophy as NHL rookie of the year. In addiiton, Meeker performed the unthinkable that year, scoring five goals in one game.

Unfortunately for Howie, a back injury ended his career in 1953, but not before he established some roots throughout the hockey world. Meeker began a second career in hockey, as a hockey school instructor, sports director for radio and one of the familiar voices on Hockey Night in Canada on CBC and later with TSN.

"According to Howie, "I never really had any skill being a broadcaster, I really didn't have any business on television. I didn't have one of those syrupy voices." Maybe not, but Meeker had a wealth of knowledge and, better yet, his unbridled enthusiasm for a sport he played coached and preached." From his great one liners, to his genuine care for the game from a learning point of view, Howie Meeker has given back to hockey everything he has gained. A 30-year career in broadcasting came to end in 1998, as a special ceremony was held in Vancouver before a Canucks/Flames game to honour one of hockey's true legends.

Howie Meeker, the 1998 recipient of the Foster Hewitt Memorial Award as selected by the NHL Broadcasters' Association.