---

1998 Inductees, Elmer Ferguson Memorial Award

---
Yvon Pedneault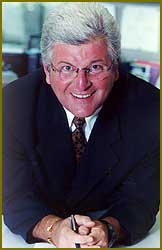 Yvon Pedneault's aspiration to become a sports journalist commenced in small town Chicoutimi, Quebec. He joined the local newspaper in 1965 as the bowling writer and within one year Pedneault was the sports editor of the weekly paper, "Progres-Dimanche".

In 1965, Pedneault relocated offices 300 miles to the south in Montreal, Quebec, being hired by another Elmer Ferguson Honouree, the late Jacques Beauchamp. Working with the "Montreal Matin" newspaper, Pedneault was able to cover his favourite sport, hockey. He was responsible for reporting both the Montreal Junior Canadiens and their parent club, the senior Canadiens, as well as the local horse racing scene.

Pedneault also toiled for Montreal's two other daily newspapers during his career. "La Presse" on one occasion, where he again followed the NHL's Canadiens and "Le Journal de Montreal", on two separate instances, the first as a hockey writer and the second as their sports editor. Along with Pedneault's work as a reporter, he has also worked with four separate television stations in the Montreal area; CBC French, TVA, TQS and RDS. At each station he was one of the primary correspondents that covered the Habs. It is believed that Pedneault is the only person to work full-time for all three Montreal daily papers, as well as every television station that has carried Montreal Canadiens games.

Pedneault also spent a short stint as the General Manager of a team in the Quebec Major Junior Hockey League, acquiring a keen knowledge of hockey that helped produce educated articles on both the game and its players. Finally, he conducted a radio hot-line show for a few years with Quebec's oldest radio station, CKAC. Currently Pedneault is the colour commentator for hockey games on RDS (Reseau-des-Sports), TSN's French sister station in Quebec.

Yvon Pedneault, the 1998 recipient of the Elmer Ferguson Memorial Award as selected by the Professional Hockey Writers' Association.