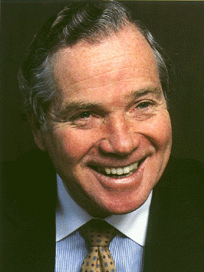 Builder Category
Born and educated in Montreal, Quebec, Ian "Scotty" Morrison played junior hockey with the Montreal Canadiens organization, in the era of Dickie Moore, Jean Beliveau and Boom Boom Geoffrion.

When he finished playing junior hockey, Scotty turned to officiating, starting in the Q.A.H.A., then moving up to the Quebec Senior League. In 1952 he was signed by the Western Hockey League and two years later NHL Referee-In-Chief, Carl Voss, signed him to an NHL contract. At 24 years of age, he became the youngest referee to work in the NHL at that time.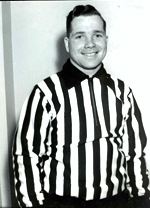 After two years, Scotty decided the sales and marketing field had more appeal and he moved back to Vancouver, B.C. He started in sales with Goodyear Special Products, then to Yardley of London, and continued to officiate in the WHL. He had the B.C. territory for five years. In 1964 he returned to Toronto as Canadian Sales Supervisor for Yardley.
In June 1965, Scotty was appointed NHL Referee-in-Chief, replacing Carl Voss, who had retired that spring. In 1981 he was made an Officer of the League, and named Vice President, Officiating.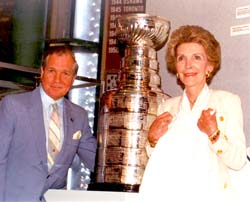 In 1986, NHL President John Ziegler appointed Scotty to the position of Vice President, Project Development and President, Hockey Hall of Fame. In this new position, Scotty was responsible for finding a future site for the Hall and the development of a new Hockey Hall of Fame.
In October 1991, Scotty was named Chairman and Chief Executive Officer of the Hockey Hall of Fame. The new 50,000 square foot facility located in BCE Place, (corner of Yonge and Front Streets, Toronto) opened June 18, 1993.
Morrison is an integral part of the Museum/Archives world, being President of both the Canadian Association of Sports Heritage (C.A.S.H.) and the International Association of Sports Museums and Hall of Fames (IAMSHF). He has assisted Museums of all sizes and shapes in establishing their roots within their communities.
Scotty officially retired as Chairman, Board of Directors, Hockey Hall of Fame on July 31, 1998.