Fondest Memories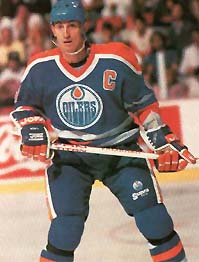 Q: "What trophy do you cherish most?"
A: " My first. Wally Barber presented the trophy to the team. I think that at that age you never think you are ever going to win anything. I felt like I had just won the Stanley Cup." (more info)
Q: " If you had to rank them, what would your five most memorable goals be?"
A: "My most memorable goal would have to be the overtime winner against the Flames in the 1988 Smyth division final." The goal won game two for the Oilers, who went on to sweep Calgary and then defeat Boston in the final to capture the Cup.
"Number two would be my fifth goal on December 30, 1981." The goal gave Wayne fifty goals in 39 games.
"When I scored goal number 77 in 1982 against Buffalo is number three." The goal broke Phil Esposito's single season scoring record of 76. Gretzky went on to record goals number 78, and 79 in the same game.
"Number four came in 1994 against Vancouver." It was goal number 802 which made Wayne the NHL's all time leading scorer. " It was the most significant goal of my career."
"My first ever goal in the NHL, October 14, 1979, rounds out the list of my top five."
Q: "And your five most memorable games would be?"
A: "The most memorable game would be Game 2 versus the Soviet Union in the 1987 Canada Cup." Gretzky set up five goals that day. "The level of competition and the amount of skill on the ice made it the best game I have ever played."
"Number two would be Game 7 of the 1993 conference finals against the Maple Leafs." Gretzky scored his eighth career playoff hat trick and almost single handedly broke the hearts of Leaf fans everywhere. "The best NHL game I ever played."
"Number three…My best game as an Oiler, Game 3 of the 1985 Stanley Cup, in Edmonton versus Philadelphia." Gretzky scored a natural hat trick.
"Game 5 of the 1984 Stanley Cup final would be number four." The Oilers won the Cup in five games, defeating the four-time Cup champion, New York Islanders.
"My first NHL game, in Chicago, Oct. 10, 1979, was my fifth most memorable game." The Oilers lost 4-2 and Gretzky recorded one assist.
For a complete list of Gretzky's goal and game highlights, check out our Records and Rankings section.
Q: " What goalie would you least want to face in game seven of a Stanley Cup final?
A: "Billy Smith."