Get hands-on access to the Stanley Cup and immerse yourself into the rich history of hockey's greatest treasure.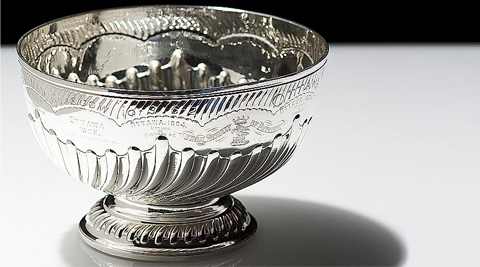 Original Stanley Cup
On March 18, 1892, Lord Stanley of Preston delivered a statement in which he committed to donate a trophy that would be competed for by Canadian hockey teams. Little did he realize just how powerful and magical his gift to the game would prove to be.
See the Dominion Hockey Challenge Cup, aka the original Stanley Cup, that was first awarded to the Montreal AAA on May 15, 1893 - exclusively on display in the bank vault at the Hockey Hall of Fame.
Photo Op with Hockey's Holy Grail
Get up close and personal with the Stanley Cup. No visit is complete unless you've had your photo taken with hockey's most coveted trophy.
The Stanley Cup makes its permanent home within the Esso Great Hall at the Hockey Hall of Fame. This cathedral to the icons of hockey is home to every major NHL trophy, portraits and biographical sketches of each Hockey Hall of Fame Honoured Member, and is the highlight of any visit to the Hockey Hall of Fame.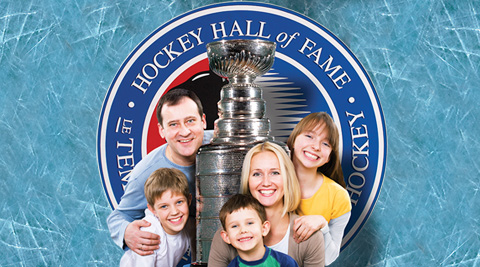 Lord Stanley's Vault, Revamped!
Hockey fans are now given a new way to experience the history and traditions of the Cup: "After a year of new and fascinating discoveries from the Stanley Cup's storied past, the Hockey Hall of Fame's curatorial team is proud to present our newest exhibit, Lord Stanley's Vault," tells Scott Veber, Creative Director and Curatorial Assistant. "The Stanley Cup's more than 125-year journey is brought to life as Canada's most iconic artifact, the original Stanley Cup Bowl donated by Lord Stanley himself in 1893, takes centre stage."
This is the first time the original bowl will be exhibited alongside Stanley Cup championship rings, while the removed and retired bands return to the Vault with a new timeline on the different shapes the Cup has taken. The walls are filled with the history of the Cup, and Lord Stanley's Vault is a must see for any hockey fan.
Priceless Treasures
A collection of rarely displayed artifacts including:
Stanley Cup pucks dating back to 1901;
rings, watches, and miniature Cups awarded to Stanley Cup champions;
turn-of-the-19th century commemoratives on Lord Stanley;
pre-NHL Stanley Cup memorabilia; and tools used to craft and engrave the trophy.
Complement your visit with the Hockey Hall of Fame's Personalized Tour App. Download now.