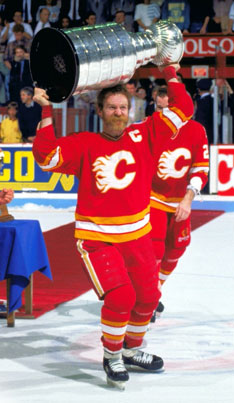 HHOF VIP SERIES – STANLEY CUP EDITION
Saturday, June 24th, 2017 2:00pm – 3:00pm
Exclusive Q&A fan forum featuring Lanny McDonald, Honoured Member and Stanley Cup Champion. McDonald will share stories of his NHL career playoff runs including his Game 7 overtime goal that eliminated the New York Islanders and sent the Toronto Maple Leafs to the 1978 Stanley Cup semi-finals and his Hollywood scripted, final NHL season when he helped the Calgary Flames capture the Stanley Cup in 1989.
Past VIP Series with Wendel Clark & Mike Gartner
Hold historic artifacts - white gloves and all – from iconic NHL Stanley Cup Playoff moments including:
Lanny McDonald's 1979 Toronto Maple Leafs Jersey
Sidney Crosby's socks & helmet worn during 2016 Stanley Cup Final
Each HHOF Saturday Series VIP Event Package includes -
One (1) Reserved access ticket to the HHOF Saturday Series Q&A Fan Forum featuring Lanny McDonald— 2:00pm – 3:00pm†

One (1) Limited Edition 8x10 Print, autographed by Lanny McDonald.

Exclusive hands-on access to historic artifacts – white gloves included!

Private group access to the Stanley Cup

One (1) Hockey Hall of Fame Admission Pass††

PAST HHOF VIP SERIES HIGHLIGHTS
Wendel Clark - Jan. 7th, 2017
Mike Gartner - Feb. 11th 2017



"Great day from beginning to end!
Wendel was entertaining
friendly and motivating. It was
a pleasure to be in his company
for the hour. Getting a picture
was an added bonus!
The historical Leafs exhibits
were awesome as well.
Couldn't have asked for a better day!"
— Alicia D.
"Great time hearing Wendel Clark talk
about his life, both inside
and outside of hockey. I was able
to bring my father, and he
hasn't stopped talking about
how great it was to meet
a living legend like Wendel.
It was a great day in every aspect,
one I won't soon forget!"
— John V.

"My dad and I watched
Hockey Night in Canada on Saturday
nights for all of my childhood.
He is now 80 and I am 51
... this was a gift I surprised him
with at Christmas.
We had a great time listening
to the "locker room stories" of the fun
Clark and Gilmour and other
Leafs of that era had together.
Wendel was candid, relaxed,
personable and engaging...
made it feel like he was sitting
in your living room.
A great day together with my dad
that we will reflect on for years to come."
— Melinda W.

"Very well done and would do this again
in a heartbeat. Mike Gartner was a class
act and my 8 year old son will not stop
talking about this event!"
— Stewart L.



"I had a wonderful time! A very well organized,
and professional event. I'm very happy my
son had such a great experience."
— Peter W.

"The VIP series is an amazing chance
to hear great stories and personal
insights on Hall of Famers, and to ask
them questions in a very up close environment.
I'm glad they kept the numbers small as
to add to the quiet personal experience,
my 2 young boys loved it!!"
— Isabel R.

"Meeting Mr. Clark was an
awesome experience.
As a medic in the Canadian Forces (retired)
it was great to meet one of my heroes
and thank him personally
for the entertainment
that kept us sane while overseas
and away from home."
— Stewart L.
A limited number of HHOF VIP Series packages are available. A maximum of 8 VIP Series packages per person.
†To claim your reserved access ticket to the HHOF VIP Series Q&A Fan Forum, you must arrive no later than 1:30pm on the designated date.
††Admission pass valid for day of event