Team Canada '72 was honoured at the Hockey Hall of Fame as the greatest team of the 20th Century. On hand were virtually every player from the team, from Paul Henderson and the Esposito brothers to Yvan Cournoyer, Pat Stapleton and Bill White.

At a formal ceremony in the Verizon Great Hall, emcee Dick Irvin introduced the members of the team, first of whom was coach Harry Sinden who coined the term "Team Canada" as a way of uniting both players and country. Michael Burgess sang O Canada and then Henderson talked about how fortunate he felt first to have been invited to training camp and then to be able to elevate his game, scoring three successive game-winning goals. Esposito acknowledged the presence of Gary Bergman's children, and himself conveyed his sympathies for Bergman who was too ill to attend (the family of the late Bill Goldsworthy was also in attendance).
The players then walked out to Front St. for the formal unveiling of the sculpture in the rain, reminiscent of their deplaning in wet Moscow in September '72.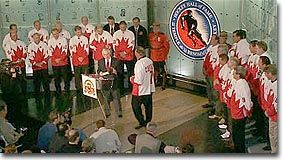 To cheers of: "Nyet Nyet, Soviet, Da Da Canada," the players greeted the many fans and conducted formal and informal photo ops. The sculpture, sponsored by the Royal Canadian Mint, was inspired by Team Canada's being named team of the century in a poll conducted by Canadian Press in December 1999.
Throughout the remainder of the afternoon, the players participated in a series of Fan Forums in the Hall of Fame. Members of Team Canada '72 were honoured in the evening's gala tribute with miniature statues of the monument.