8 APRIL 2014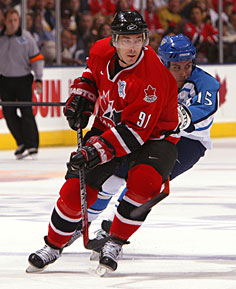 Canada's Joe Sakic and Finland's Tuomo Ruutu battle during the 2004 World Cup of Hockey Championship game. (Dave Sandford/Getty Images/Hockey Hall of Fame)

The first World Cup of Hockey tournament was held in 1996, and it would be eight years before the next was held. Wayne Gretzky was designated executive director of Team Canada at the World Cup in 2004. Surrounding himself with experienced advisors, he selected a team that was astonishingly young.

In goal, the choices were Ed Belfour, Martin Brodeur and Roberto Luongo. When Belfour was forced to withdraw with an injury, Jose Theodore was selected to replace him.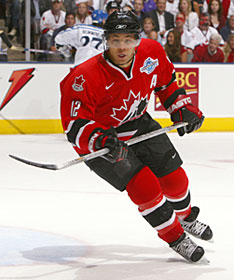 Canada's Jarome Iginla skates during the 2004 World Cup of Hockey Championship game against Finland. (Dave Sandford/Getty Images/Hockey Hall of Fame)

The defence corps included Rob Blake, Eric Brewer, Adam Foote, Ed Jovanovski, Scott Niedermayer, Chris Pronger, Wade Redden and Robyn Regehr. Both Rob Blake and Chris Pronger suffered injuries prior to the tournament and were replaced by Scott Hannan and Jay Bouwmeester. Brewer, Foote, Jovanovski and Niedermayer were all part of Canada's Olympic gold championship in Salt Lake City in 2002.

Forwards named were Shane Doan, Kris Draper, Simon Gagne, Dany Heatley, Jarome Iginla, Mario Lemieux, Kirk Maltby, Patrick Marleau, Brenden Morrow, Brad Richards, Joe Sakic, Ryan Smyth, Martin St. Louis, Joe Thornton and Steve Yzerman, who suffered an injury and was replaced by Vincent Lecavalier. Gagne, Iginla, Lemieux, Sakic and Smyth were the sole holdovers from the 2002 Winter Olympics. It was a young lineup, with just four forwards over the age of 30. Pat Quinn was chosen as head coach of the Canadian team.

Four of five goal pucks used during the 2004 World Cup of Hockey Championship game between Canada and Finland. Canada defeated Finland 3-2 in the Championship game. (Hockey Hall of Fame)

The North American Pool consisted of Canada, the United States, Russia and Slovakia, with games played in Toronto, Ontario, Montreal, Quebec and St. Paul, Minnesota. Canada went undefeated, beating the United States 2-1, Slovakia 5-1 and Russia 3-1. The Czech Republic, Finland, Germany and Sweden made up the European Pool, and contests were played in Prague, Czech Republic, Helsinki, Finland, Cologne, Germany and Stockholm Sweden. Finland emerged from that round-robin with a 2-1 record.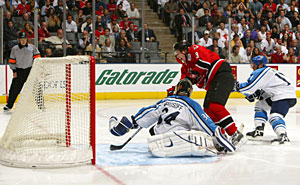 Canada's Shane Doan scores the game-winning goal against Finland's Miikka Kiprusoff during the third period of the 2004 World Cup of Hockey Championship game. (Photo By Dave Sandford/Getty Images/Hockey Hall of Fame)

The quarter-finals saw Finland edge Germany 2-1, the United States outscore Russia 5-3, the Czech Republic dust Sweden 6-1 and Canada blank Slovakia 5-0.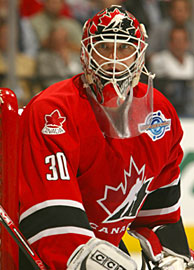 Canada's Martin Brodeur looks on during the 2004 World Cup of Hockey Championship game against Finland. (Dave Sandford/Getty Images/Hockey Hall of Fame)

In the semi-finals, Finland doubled the USA 2-1 and Canada edged the Czechs by a 4-3 count, setting up the championship game between Finland and Canada.

The game, played September 14, 2004, was played at Toronto's Air Canada Centre. Joe Sakic, Scott Niedermayer and Shane Doan, with the game-winner, scored for Canada. Finland's goals were scored by Mikko Floranta and Tuomo Ruutu. While the game was close, once Canada took the 3-2 lead on Doan's goal, the Canadians nursed the lead by smothering the Finnish attack.

The win further established Canada's dominance at international events. They took gold at the Winter Olympics in 2002, the World Championship in 2003 and 2004 and the World Cup of Hockey Championship. But with the showing of teams like Finland, it was clear that the playing field was levelling, as would soon be proven on the international stage.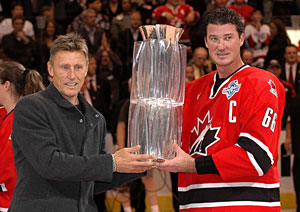 Canada's Mario Lemieux accepts the 2004 World Cup of Hockey Championship trophy from Borje Salming after a 3-2 victory over Finland in the Championship game. (Matthew Manor/Hockey Hall of Fame)

After the championship game concluded, individual awards were presented. Vincent Lecavalier of Canada was named the Player of the Tournament. He scored twice and had five assists in the six Canadian contests. The All-Tournament Team included Martin Brodeur of Canada in goal, Adam Foote of Canada and Kimmo Timonen of Finland on defence and forwards Vincent Lecavalier, Saku Koivu of Finland and tournament scoring leader Fredrik Modin of Sweden. Modin scored four goals and four assists in four games for Sweden.

Wayne Gretzky took particular pride in Canada's victory, believing that the mix of veterans mentoring younger players was key to the success, and boded well for Canada's future in international hockey. "All those kids who stepped in did an incredible job and I was saying I have been around these teams for as long time and I don't think I have ever been around a group that has been more focused and loved to play hockey," he said. "Nothing bothered them and nobody ever complained. It was a great group to be around."

Each of the players was immensely proud to play for his country, but Canada's Jarome Iginla articulated his pride. "I look back and every time (I have played for my country), it has been so exciting and such a thrill! The big part of it is you are playing with guys you are used to battling against (in the NHL) and all of a sudden, you are playing with them. And as Canadians, we are trying to carry on a tradition."

Kevin Shea is the Editor of Publications and Online Features for the Hockey Hall of Fame.