19 FEBRUARY 2013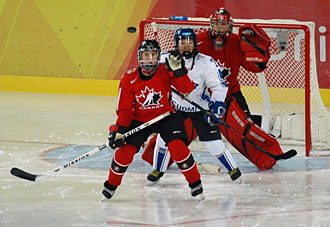 Game action between Canada and Finland at the 2006 Olympic Winter Games in Turin, Italy. (Photo by Hockey Hall of Fame)

Women's hockey was introduced to Olympic competition for the first time in 1998 at Nagano, Japan. That year, the final saw the United States and Canada compete for Olympic gold. It was Team USA that emerged as the victors, with Canada accepting a silver medal.

What became clear very quickly was that Canada and the United States were the elite amongst women's hockey hopefuls. The two teams met again for Olympic gold at Salt Lake City in 2002, and this time, it was Team Canada that skated away with the gold medal.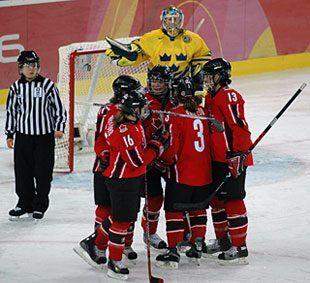 Canadian players celebrating after a goal against Sweden in the gold medal game at the 2006 Olympic Winter Games in Turin, Italy. (Photo by Hockey Hall of Fame)

Once again, it was expected that Canada and the United States would face each other for Olympic gold in 2006, but there was still a tournament to go through before the medals were to be presented.

Team Canada was comprised largely of veterans who had been part of the club in 2002 and 1998. Thirteen members of the team already had Olympic gold medals from Salt Lake City, while seven members of the 2006 team had also participated in that pioneering 1998 Olympic tournament.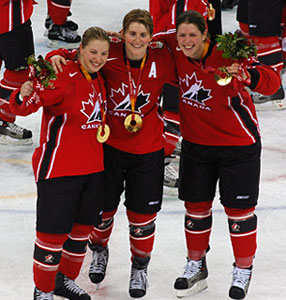 Canada's Sherie Piper, Haley Wickenheiser and Gillian Apps celebrating with their gold medals after a 4-1 win over Sweden in the gold medal game at the 2006 Olympic Winter Games in Turin, Italy. (Photo by Hockey Hall of Fame)

The 2006 Olympic Winter Games Women's hockey tournament included eight teams that were divided into two groups. Canada, Italy, Russia and Sweden were in Group A, while Finland, Germany, Switzerland and the United States were in Group B. In the preliminary round, each team played the others in their group once. Then, the top two teams from each group advanced to the playoff round, which consisted of two semi-finals that then led to the bronze and the gold medal games.

Canada rolled through the preliminary round, convincingly beating Italy, Russia and Sweden by a combined score of 36- 1.

Canada advanced to the gold medal final by shutting out Finland by a 6-0 count. But Sweden stunned Team USA by edging them 3-2 in a shoot-out. It was the first time that Sweden had defeated the United States in the history of women's hockey, and would be the first time since that inaugural tournament in 1998 that Team USA would not compete against Canada for Olympic gold.

The Olympic final was set for February 20. The veteran Canadian line-up came out charging, out-shooting Sweden 11 to 2 in the first period, and by the time the buzzer sounded to end the first frame, Team Canada sat atop a 2-0 lead on goals from Gillian Apps and Caroline Ouellette.

Canada again rained shot after shot at Sweden in the second, outshooting their opponents 11 to 3. Cherie Piper and Jayna Hefford both found the back of the net to put Canada up 4-0 going into the third.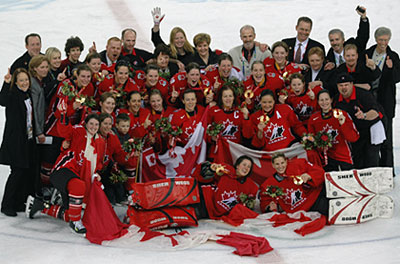 Canadian players celebrating a gold medal win over Sweden at the 2006 Olympic Winter Games in Turin, Italy. (Photo by Hockey Hall of Fame)

Sweden rebounded with a powerplay goal in the third but that was as close as they got. The final score showed Canada with a 4-1 victory...and the Olympic gold medal! "This is beautiful and just a great team effort," exclaimed Cassie Campbell, the team captain. Sweden, of course, earned the silver and with a 4-0 win over Finland, Team USA collected the bronze medal.

Canada went through the Olympic Winter Games scoring 46 goals and surrendering just two. They barraged their opponents with 222 shots, facing just 55 in return. "We had four lines that could score against any country," she stated. "We were prepared and as well-coached as any team I've been on. I'm very proud of this team."

Hayley Wickenheiser led the Winter Games in scoring with 5 goals and 12 assists for 17 points. She was selected as the tournament's Most Valuable Player, as well as Best Forward. Sweden's plucky Kim Martin was named Best Goaltender and Angela Ruggiero of the United States was chosen as Best Defenceman. The Media All-Star Team was comprised of Martin of Sweden in goal, Ruggiero of Team USA on defence along with Canada's Carla MacLeod and at forward, it was Wickenheiser and Apps from Canada joined by Maria Rooth of Sweden.

Well-balanced and strong from front to back, Team Canada's 2006 Olympic entry can arguably be regarded as the strongest women's team assembled to date.

Kevin Shea is the Editor of Publications and Online Features for the Hockey Hall of Fame.