5 FEBRUARY 2013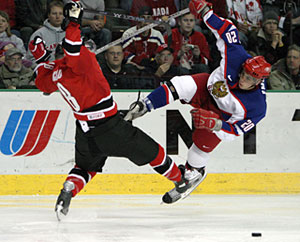 Canada's Mike Richards collides with Russia's Alexei Emelin during gold medal game action at the 2005 World Junior Championship in Fargo, North Dakota.
(Photo by Josh Holmberg/Hockey Hall of Fame)

Even without the benefit of hindsight, the World Junior team fielded by Canada in 2005 was extraordinary. In fact, this squad is arguably the finest collection of juniors ever assembled to compete internationally at the World Junior Championship.

The tournament itself was held between December 25, 2004 and January 4, 2005 at the Ralph Engelstad Arena in Grand Forks, North Dakota, and the same-named arena in Thief River Falls, Minnesota.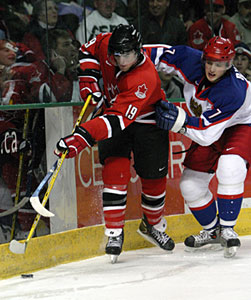 Canada's Andrew Ladd battles for the puck with Russia's Yakov Rylov during gold medal game action at the 2005 World Junior Championship in Fargo, North Dakota. (Photo by Josh Holmberg/Hockey Hall of Fame)

While the games were played in the United States, it was very much like a tournament played at home for Team Canada, as the arenas were not far from the Canadian border, allowing a strong contingent of Canadians to attend contests featuring the team from their homeland.

Brent Sutter was named coach of the team of teenagers, most of whom were born in 1985. The only exceptions were defenceman Cam Barker (1986) and a forward named Sidney Crosby (1987).

Canada competed in Group B, a section that also included Sweden, Finland, Slovakia and Germany.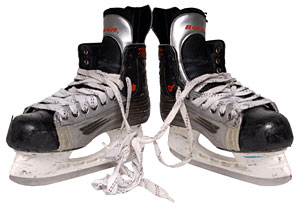 Skates worn by Canada's Jeff Carter during the 2005 World Junior Championship.

The first contest took place against Slovakia on Christmas Day, and Team Canada unwrapped a 7-3 win, with Crosby, Patrice Bergeron and Clark MacArthur each potting two goals and Jeff Carter adding a single. While other games played that day attracted fewer than a thousand fans, this first game announced attendance of more than 7,500.

Two days later, Canada handed Sweden an 8-1 shellacking. Crosby again scored twice, with Bergeron, Carter, MacArthur, Nigel Dawes, Ryan Getzlaf and Andrew Ladd also contributing a goal each. Almost 11,000 witnessed the win.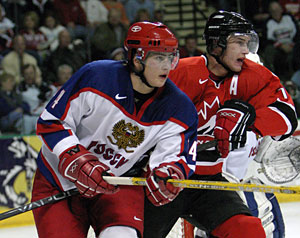 Canada's Jeff Carter battles with Russia's Dmitri Megalinski during gold medal game action at the 2005 World Junior Championship in Fargo, North Dakota.
(Photo by Josh Holmberg/Hockey Hall of Fame)

On December 28, Canada shut out the overmatched German team 9-0. Sidney again scored twice, as did Anthony Stewart. Singles went to Cam Barker, Colin Fraser, Ryan Getzlaf, Andrew Ladd and Clark MacArthur.

Team Canada completed the sweep of their division on December 29 by spanking Finland by an 8-1 count. Jeff Carter picked up a hattrick, Corey Perry added two while Shawn Belle, Andrew Ladd and Mike Richards also scored.

Canada went undefeated in the preliminary round, scoring 32 goals (18 more than any other team) while allowing but 5.

The Canadians earned a bye and moved directly into the semi-final against the Czech Republic, and skated to a 3-1 victory on January 2. Goal scorers for the winners were Bergeron, Carter and Dawes.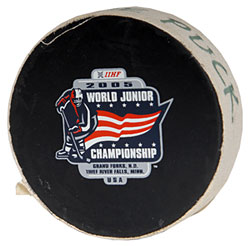 Final game puck scooped up by Canadian players following their 6-1 gold medal game victory over Russia at the 2005 World Junior Championship.

While the Czech Republic and United States competed in the bronze medal contest (the Czechs took the medal with a 3-2 overtime win), Canada faced the team from Russia in the gold medal game on January 4. With almost 12,000 looking on in Grand Forks, Team Canada stomped on the Russians, handing them a decisive 6-1 loss. Ryan Getzlaf opened the scoring less than a minute after the opening faceoff, setting the tempo for the victory. Danny Syvret scored what would prove to be the medal-winning goal, and Patrice Bergeron, Jeff Carter, Dion Phaneuf and Anthony Stewart piled on with singles.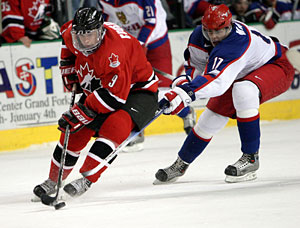 Canada's Sidney Crosby is checked by future teammate, Evgeni Malkin, during gold medal game action at the 2005 World Junior Championship in Fargo, North Dakota.
(Photo by Josh Holmberg/Hockey Hall of Fame)

Patrice Bergeron led all scorers with 13 points (5 goals and 8 assists) through Team Canada's six games. Teammate Ryan Getzlaf nipped at his heels with 12 points. The goal-scoring leaders, each with seven tallies, were Jeff Carter of Canada, Alexander Ovechkin from Russia and the Czech Republic's Rotislav Olesz. Team Canada scored a resounding 41 goals, surrendering just 7 in their six games.

When the tournament all-stars were named, the squad was dominated by Canadians. Patrice Bergeron, who was also named the most valuable player, was announced at forward, joined by teammate Jeff Carter and Ovechkin from Russia. Team Canada's Dion Phaneuf was joined on the blueline by Ryan Suter of the United States. Marek Schwarz of the Czech Republic was the all-star goaltender.

Considered one of the premier junior teams of all-time, the squad not only benefited from an especially strong crop of juniors from which to choose, but also from the NHL's lock-out that year, which made a number of players available who likely would not ordinarily have been able to play. MVP Patrice Bergeron had already played a season as an 18-year-old with the Boston Bruins when he was selected. Of the 23 players named to Team Canada in 2005, only three did not go on to play in the National Hockey League: centre Stephen Dixon and, curiously, both Canadian goaltenders: Rejean Beauchemin and Jeff Glass. And seven players from this dominant squad formed the core of Canada's gold medal-winning Olympic team in 2010: Patrice Bergeron, Sidney Crosby, Ryan Getzlaf, Corey Perry, Mike Richards, Brent Seabrook and Shea Weber. "The collection of young players who had success in North Dakota, and there are a number of players on the team, that goes a long way," stated Kevin Lowe, Team Canada's Associate Executive Director.

Kevin Shea is the Editor of Publications and Online Features for the Hockey Hall of Fame.