9 NOVEMBER 2007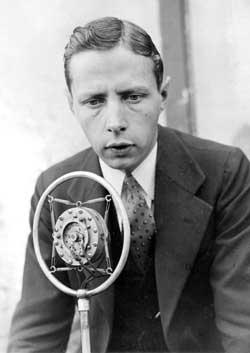 A young Foster Hewitt poses in front of a microphone not knowing at the time what an impact his play-by-play broadcast would have on the future of hockey.

Foster Hewitt was literally born into sports when he arrived in this world on November 21, 1902. His father, William A., was sports editor of The Toronto Star, manager of the Toronto Rugby Football Club and secretary of the Ontario Hockey Association. Through the school year, Foster and his family lived on Roxborough Street in Toronto's upscale Rosedale neighbourhood, but from May until September, the Hewitts lived on the Toronto Islands, where W.A. and Foster enjoyed observing baseball games, lacrosse contests and all manner of sporting events, fueling an interest in sports that remained with Foster throughout his life.

Foster attended Upper Canada College prep school at the age of eleven. "At UCC, I partially absorbed the wisdom of the masters, and while I usually squeezed through examinations, there were few indications that a noted scholar was about to appear," he smirked in his autobiography, 'Foster Hewitt: His Own Story'. But Foster did earn some distinction as a boxer, winning all of his bouts in the 103-pound class. He later attended the University of Toronto. "I rather specialized in the science of fistology. I won the 112-pound and 118-pound boxing titles both at university and in intercollegiate competition."

The Hewitts were innovators, and one invention was a precursor to the play-by-play that would make Foster world-renowned. "In 1901, long before radio was conceived, Dad promoted what was known as the Paragon Score Board and it operated during World Series baseball games at Shea's Theatre, the Star Theatre or the Massey Music Hall in Toronto. The arrangement was that a telegrapher at the ball game wired his play-by-play description directly to the theatre where it was received on a ticker machine. Then, an announcer dramatized the action by giving the batter's name and whether each pitch was a ball or strike. On the huge board, lights indicated runners on the basepaths. Other lights showed where the ball was hit and whether the batter was safe or out. The combination of board, lights and announcer was so effective that capacity crowds rooted with all the volume and enthusiasm of fans at the actual game. Of course, the process was neither radio nor television but it was a forerunner of each inasmuch as both eye and ear had a place in the reception."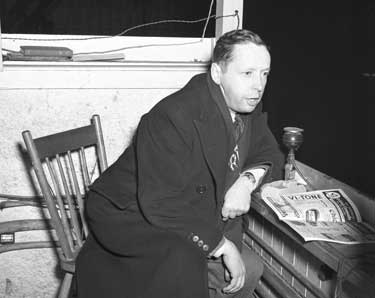 Foster Hewitt is captured during his broadcast from his gondola 54 feet above the ice at Maple Leaf Gardens.

An innovation called 'radio' was emerging in the 1920's. Audiences were incredulous that they were hearing events taking place at some distance away, some insisting that there must be some trickery involved. "In the spring of 1922, my Dad informed me that the Radio Corporation of America was presenting a first-ever radio show in Detroit," Foster wrote in his autobiography. "The performance was quite thrilling. To convince the audience that the entertainment was real and live, the promoters had erected a huge drum-like receiver and the voice of a well-known personality was broadcast every half-hour. One of the persons I heard was Ty Cobb, the noted Detroit baseball star, and he informed the crowd who he was, where he was, gave the correct time and followed this with a short talk about baseball. I was so greatly impressed with the show that I coaxed an agency to let me handle the radios. The manufacturers yielded to the extent of selling me thirty-five crystal sets, so I arranged for their importation and then profitably disposed of the lot. By virtue of that deal, I was one of the first, and certainly the youngest, of all Canadian radio distributors."

Joseph Atkinson, publisher of the Toronto Daily Star, planned to use radio to improve his newspaper's circulation. "That news was so startling and I was anxious to be sure I wouldn't be overlooked that I quit my job and my arts course at the university and got myself hired at The Star," recalled Foster.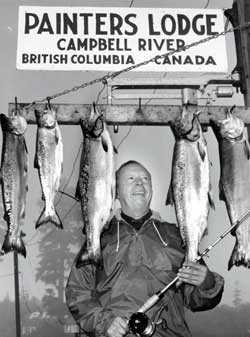 After spending most of his year in Toronto, Hewitt often visited the West Coast of Canada to enjoy natural beauty.

After months of successful experimenting, the Toronto Daily Star's radio station signed on the air officially on June 22, 1922. CFCA occupied two rooms in the Star building at 18 King Street West in Toronto. Foster was hired as a staff announcer, often also setting up the equipment for remote broadcasts at local churches. Hewitt added, "At nights, after working a seven-to-five daytime shift, I drove the radio truck to city parks, beaches, fall fairs and to any spot that would gather crowds."

The Toronto Daily Star garnered a widespread listening audience, but was constantly searching for added programming. "One morning, Mr. (Main) Johnson said to my Dad, who was then The Star's sports editor, 'Mr. Hewitt, we want to extend the interest in radio. We think a broadcast of a hockey game would be good for us and good for the listeners. What do you think of the idea?'" Dad later reported that his associates discouraged the idea. Some thought radio was a passing fad. Others believed hockey was too fast for anybody's eyes and tongue."

Although the date has been debated rigorously through the years, and was incorrectly recalled in Hewitt's autobiography, it seems almost certain, through the dogged efforts of hockey historian Eric Zweig, that Foster Hewitt's first hockey broadcast took place on February 16, 1923 at the Arena Gardens (later known as the Mutual Street Arena), first recapping periods one and two of an intermediate contest between Kitchener and the Toronto Argonauts, then live play-by-play of the third period.

In the following day's newspaper, it was reported that "last night, a staff reporter of the Toronto Star sat in a soundproof box right at the side of the rink, and told to the many thousands of his listeners what was happening ..." Regulation time saw the teams tied at three apiece. The game took four five-minute overtime periods to conclude, with the Argonauts emerging as 5-3 winners.

Foster performed the play-by-play using a telephone mouthpiece from within a tiny, enclosed glass booth at ice level that continually fogged up, obstructing Hewitt's view of the contest. "I started to suffocate because it had no air holes," he recanted to the CBC. Although he vowed he would never broadcast another hockey game, the Toronto Daily Star was deluged with letters of appreciation, and a Hall of Fame career was thus launched. "I wasn't that little Dutch boy who put his finger in the hole in the dyke and saved the town; neither was I a brave Horatius holding a bridge in time of peril. Instead, I was just an eighteen-year-old radio announcer who had been commanded to do a chore he neither asked for nor wanted."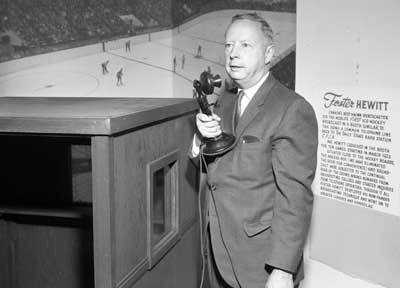 Foster Hewitt poses with a replica of the booth he crouched in for ten games when starting in March, 1923.

Foster continued broadcasting intermediate, junior and occasionally, National Hockey League games, as well as baseball, football, lacrosse, sculling, speedboating, swimming and horseracing. When the Maple Leafs were conceived in February 1927, new owner Conn Smythe gave Foster sole broadcast rights to NHL games in Toronto. By 1931, he was given exclusive broadcast rights to Toronto Maple Leafs games at the newly-constructed Maple Leaf Gardens.

Hewitt left his position at the Star at this point. As Maple Leaf Gardens was being built, Foster was consulted on where he would like the broadcast booth located. "At first, it was the intention to work close to ice level, but that would have involved blocking the view of many spectators and also occupying space that could produce much-desired revenue." The architect suggested the broadcast area be located higher in the arena. "He suggested we go downtown to the fifth floor of Eaton's Annex on Bay Street and take a look. We went, and as I stood at the window, I was amazed at how clearly I could observe folks crossing the street. It didn't take long to convince me that there would be no visual problem while working from an elevation." The 'gondola' was constructed on steel beams fifty-four feet above the ice surface.

General Motors was looking for a feature to sponsor and their advertising agency suggested hockey. The sponsor's fee was $500 per game, and began with the opening faceoff at the new Maple Leaf Gardens. That evening, November 12, 1931, Foster assumed the role of master of ceremonies as well as broadcaster. The Leafs lost that first game at Maple Leaf Gardens 2-1 to Chicago, but went on to win the Stanley Cup that spring.

The Toronto Star's radio station folded in 1933. Foster's broadcasts were carried by CFRB until the CBC was inaugurated in 1936. But CFCA's folding coincided with the ability to transmit Hewitt's hockey broadcasts on a network of radio stations from coast to coast in Canada. After being a regional sport for so many years, hockey had truly emerged as a national phenomenon because of the emergence of radio and Foster Hewitt's broadcasts. A 1937 survey ascertained that over six million fans had listened to one particular Maple Leafs/Red Wings game called by Hewitt. Fan mail flooded in, and in one year, Foster received 90,000 fan letters. "From that host of listeners, I received a recognition which, while flattering, I hesitated to accept as a personal tribute. I was well aware that the fans were more interested in the excitement and outcome of the game than they were in who told the story. Even so, it was rewarding to know that the hockey broadcasts brought comfort to so many people, young and old, deaf and blind, healthy or bed-ridden," wrote Foster in his autobiography.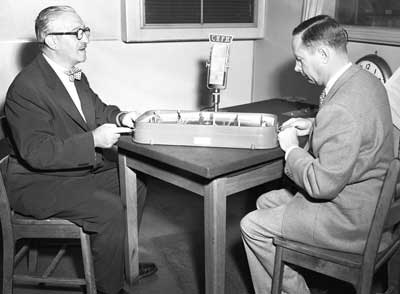 The nation-wide fame of Hewitt led to the development of a table hockey game endorsed by the broadcaster in the 1940/50s.

As hockey's popularity continued to grow, so did Hewitt's prominence in the game. On February 20, 1951, Foster celebrated the official opening of his own radio station: CKFH. The station carried Maple Leaf broadcasts until 1978, when the rights were briefly sold to CKO. CKFH itself was sold in 1981 and is today Toronto's all-sports radio station, the FAN 590.

Foster was also a pioneer in hockey broadcasting on television. As early as 1931, he had witnessed a demonstration of television. "I was invited to New York by the president of the Radio Corporation of America to view a televised showing of boxing which originated in Madison Square Garden. The demonstration was historical and unique but not too impressive, for the picture screen could not have been larger than five inches square." Two years later , Hewitt participated in an early television experiment in Toronto, introducing celebrity guests in a studio on Eaton's second floor with the images broadcast to 300 viewers in a sixth floor auditorium. But it would be twenty years before hockey broadcasts would be televised in Canada.

Hockey was being broadcast in several U.S. cities, including New York, Detroit and Los Angeles, during the 1940's, but wasn't introduced in Canada until 1952. On April 10, 1951, Foster broadcast a Junior 'A' final between Toronto and Barrie to an audience of six on closed circuit television. Rene Lecavalier had the honour of broadcasting the first televised NHL game on October 11, 1952, a 2-1 win by the hometown Montreal Canadiens over the Detroit Red Wings. Foster's first televised play-by-play took place on November 1, 1952, with the Maple Leafs edging the Boston Bruins 3-2. "When television began in Maple Leaf Gardens, my commentary told the story for both radio and television," stated Hewitt. "Long before it became a reality, there were critical listeners who presumed that my radio broadcasts were heavily dramatized, but when they had the opportunity to both see and listen to the game, they realized that my comments were factual and instant."

Later in Foster's life, he would not only own CKFH radio, but was an investor in Toronto's CFTO-TV as well as in the Vancouver Hockey Club of the Western Hockey League.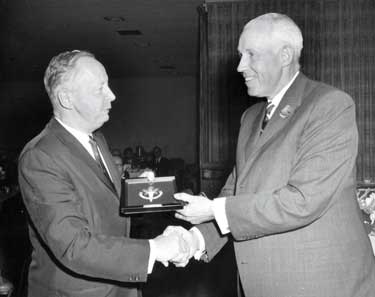 In 1965 Clarence Campbell (right) welcomed Foster Hewitt (left) to the Hockey Hall of Fame. Foster's father, William A Hewitt was inducted in 1947.

After turning television broadcasts over to his son Bill with the start of the 1958-59 season, Foster carried on with radio play-by-play for several more years before retiring to devote full attention to his radio station. But he was convinced to return to broadcast the 1972 Summit Series that pitted Canada versus the Soviet Union. In his book, 'As the Puck Turns', Brian Conacher recalls working with Foster on those historic broadcasts. "Foster and I were a good fit as a broadcast team. I knew Foster Hewitt from my years with the Leafs. Once Foster got the rust out of his voice and the adrenalin going, he left his indelible mark on the games with his unique style. It was a thrill to work beside this broadcast legend." Hewitt's description of the winning goal, scored by Paul Henderson in Game 8, has become as legendary as his greeting, "Hello Canada and hockey fans in the United States and Newfoundland!"

Foster Hewitt was inducted into the Hockey Hall of Fame in 1965, following his father, William A., who was inducted in 1947. Both entered in the Builder Category. In 2007, Bill Hewitt was posthumously awarded the Foster Hewitt Memorial Award, the NHL Broadcasters' Association's electronic media award named after his father.

Foster Hewitt died on April 21, 1985, just shy of his 82nd birthday, leaving behind an enormous legacy as an innovator, a pioneer and one of the foundations on which hockey's popularity was built.

Inasmuch as Foster Hewitt was great for the game of hockey, hockey was certainly very good to Foster Hewitt, as he admitted in a CBC radio interview: "I think hockey is the greatest game there is."

Kevin Shea is Editor of Publications and On-Line Features at the Hockey Hall of Fame.