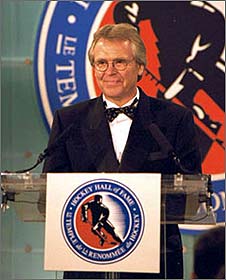 Glen Sather at his 1997 Induction to the Hockey Hall of Fame

(January 13, 2004) -- "I was born in High River, Alberta but I really grew up in northeastern Alberta -- two little towns, Viking and Wainwright," explains Glen Sather. The president, general manager and coach of the New York Rangers has enjoyed a long, productive career both as a player and as an executive, and the path led to his Induction to the Hockey Hall of Fame in 1997 in the builders category.

"I played all my minor hockey in Viking and Wainwright and then went from Wainwright to Edmonton and played for the Edmonton Oil Kings and played there for three years." In 1962-63, Sather and the Oil Kings, a team that also boasted another future coach, Pat Quinn, won the Memorial Cup as Canada's junior champions. "I signed a C Form with the Detroit Red Wings and in those days there really weren't any contracts - they took your rights." Sather spent one more season with the junior Oil Kings, then joined Detroit's Central Hockey League affiliate in Memphis, Tennessee. It was quite a culture shock for the young player who had played his entire career in his home province. "I played junior for the Edmonton Oil Kings so I had been around a little but although I'd been across the border a couple of times, I'd never really been to the United States. Then I went to Detroit and turned pro. I was assigned to Memphis and went to Memphis State University."

Glen grew up without a distinct favourite team or player. "When I was growing up in Wainwright and Viking, you weren't really exposed to the television like the guys are today. Anything we knew about the National Hockey League was pretty much what you read or what you heard on the radio." But becoming part of the Red Wings' franchise gave Glen an appreciation for one of the greatest ever to play the game. "Being in the Detroit organization when I was playing junior hockey in Edmonton, Gordie Howe was always a great player and a great guy. When I got to meet him, it was affirmed that he was that kind of a guy - a great player and a great guy."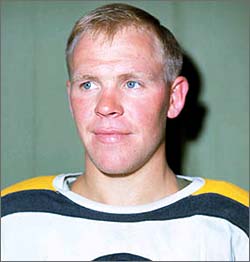 Sather made his NHL debut at age 23 with the 1966-67 Boston Bruins.

In June 1965, the Boston Bruins plucked Sather from the Red Wings, and Glen became an Oklahoma City Blazer, the Bruins' CHL farm team. "I went to Oklahoma City with Boston and went to school there while I played in the old Central League. (Derek) Sanderson, (Gerry) Cheevers, Jean-Paul Parise, Bill Goldsworthy played there." In fact, much of the team that would make up the Boston Bruins through the next several seasons was playing in Oklahoma with Sather - Terry Crisp, Wayne Cashman, Gary Doak and Dallas Smith included. "Most of those guys went from that farm team and had pretty good careers with the Bruins."

During the 1966-67 season, Glen was summoned to Boston to join the parent club "The first game I played was in Boston against Montreal. It was exciting to be there and see all the great players you'd heard about and read about for years. Bobby Orr was there. Eddie Shack, Ron Murphy was there, John Bucyk, Johnny McKenzie was there. It was exciting to play against the great Montreal Canadiens." In five games, Sather didn't register any points, but impressed the Bruins' brass enough that by the next season, he was a regular in black, gold and white.

The Bruins had struggled badly. They had missed the playoffs in eight consecutive seasons. But in 1967-68, Glen's first full season with Boston and the season in which the National Hockey League doubled from six to twelve teams, the Bruins finished third in the NHL's Eastern Division. "The team was really built by Harry Sinden. He had coached us in Oklahoma City so he brought all the young guys up and it was the young guys who started growing up together. And, of course, Orr was there. They made a deal and got Kenny Hodge and Phil Esposito and Freddy Stanfield from Chicago and the team took off from there. (Derek) Sanderson was on the team, Teddy Green was there. There were a lot of great players. It was a lot of fun growing up with them and experiencing everything that young guys get to experience in the NHL."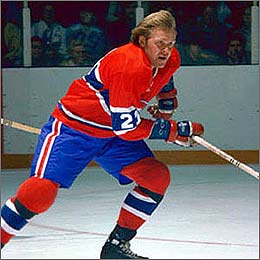 Glen played on six NHL teams, including the Montreal Canadiens in 1974-75.

Sather spent two seasons in Boston, establishing himself as a tenacious winger not afraid to get his nose dirty. In 1969-70, Glen was picked in the Intra-League draft by the Pittsburgh Penguins. During the 1970-71 campaign, he was traded to the New York Rangers for Syl Apps Jr. Early in the 1973-74 season, Glen was traded to St. Louis. In 1974-75, he spent the season with the Montreal Canadiens, then finished his NHL career with a season as a Minnesota North Star in 1975-76. In 1976-77, Sather returned to Alberta, where he was a member of the World Hockey Association Edmonton Oilers. "There were a lot of players who moved from the NHL to the WHA in those days. And there were a lot of young guys who had never played in the league before. It was a fun time. There was lot of freedom of movement for players. A lot of guys developed and got better because they had more opportunities given to them." Slats' stats show 658 regular season NHL games, collecting 80 goals and 113 assists for 193 points and adding 724 penalty minutes. His WHA stint added 81 games, 19 goals and 34 assists to those totals.

The idea of coaching was not entirely new to Sather. "I thought about coaching a little bit when I was playing. I was running hockey schools in Banff, Alberta. I ran three schools with 400 kids to a school. It was pretty busy. I learned a lot from the kids and I learned a lot about coaching at that time, but I also learned a great deal from some of my coaches. I had Emile Francis, Harry Sinden, Scotty Bowman, Red Kelly. There was a lot of experience and a lot of things I picked up from them." Glen got his first coaching opportunity with the WHA Oilers. "The team was in existence when I got there. (Former owner) Bill Hunter was part of the early franchise although he wasn't there when I got to Edmonton. When I got there, it was owned by Nelson Skalbania and Peter Pocklington." As a veteran, Glen had assisted the Oilers' coaching staff. "I got more involved with running the team because our coach, Bep Guidolin, had a dual role as manager and coach. In February of that year, he appointed me coach. I was one of the last playing coaches. We made the playoffs that season. The next year, I took the team over and became the director of player personnel and coach. We had a business manager, so there were two of us who really ran the team. The next year, I became general manager and coach."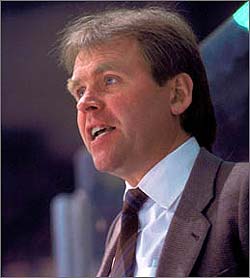 Sather's 475 wins prior to 2003-04 season ranked him ninth on the NHL's all- time
coaching list.

The NHL welcomed four WHA teams into its fold beginning with the 1979-80 season. Sather and the Oilers were placed in the Smythe Division "We went into the NHL and we had the draft and built the franchise." Edmonton retained Wayne Gretzky from its WHA incarnation with one of two priority selections afforded the expansion franchises. Sather's innate ability to discover and nurture young talent added Mark Messier, Kevin Lowe, Jari Kurri, Grant Fuhr, Paul Coffey, Esa Tikkanen and Glenn Anderson through draft choices. The team grew up together.

The fledgling franchise finished first in the Smythe Division by 1981-82, the first of six consecutive first place finishes for the Oilers. They went to the finals in 1982-83, but lost to the New York Islanders. Pundits sensed that the jarring loss taught Edmonton what it took to win an NHL championship. The next season, the Oilers were crowned Stanley Cup victors. "Winning was something that I learned to expect. If you don't win, then you're awfully miserable. But it was fun to watch the kids celebrate the excitement of winning for the first time. I think as a person who was managing at that time, you're always starting to think about next year and the changes you're going to have to make. The challenges are going to be accepted and you're going to have to confront them in order to get better in order to stay there."

Edmonton repeated as Stanley Cup champions in 1984-85. "We went along pretty well. We won the second Stanley Cup, then the third year, we lost when a crazy goal Steve Smith scored on our own net in Calgary knocked us out of the playoffs." The loss was devastating -- the Oilers believed they were in the midst of a dynasty. But the team rebounded, winning back-to-back Stanley Cup championships in 1987 and 1988. Edmonton added a fifth championship in 1989-90. "They're all so different," Sather states. "They're all so much more exciting than the previous one but the first one is always the big one because you haven't been there and you have to learn to win." But would Glen consider that first Stanley Cup win the pinnacle of his hockey career? "I never thought that there was any point that one meant more than the others. They were all separate and different in every way."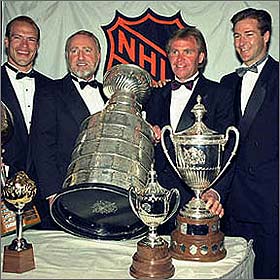 Four members of the Oilers dynasty -
(left to right) Mark Messier, Peter Pocklington, Glen Sather and Kevin Lowe.

Well-known as the architect of Edmonton's outstanding franchise, Sather shocked the hockey world when he joined the New York Rangers as President/General Manager on June 1, 2000. He added the coaching duties in January, 2003. "It was an enormous change," admits Glen. "Not so much the changing of the cities but changing of the teams. After spending most of your mature life with one organization and now moving to another one, I felt it was right. It was time for me to be able to accept something else. I was looking for another challenge. The challenges are what you live for. I was very comfortable in Edmonton. I had a lot of great friends there but it was time to move on, I wanted something else. I wanted another experience in my life."

Sather has constructed one of the most impressive coaching records in NHL history. His 475 wins prior to the 2003-04 season ranked him ninth on the NHL's all-time coaching list. He was awarded the Jack Adams Trophy as the Coach of the Year in 1986. His performance behind the bench and in the executive suite earned Sather admission to the Hockey Hall of Fame in 1997. "Being inducted into the Hockey Hall of Fame was an extraordinary experience. For anyone who has spent their life in hockey, to be inducted into the Hall of Fame is a great thrill for all of us. To be surrounded by so many great people who are your peers, your friends, is exciting. It's a wonderful building and there are a lot of great people."

From his days as a junior star to becoming an efficient journeyman NHL player; from a coach to a highly regarded hockey executive, Glen Sather has seen hockey from many standpoints, experienced victory and defeat, sipped champagne and dodged the slings and arrows of a fickle fan base. "The game has changed from when I was young playing in the National Hockey League to when we got to Edmonton. The guys were bigger and faster - I don't know whether they were better, but it was a different time. Perhaps it was a little more involved than it was in the old days. But during the late seventies and early eighties, the game started to change a lot."

There is one constant that has not changed, though. Glen Sather is firmly cemented in hockey circles as one of the premier executives in the game, combining a shrewd eye for talent with a superb knowledge of hockey. And as one of the NHL's best tactical practitioners, Glen Sather will continue to excel in the National Hockey League.

Kevin Shea is the Hockey Hall of Fame's Manager, Special Projects and Publishing. Additionally, the author will have his fourth book, 'Barilko - Without A Trace,' published in October 2004.