24 Apr 2009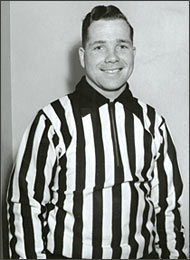 Scotty Morrison began his officiating career in the NHL in 1954 at the age of 24. At that time he became the youngest referee to work in the NHL. (Imperial Oil-Turofksy/HHOF)

Scotty Morrison contributed significantly to the game of hockey as a Builder, first by instilling consistency as referee-in-chief of the National Hockey League during a period of rapid expansion and then by helping preserve the game's legacy as chairman of the Hockey Hall of Fame.

Ian 'Scotty' Morrison was born and raised in Montreal, and played hockey from an early age. "I was lucky enough to get into the Montreal Canadiens' chain," he recalls. "The Canadiens at that time had three junior teams in Montreal — the Montreal (Junior) Canadiens, the Montreal Royals and the Montreal Nationales. I played one year in Ste-Hyacinthe and Mr. (Frank) Selke told me, 'Go out there for a year and then I want you to come back into Montreal.'" While playing forward and defence with the Nationales, one of Morrison's teammates was Bernie 'Boom Boom' Geoffrion.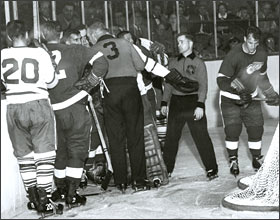 A young Scotty Morrison officiating a game between the Toronto Maple Leafs and the Detroit Red Wings. (Imperial Oil-Turofsky/HHOF)

Although a good player, Scotty readily admits that his height has always been an area remarked upon by fans. "People ask me, 'How did a little guy like you get to be a referee in the NHL?'" he laughs. "I tell them, 'One of the best players ever to play the game made that decision for me.' We were playing the Quebec Citadelles in the semi-finals and my coach made a brilliant decision that night. He told me that I was to shadow Jean Beliveau. He said, 'Scotty, when he goes on (the ice), you go on and when he goes off, you come off. Just kind of pester him all night.'" That night, Beliveau collected a hat trick and two assists. "I decided then and there that if I was going to be in the NHL, it sure as heck wasn't going to be as a player."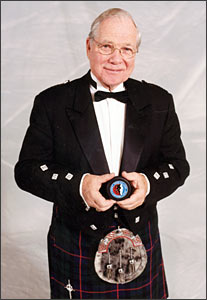 Scotty Morrison was inducted into the Hockey Hall of Fame in 1999, in the Builder Category. (Dave Sandford/HHOF)

While playing his final season of junior, Scotty was doing some officiating in games around the Rosemount area where he lived. Following the conclusion of his playing career, Morrison stepped immediately into the Quebec Junior League, followed soon after by a stint in the Quebec Senior Hockey League. "Being the youngest on the staff, I got a lot of games in Quebec City and Chicoutimi," he says. "I was also umpiring baseball. (Legendary Montreal Canadiens' coach) Toe Blake was one of my partners (in umpiring) for two summers. Toe was a super umpire, but if he heard someone call him a 'homer' (favouring the home team), he was enraged!" Scotty laughs as he remembers the punchline to his Toe Blake story. "Later, when I was refereeing in the Quebec Senior League, Toe had just finished playing and was coaching Valleyfield — his first coaching position. When he would get mad at me, he'd yell out, 'You know what I think YOU are, Morrison!' And I'd laugh and say, 'Yeah, I know, but don't you dare say it!'"

In 1952, Scotty was asked by Al Leader, the president of the Western Hockey League, whether he'd be interested in moving out to western Canada. "I said, 'Yes' and stayed for two years".

Life was good for Morrison in western Canada. "In 1953-54, I met my lovely wife and got married in August 1954. We decided to stay in the west and I'd referee in the Western Hockey League." But Scotty never expected the curve he then received. "I got a call from Mr. Leader saying, 'Scotty, the NHL has just bought your contract.' He explained that I was going back east to referee in the National Hockey League and the American Hockey League. We went back to Toronto and I started in the NHL in 1954-55. I was the youngest referee to come into the league." Scotty was then 24 years of age.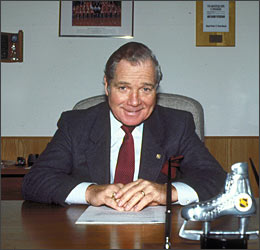 Scotty Morrison was appointed to the position of Vice-President, Project Development and President, Hockey Hall of Fame in 1986.
(Doug MacLellan/HHOF)

Now a husband and father, Morrison found the travel to be challenging, and after two years of refereeing full-time, he left the league and returned to Vancouver, joining the sales department of the Goodyear Tire and Rubber Company. He also returned to refereeing in the Western Hockey League. Later, still refereeing, he oversaw half of the British Columbia territory for Yardley of London, a men's and women's cosmetics company. "Colin Lorimer was a good friend of mine and had the other half of the B.C. territory. He got transferred back to Toronto as the Canadian national sales manager for Yardley. He phoned and wanted me to come to Toronto as Canadian sales supervisor." Scotty, his wife and young family had planned to stay in Vancouver for the rest of our lives, but decided to move to Toronto to take the position with Yardley. "Then one day when I was in Montreal, I met Mr. (Clarence) Campbell on Ste-Catherine Street," remembers Scotty. "He asked why I was in town. He said, 'If you have a minute, drop up to the (NHL) office.' Carl Voss, who had been the referee-in-chief for fifteen years, had retired. I chatted with Mr. Campbell and asked how he was making out with searching for a replacement for Carl Voss. He said, 'Well, I have five or six candidates, but the six (NHL team) owners don't seem to agree unanimously on any of them.'" At that moment, Scotty didn't spend any time thinking about the comment, but when he arrived home, he had a heart-to-heart conversation with his wife. "I told (my wife) Joan, 'Hockey is still in my blood and that referee-in-chief position sounds interesting.' I phoned Mr. Campbell and asked if there was any chance that I could throw my hat in the ring. He said, 'Are you serious?' He said, 'You left because of all the travelling,' but ironically, my job had me doing nothing but travel since. He said, 'Carl (Voss) lives in Buffalo. Ask him to come to Toronto, spend a few days with you going over things and we'll go from there.'"
President of the NHL John Ziegler and Scotty Morrison. (Doug MacLellan/HHOF)

Scotty met with the NHL team owners and, on their unanimous approval, was appointed the NHL's referee-in-chief in June 1965. "My first season was 1965-66 and my officiating career lasted until 1986." That year, NHL president John Ziegler approached Morrison with an idea. "He said to me, 'We are either going to get into the Hockey Hall of Fame business or we're going to get out of it. We're over at the Canadian National Exhibition and we have to subsidize it quite a bit. Would you give it a try?' I said, `What do I know about running a museum?' but John Ziegler asked me to give it a try."

The Hockey Hall of Fame was struggling financially, necessitating the scrutiny of the National Hockey League, which oversaw the operations at that time. "They were charging $2 to get in. I said, 'John (Ziegler), the guys here work their butts off but we're lucky to bring in $35,000 or $40,000 a year. But we'll get a bit of a break because during the twenty-one days of the Exhibition, 100,000 people come through." But he was shocked to discover that during the CNE, the Hockey Hall of Fame was not allowed to charge for admission! "Once you paid your admission to get into the CNE, all the buildings on the site were free! I phoned John Ziegler and said, 'John, there is no question that we have to move if we are going to stay in the Hall of Fame business.'"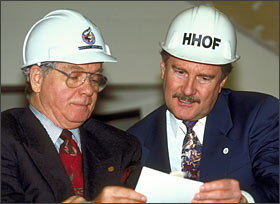 Scotty Morrison goes over some of the details during the re-development and relocation of the Hockey Hall of Fame in 1993. (Doug MacLellan/HHOF)

That started the process of searching for a new venue for the Hockey Hall of Fame, either in Canada or the United States. Scotty remembers, "I was sitting one day with Art Eggleton, the mayor of Toronto, Johnny Wayne of (the comedy team of) Wayne and Schuster and Alan Eagleson, who was the executive director of the (National Hockey League) Players' Association. Art said, 'The Hall of Fame has been at the CNE and I can tell you that if I have anything to do with it, we'd like to keep the Hockey Hall of Fame in Toronto and we'll do whatever we can to assist.'"

To his credit, John Ziegler told Scotty the gentlemen were correct. "Let's concentrate on looking for a site in Toronto for a new Hockey Hall of Fame," he was told. "We looked at a number of different places, and then Brookfield was developing what would be BCE Place (now renamed Brookfield Place) and the mayor and some NHL executives from New York formed a committee. One thing led to another and we confirmed that the Hockey Hall of Fame was going to move into the old Bank of Montreal building at Yonge and Front. The City of Toronto committed to restoring what is now the Great Hall to the way it would have been back when the building was a working back years before."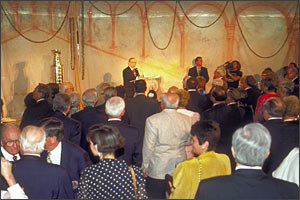 Scotty Morrison unveils the Honoured Members wall at the Hockey Hall of Fame on June 16, 1993.
(Doug MacLellan/HHOF)

Morrison hired some staff and watched as the renovations commenced. "It was really exciting," he admits. In October 1991, Scotty was named Chairman and CEO of the Hockey Hall of Fame. On December 31, 1992, the attraction closed its doors at the Canadian National Exhibition and on June 18, 1993, opened to the public at its new location. Since opening in its current location, the Hockey Hall of Fame has established itself as the pre-eminent sports museum in the world, a fact that makes Scotty Morrison beam with pride. "I am very proud of what the Hockey Hall of Fame has become."

Scotty Morrison retired in 1998, although is still a member of the Board of Directors at the Hockey Hall of Fame. To recognize his enormous contributions to the establishment of the Hall at its downtown location and his previous career as a charismatic NHL official, he was inducted into the Hockey Hall of Fame as a Builder in 1999.

Kevin Shea is the Editor of Publications and Online Features for the Hockey Hall of Fame.