14 MARCH 2008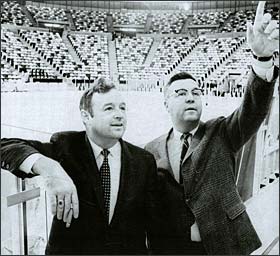 As President of the Minnesota North Stars, Walter Bush (right) tours the club's head coach Wren Blair (left) around the team's new 15,000 seat arena.
(Field Enterprises Inc. /HHOF)

Walter Bush Jr. has played an integral role in the growth and development of amateur and professional hockey in the United States. Although his influence has penetrated both the international and national game, there is no doubt that it was strongest in his native Minnesota.

Born in Minneapolis on September 25, 1929, Bush enjoyed athletics of all sorts. While attending Breck Military Academy in St. Paul, he played tennis, football and hockey. He then attended Dartmouth College, an Ivy League university located in Hanover, New Hampshire. "Somebody gave me the opportunity to go from Breck School to Dartmouth. It was wonderful to get that opportunity," Walter admits. "I was a bumpkin from Hopkins, Minnesota and I liked being involved with people who had power when I got to Dartmouth. I enjoyed being on the inside of things, and it helped me set goals for myself." Bush played varsity hockey while attending school on the east coast.

Once he had graduated from Dartmouth, Walter returned home to attend the University of Minnesota Law School. While there, he served as founder, coach and player on Culbertson's Café, a senior team that won three Minnesota state championships. The stocky, bespectacled defenceman "could staple an unsuspecting forward into the boards with vigour, and he used his weight to good advantage," chuckled a writer with the Minneapolis Tribune. "But he was certainly no Doug Harvey at handling the puck."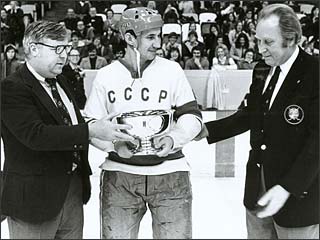 Bush's extensive international hockey experience has earned him a reputation as one of the most recognized and respected leaders in hockey today. In June 2003, Bush was re-elected to his third consecutive term as Vice
President of the IIHF. (HHOF Archives)

In 1955, Bush helped organize the United States Central Hockey League, serving as its president and legal counsel for three seasons and shortly afterwards, was one of the founders of the Minnesota Amateur Hockey Association, serving as president for three years.

Although just 29 years of age, Walter's immense skill at organizing landed him the position of team manager for the U.S. National Hockey Team that played in the 1959 IIHF World Championship in Prague, Czechoslovakia. Bush reminisced, "We lost to Canada and the Russians and beat the Czechs that year."

That same year, Walter was named a director of the U.S. Olympic Hockey Committee, and was a proud observer at Squaw Valley, California when the team captured the gold medal. Twenty years before the incomparable 'Miracle On Ice,' the fledgling U.S. Olympic Hockey team defeated the Soviets 3-2 to win the gold medal.

Pocketing this experience, Bush was appointed general manager of the U.S. Olympic Hockey Team in 1964. Using Bill and Roger Christian, veterans of the gold medal-winning 1960 Olympic Games, Walter was forced to construct a team out of college prospects. Nevertheless, the team didn't embarrass, and finished in fifth place.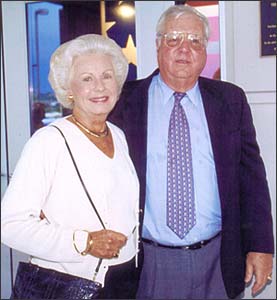 Mr. and Ms. Bush arrive at the Walter. L Bush Center which serves as USA Hockey's national headquarters. The facility opened in June, 1999 and was named in his honour in recognition of his 45th year of service to USA Hockey. (HHOF Archives)

With the Olympics completed, Bush was approached by Walter Brown, owner of the Boston Bruins, and was convinced to create a Boston farm team in Minneapolis. "I had known Walter Brown for a long time. When we won the Olympics in 1960, I received some of the credit and decided to mold my life after Brown. We shared an interest in both amateur and professional hockey." Bush became owner and president of the Minneapolis Bruins of the Central Professional Hockey League. The team remained in Minnesota for two seasons (1963-64 and 1964-65) before the franchise was moved to Oklahoma City.

Ownership of the CHL franchise fuelled a long-standing dream of Bush's, and with a consortium of local business owners, set out to secure a National Hockey League team for Minneapolis/St. Paul. "We got four guys from Minneapolis and four from St. Paul," Bush recounted. "We had to make a lot of good-faith promises. We didn't have a building, but told the NHL we'd build our own building if we received one of the franchises." Although it was one of seventeen bids, in 1966, Minnesota was awarded one of the six franchises that would commence play in the 1967-68 NHL season. Walter served as president of the Minnesota North Stars from 1966 to 1976, and was chairman of the board from 1976 to 1978.

In 1973, Walter was named recipient of the Lester Patrick Trophy for outstanding service to hockey in the United States. Later that year, The Hockey News named Bush its executive of the year.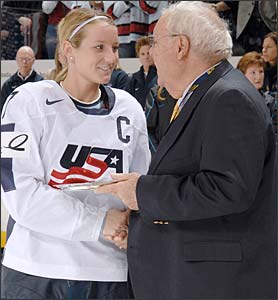 As Chairman of the IIHF Women's Ice Hockey Committee, Bush was influential in organizing the first IIHF Women's World Championship which was held in 1990 in Ottawa, Canada. Seventeen years later, Bush is shown here presenting captain of Team USA Krissy Wendell the Silver plate at the 2007 Women's Ice Hockey Championships. (Matthew Manor/HHOF)

The North Stars were facing financial hardship in the late-1970's, but a unique merger resuscitated the team. Minnesota was owned by a group of investors, and in order to cut their losses, sold to new investors, who just happened to own another struggling NHL franchise. When the team was sold to the Gund brothers in July 1978, Bush remained with the North Stars as vice-president. "I knew the Gund brothers, George and Gordon, had the money, and we had the market." The Gunds, now owners of both the Cleveland Barons and Minnesota North Stars, folded the Cleveland team and transferred the Barons' players to Minnesota. "It was my idea to merge the team with the Cleveland Barons," Bush stated. "There had been real talk about moving the franchise, and this was a way to keep it in Minnesota."

Walter announced his retirement from hockey in June 1984. "Although my other interests will keep me very busy, I plan to become an active fan of the North Stars and follow the team from that point of view."

A short-lived retirement evolved into a three-decade blur following the path of Bush's responsibilities and accomplishments. When he was named to the Hockey Hall of Fame's Board of Governors in 1972, Walter became the first-ever American member. He was later added to the Hall of Fame's Selection Committee. He served on the NHL's pension and international committees, the owner-player council and was secretary of the U.S. Olympic Hockey Committee.

Since 1986, he has served as president of USA Hockey (previously known as Amateur Hockey Association of the United States). He was elected to council with the International Ice Hockey Federation that same year, and was named vice-president of the IIHF in 1994. In 1996, Bush founded the Kentucky Thoroughblades, who, for five seasons, were the AHL affiliate of the San Jose Sharks.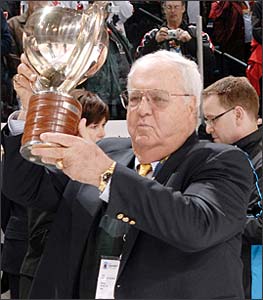 IIHF World Hockey Championship Tournament Chairman Walter Bush proudly presents the World Championship Trophy. (Matthew Manor/HHOF)

The accolades followed as quickly as items on his hockey resume. Walter was elected to the United States Hockey Hall of Fame in 1980 and to Minnesota Sports Hall of Fame in 1989. When he was elected to the Hockey Hall of Fame in 2000, he said, "I accept this award on behalf of all the volunteers, because without the great volunteers we have that love hockey throughout this world, we wouldn't have hockey as we see it today." Holding up the plaque that is permanently installed at the Hockey Hall of Fame, he added, "I certainly do believe in miracles!"

In 2001, Bush was honoured as recipient of the Olympic Order, the highest individual honour in international athletics. "Walter's contribution to our global game has been outstanding and has lasted longer than anybody else's in North America," stated Rene Fasel, president of the International Ice Hockey Federation. "The IIHF congratulates Walter Bush for this honour." Bush replied, "I am proud and pleased to feel that I have made a contribution to the Olympic movement worldwide."

Recognizing his extraordinary contributions to both professional and amateur hockey, Walter acknowledged the talent that best allowed him to excel. "I enjoy being a negotiator and a communicator, and I think I can communicate with anybody. I can sit down with the president of the NHL or the guy who drives the Zamboni," he laughed. "My first love is hockey, and I hate to say whether I preferred amateur or pro. Whatever I was involved in at the time, I threw myself into it."

Kevin Shea is the Editor of Publications and Online Features at the Hockey Hall of Fame.