21 JANUARY 2008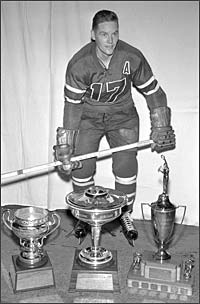 Brian Kilrea was a top performer for the Springfield Indians between 1958 and 1967 recording six 20-goal seasons on route to three consecutive Calder Cups in his stint with the club.
(Ralph Bacon/HHOF)

The Ottawa Valley is a hotbed of hockey talent with so many outstanding players born in Ottawa and nearby towns like Navan, Smiths Falls and Carleton Place. And it's within this fertile hockey breeding ground that Brian Kilrea was born in 1934. "We had a family by the name of Duncan and they used to make their own rink," Brian reminisces. "My Dad would take me down and strap on those double-runners. They'd let me on the ice and I'd walk in those things while there was a game going on beside me. I got to like it and eventually I'd just go down on my own with my skates on and skate by myself. I got to really enjoy it."

But Brian had hockey coursing through his veins even from the time he was born. There were seven brothers and six sisters in his father's family. Although his Dad, Jack, was an excellent player, as the eldest, he had to go out to work. But three of Brian's uncles -- Hector, Wally and Ken -- all played in the NHL. Hec had a fourteen-season NHL career that took him from the Ottawa Senators to the Toronto Maple Leafs and finished with the Detroit Red Wings. Wally began his career with the Ottawa Senators and later played with the Philadelphia Quakers, New York Americans, Montreal Maroons and Detroit Red Wings. Ken played parts of five seasons with the Red Wings. "When I was only a kid, my uncles came back and had won a Stanley Cup (both Hec and Wally were part of the Detroit Red Wings' championships in 1936 and 1937). They had a Stanley Cup jacket and gave it to me, even though it was miles too big. I was going to be a hockey player no matter what. When I was growing up, I could hardly wait to get out of school so I could get out on the rink. I wanted to be a hockey player and I was determined that I was going to be one."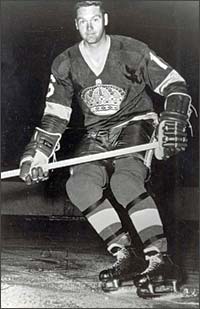 Kilrea's NHL rights were transferred to the expansion Los Angeles Kings after the franchise purchased the Springfield Indians. He returned to the NHL for 25 games with the Kings and scored the first goal in the history of the franchise.
(HHOF Archives)

Brian became a hockey player, and a very good one. "When I was sixteen and seventeen, I was playing for the Ottawa Montagnards and our team got beat out. The Brockville Magedomas (New York-Ontario Hockey League) were in the senior league and they could pick up three players and I was playing senior before I went to play junior with Hamilton. That really helped me, because I was playing against guys who were bigger, better, stronger but I learned from it. I then joined the Hamilton Tiger Cubs of the OHA (Ontario Hockey Association, now named the Ontario Hockey League)." As a rookie in junior, Brian led Hamilton in scoring in 1953-54 and 1954-55. "From there, I went down to Troy, Ohio, which, was in Detroit's chain, for four years." The Troy Bruins played in the International Hockey League, and Kilrea was one of the team's leading point-collectors in each of his four seasons, including a 93-point season in 1958-59. "I then spent nine years with Eddie Shore and a couple of short stints in the National Hockey League. It was good for me, I advanced and I was fortunate to be on some pretty good teams in Springfield."

In 1957-58, Brian played his first game in the NHL. "I was nervous," he recalls. "Detroit had a couple of injuries so they brought me up from Troy and then, I was to be on my way to Edmonton because they had a couple of injuries there. But when I got to Detroit, it was just such a thrill to be in the same room with Gordie Howe and Ted Lindsay and the rest of the squad. They were playing Boston. I only got one shift but I remember it, mainly because I was out with Gordie Howe. It was a 2-1 game and unfortunately, Boston won. It was a game I'll always remember. They asked me to go to Edmonton and after playing three games there, I hurt my shoulder. I was just so happy to have been able to do what I did."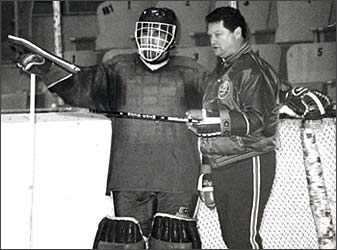 As an assistant to Al Arbour, Brian Kilrea's first and only taste of NHL coaching came behind the New York Islander bench in
1984-1985. (HHOF Archives)

After making the IHL's Second All-Star Team in 1958-59, Brian joined Eddie Shore on the American Hockey League's Springfield Indians. "The first three years I was in Springfield, we won the Calder Cup. It had never been done in consecutive years like that before. We had a great team with some great names. We had an awful lot of great scoring on our team. Bill Sweeney was the first player ever to score 100 points three years in a row. His line was always the highest scoring line in the league. I played with Floyd Smith and Jimmy Anderson for those three years, and we had Kenny Schinkel and Denny Olsen playing with Harry Pidhirny for our third line. Our defence was big and strong. We had Kent Douglas and Teddy Harris, Bob McCord, Noel Price and Ian Cushenan on the blueline. The star of our team was a fellow that didn't get much credit -- Marcel Paille, our goaltender. I'll never forget, Terry Reardon, who was running Baltimore at the time, said that if our team played in the National Hockey League, we'd make the playoffs. We were so solid in every department that if the forwards had a tough night, the defencemen or the goalie would bail us out."

In May 1967, with the NHL about to embark on expanding by six teams, the Indians were sold to the Los Angeles Kings, one of the franchises about to make an NHL debut. With the sale, Kilrea's rights were transferred to L.A. "Red Kelly was our coach. He was a real gentleman, one of the super guys that ever played the game or coached the game. We had Terry Sawchuk in the net and he was always great and he was good for the team." The Kings got off to a good start and Brian had his name etched into the NHL record books. "I'll never forget the very first game. It was, naturally, important. I was playing with Lowell MacDonald and Teddy Irvine. Somehow, the puck just came in the slot and I quickly shot it and it found the net. That was the first goal for the Los Angeles Kings. After the game, they gave me the puck and I quickly gave it to (Kings' owner) Jack Kent Cooke. It was his dream to have hockey on the west coast. He treasured that puck."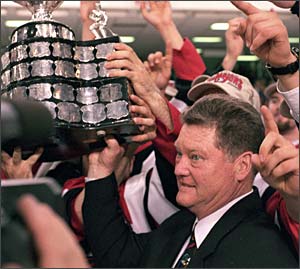 Behind the bench in Ottawa, Kilera captured his second Memorial Cup with the 67's in 1999.
(Matthew Manor/HHOF)

In 1968-69, the journeyman forward played for three teams in three leagues — Tulsa Oilers of the CHL, Vancouver Canucks of the WHL and Rochester Americans of the AHL. The next season, it was a trip to Denver to play with the Spurs of the WHL. It was to be Brian's final season in hockey as a player. "When I came back (to Ottawa), I wasn't going to get involved in hockey," Brian admits. "I didn't want to become one of those players that said, 'I'm retiring' and then goes back and does it again and again. I worked at a restaurant for four years and coaching little guys. We had some pretty good success. Then, a friend of mine asked me to coach a midget affiliate to the Ottawa 67's. We had a good team that worked hard and the next year, we had an All-Star Game against a Russian elite team and they were knocking off a lot of the junior teams wherever they played. They beat a team in Quebec 19-2 and when they came into Ottawa, I got the opportunity to coach the team and we tied them 4-4. It was then that the 67s' team gave me the opportunity to coach them. Leo Boivin was leaving (as coach of the 67's) the next year, and I got the job and that's where I am today."

Kilrea took over the coaching reins of Ottawa's junior team in 1974-75, earning his first victory on September 27, 1974 in a 9-5 victory over the Toronto Marlboros. With the exception of a two-year sojourn as assistant coach of the New York Islanders in 1984-85 and 1985-86, he has been with the 67's ever since.

In 1976-77, his third year behind the Ottawa bench, Brian took the 67's to the Memorial Cup championship after winning the league title. In 1983-84, Kilrea again led the 67's to the league title, but this time, Ottawa won the Memorial Cup as junior champions of Canada. "When we won our first Memorial Cup, Adam Creighton became the star of that team. He gave us just an unbelievable performance when he went against Mario Lemieux when we won it in Kitchener. Darren Pang was our goaltender, and he was always excellent. Brad Shaw and Bruce Cassidy went on to the National Hockey League. Mark Paterson was a stalwart on the blueline."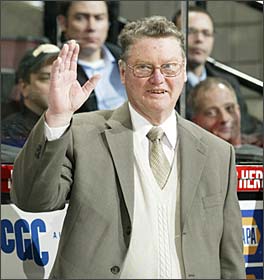 Throughout his twenty-nine seasons with the Ottawa 67's Kilrea has had only five losing seasons and is junior hockey's all-time winningest coach. (Phil MacCallum/HHOF)

The 67's won the league title and the Memorial Cup again in 1998-99. "When we won the Memorial Cup the second time, Matt Zultek scored in overtime here at home to give us probably the greatest feeling in the world — winning in front of your own fans."

The 67's won the league title again in 2000-01. In 1981, 1982, 1996 and 1997, Brian was named the OHL's coach of the year, becoming recipient of the Matt Leyden Trophy. In 1996, he was named the Canadian Hockey League's coach of the year award. On March 9, 2003, the Ottawa 67's defeated the Sudbury Wolves, giving Kilrea his 1,000th win as a coach in the OHL. The CHL honoured Brian by naming its coach of the year award the Brian Kilrea Trophy.

Having seen so many great players go through his dressing room, Brian commented on some he best remembers. "Bobby Smith was one of the greatest forwards I ever coached and Dougie Wilson was one of the greatest defencemen I ever coached. But you don't overlook some of the fellows who didn't score a lot of goals — those hard-working defencemen and goaltenders that sometimes don't get the credit they deserve. On each and every team there's one of those unsung heroes."

"When you look back on your career, you think of what you've achieved and the friends you've made, and I feel rich in both," summarizes Kilrea. "I wouldn't change a day of my life in hockey."

Kevin Shea is the Editor of Publications and Online Features at the Hockey Hall of Fame.