20 DECEMBER 2011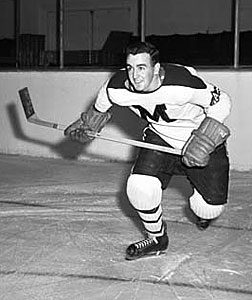 Murray Costello played three seasons
with the St. Michael's Majors before signing with the Chicago Black Hawks prior to
the 1953-54 season.
(Imperial Oil-Turofsky/Hockey Hall of Fame)

Although Murray Costello entered the Hockey Hall of Fame as a Builder, it would be a mistake to forget that before he was a hockey executive, he was a very fine player.

Murray grew up in a South Porcupine, Ontario. Murray, the fourth of five children in a highly athletic family. When born on February 24, 1934, Murray was preceded by Rita, Don (better known as 'Moose') and Les, and was followed by Jack.

If you chose not to work in the mines, the path out of northern Ontario seemed to be a hockey career. Les Costello was the first to be recruited to play hockey at St. Michael's College School, whose junior hockey team - the Majors -- was sponsored by the Toronto Maple Leafs. He joined in 1944, and was an important factor in the team's Memorial Cup championships in 1945 and 1947, as well as their appearance in the 1946 final. Murray was next, and attended St. Michael's for grades 11, 12 and 13, playing with the Majors each of those three seasons -- 1950-51, 1951-52 and 1952-53. Jack attended St. Mike's in 1957-58 and 1958-59.

"Les set the tone and the attitude toward the game in our household," Murray says. "He taught us that we should enjoy hockey because it's only a game, play it to the fullest, and laugh as much as you can along the way." That philosophy served the Costellos well through their lives.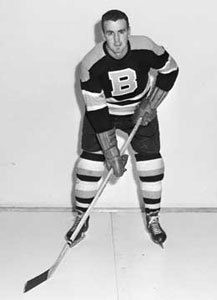 Murray Costello was traded from the Chicago Black Hawks to the Boston
Bruins prior to the 1954-55 season.
(Imperial Oil-Turofsky/Hockey Hall of Fame)

"When I was 16 years old, I had the opportunity to go to four or five different places from the north country," explains Murray. "Fortunately, I had an older brother who went to St. Mike's, and I tried to pin him down to ask him what he thought I should do. He avoided me a number of times and finally, I was a little bit upset and I said, 'Les, why wouldn't you talk to me about this? I just want to get your opinion from your experience.' He said, 'I don't want to tell you where you should go to play your hockey because, if I tell you and it doesn't work out, you'll hate me for the rest of your life.'"

Murray replied, "I'm not telling you to make the decision for me, but I should be able to trade on your experience. I want to know how you found leaving home and going to St. Mike's.' He said, 'When I had to make the decision you're making, somebody told me that if I chose to go to St. Mike's, I'd likely make friends that would remain with me the rest of my life. On the basis of that, I decided I should go there, too, and that's why I went to St. Mike's.'"

Murray found his first year in Toronto rather intimidating. "I came from a small school of less than 200 and suddenly, I was at St. Mike's, where there were 1,200 or more. The guys on the team were good, and the day students were very supportive of the hockey guys, and they helped out with my transition a lot."

While the Costello boys were attending the private boys' school to play hockey, they took away valuable lessons that resonated for the rest of their lives. "The priests who taught us and the priests who were working with the team really stressed the fact that you had to have something to fall back on and that you couldn't strictly rely on hockey. I've used that so many times in speeches as I crossed the country while I was with the Canadian Amateur Hockey Association. Of some 500,000 kids who lace on skates to play hockey across Canada every year, far less than 1% ever reach the point of being able to earn a living from the game. So you have to hedge your bets and have something to back it up, and education was the best thing to back it up with."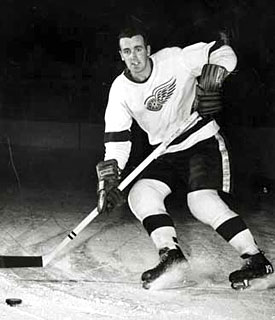 Midway through the 1955-56 season
Murray Costello was dealt to the Detroit Red Wings.
(Hockey Hall of Fame)

After three seasons of Junior with St. Michael's College, years in which the six-foot, three-inch forward was consistently among the team's leading scorers, Murray made his debut with the Chicago Black Hawks during the 1953-54 season. He was traded to the Boston Bruins prior to the following season. Midway through the 1955-56 campaign, the Bruins sent Costello and Lorne Ferguson to Detroit in exchange for Real Chevrefils and Jerry Toppazzini. "It was nice to be among guys like Gordie Howe for the short time that I was, but there is no way any of us would've dreamed it would end up with being in the Hall of Fame. It was a thrill for a young guy to be able to play with those established stars. I lived with Red Kelly, Metro Prystai and Bill Dineen at Ma Shaw's [boarding house]. That was a very special experience and one I will never forget."

After being sent to Edmonton of the Western Hockey League to finish the 1956-57 season, Murray was reinstated as an amateur and completed his playing career with the Windsor Bulldogs of the OHA Senior loop. In 162 regular-season NHL games, he collected 13 goals and 19 assists for 32 points.

While Les Costello later found his calling in the priesthood and Jack in the field of education, Murray found his in the hockey business. He returned to school and earned his law degree, then moved into hockey's business side. As an executive with the Seattle Totems of the WHL, Murray guided the team to back-to-back championships in 1967 and 1968. He was publicity director of the WHL before acting as arbitrator for the World Hockey Association Players' Association.

Perhaps his greatest accomplishment, though, was as president of the Canadian Amateur Hockey Association (now Hockey Canada) between 1979 and 1998. Among many accomplishments, Murray is recognized for making significant contributions to the merger of Hockey Canada and the Canadian Hockey Association, which brought Canada's entire developmental process into one stream. Murray also oversaw the formation of the Canadian women's team and, in turn, the rapid development of women's hockey.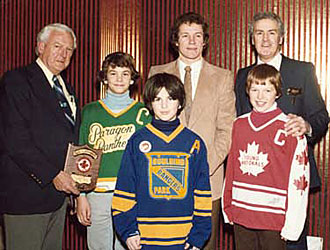 Murray Costello is recognized for making significant contributions to the merging of Hockey Canada and the Canadian Hockey Association. (Hockey Hall of Fame)

As president of Hockey Canada, Costello always recognized the unsung heroes who help in the development of minor hockey in Canada. When he was elected to the Hockey Hall of Fame in 2005, his eloquent speech stated, "I can tell you that I understand that this is recognition of the amateur side of the game, and for the many thousands of volunteers who continue to make it happen year after year across Canada. I get to take the bow on their behalf because they do the work out there and our system is strong because of it."

Always an advocate of advancing the game of hockey throughout the world, Murray remains a member of the International Ice Hockey Federation council and is chairman of the IIHF's Medical and Technical/Arena committees. Previously, he had served on the IIHF's Statutes and Disciplinary committees and was its auditor for a number of years. "What's happening in the Koreas, Japan, and China is promising," he says. "Australia is doing quite well, things are developing in New Zealand, Israel is moving up, and I've had an interest in Mongolia. They're lacking funds. That's the main inhibitor of growth in a lot of countries. Some countries have so few arenas, and hockey is expensive compared to many other sports. "

"Mexico, Ireland, Spain and Iceland also have promising hockey programs. There are five or six arenas in Iceland, but only four with seating capacity," he explains. "They're looking to complete the fourth so they can get a league going and declare a national champion."

He comments that the inclusion of NHLers in the Olympics, beginning in 1998, was a boon to international hockey. "It's made a big difference," he states. "It really enhanced the appeal of the sport, playing best against best."

Murray Costello's love of the game grew and expanded to encompass both Canada and the four corners of this globe, and earned him entrance to the Hockey Hall of Fame.

Kevin Shea is the Editor of Publications and Online Features for the Hockey Hall of Fame.