7 JANUARY 2011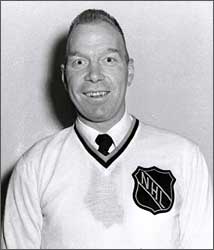 Red Storey was hired by the NHL in 1950. (Imperial Oil-Turofsky/Hockey Hall of Fame)

In the first half of the twentieth century, multi-sport athletes were the norm rather than the exception. By way of example, Honoured Member Lionel Conacher excelled at football, lacrosse, wrestling, boxing, baseball and had been quoted as saying hockey was the sport at which he was least adept. And so begins the story of 'Red' Storey – Red's story, as it were.

Born in Allandale, Ontario, now part of Barrie, on March 5, 1918, Roy Alvin Storey was known by a nickname from the time he was a toddler – but not the one to which he would be known by hockey fans. "I have no idea why Dr. William Little, who brought me into the world, nicknamed me 'Buster,' but it stuck right through my early teenage years," he recalled in his autobiography.

Inspired by an older sister who competed at the British Empire Games in 1930, Storey thought that an athletic career may be an interesting career path. "I was very small as a child, with not much coordination and no reflexes to speak of," he laughed. "In fact, I showed no athletic talent at all."

Ironically, as time went on, Storey grew quickly and developed into a fine athlete. By the time he was 17, he was six feet tall and weighed 175 pounds, was playing defence for the Junior 'B' Barrie Colts and excelled at football, basketball, lacrosse (his all-time favourite sport) and various track and field disciplines.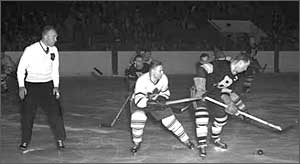 Red Storey captured two Grey Cups as a member of the Toronto Argonauts before beginning career a NHL official. (Imperial Oil-Turofsky/Hockey Hall of Fame)

And, he gained a new nickname. "I'd been Buster or 'Bus' since old Doc Little called me that, and I was 'Toar' (a muscular comic strip character) until I got to the (Toronto Argonauts). They couldn't call me 'Red,' despite my hair, because they already had a player named 'Red' Vail, so I became 'Ginger' Storey there until Vail retired. The one thing I didn't want was to be called by my given names. My father was known as Roy, so I wanted no part of that, and Alvin was hardly a name you wanted fans yelling. I used 'Red' ever since my time in Toronto, even for legal documents."

With no work available in Barrie, Storey moved to Toronto in 1936 and began a job with the Canadian National Railway. Following a random encounter with Teddy Morris, a halfback with the Toronto Argos football club, Red, who had now grown to 6'3", was invited to try out for the team, then part of the Interprovincial Rugby Football Union. "This was like being chosen to go to the Olympics," he explained in 'Red's Story.' While attempting to make the team, he worked a full shift at the rail yards and then endured tough three-hour practices with the Argos. Storey made the team and was paid $15 a week. At the time, the league was not considered professional. "Only the National Hockey League and American football and baseball were," Red explained.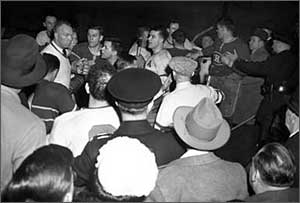 Once his referee career ended, Red Storey remained active in the game doing radio and TV work. (Imperial Oil-Turofsky/Hockey Hall of Fame)

Red played for the Argos for six seasons (1936 to 1941) and was a member of the Grey Cup champions in 1937 and 1938. In a game against Winnipeg during the latter season, he came off the bench to run 102 yards and score a record three touchdowns in the fourth quarter of a game to propel his Argos to a 30-7 come-from-behind victory that would give the Argos a second straight Grey Cup. The exploits earned him lucrative offers from the Winnipeg Blue Bombers as well as the New York Giants and Chicago Bears of the National Football League. Storey decided to remain loyal to the Argos until the conclusion of the 1941 season after seriously damaging a knee against Hamilton the year before.

In 1939-40, Red had played a season with the Atlantic City Seagulls of the Eastern Atlantic Hockey League. The knee injury kept him out of hockey the next season, but for the 1941-42 season, Red joined the River Vale Skeeters, a short-lived team in that same league. After one season, he joined the Montreal Royals of the Quebec Senior Hockey League, and played defence on a team that included Bill Durnan in goal, Gerry Heffernan at forward and, for one game, Doug Harvey, also on defence. "You could have taken that Royals team and put it in today's NHL and been very competitive," he stated. The injured knee was damaged again playing hockey. "They told me I had played my last game. If I damaged the knee again, I wouldn't be able to skate, and possibly not even walk. That destroyed hopes I had for a further career in football or the NHL," Storey stated in his book. "I was 23 years old."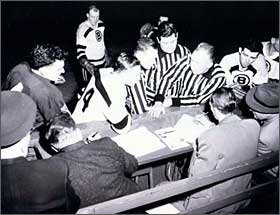 Stunned by criticism from NHL President Clarence Campbell after he conceded that Storey had "choked" during a playoff game between Montreal and Chicago in 1959 he abruptly resigned the following day.
(Imperial Oil-Turofsky/Hockey Hall of Fame)

Red's career path quickly changed. He was asked to referee lacrosse, and later, football and hockey games. While working a day job, he officiated at virtually any sporting event that required his services. In hockey, Red worked his way through the ranks and by 1949, National Hockey League president Clarence Campbell set up a meeting with the young man. "He wanted me to sign with the league," Red reminisced. "I was all for it until he said, 'Of course, you'll start as a linesman.' I was making more money with all my amateur refereeing than he was going to pay me. I told him, 'Mr. Campbell, I'm not a linesman. I'm a referee. If you want a linesman, my mother is a beautiful skater!'" Campbell was furious at the insult and brandished a sword he kept in his office. Storey simply walked out. But by the next season, on the recommendation of Toronto Maple Leafs coach Hap Day, Campbell acquiesced and hired Storey as an NHL referee at a starting salary of $4,500 for the season.

Storey proved to be an outstanding NHL referee. He was respected by players and coaches alike, and in the world of officiating, that is quite a statement. He was not afraid to admit a mistake when one was made, and at appropriate times, had fun with the players during the game. Storey recalled one incident that left him laughing. Johnny McCormack was leaning in to take a faceoff and said, "I'm always sticking up for you, Red." Storey said, "Is that right?" McCormack laughed and said, "Yeah, the other fellas say you're a big red-haired buffoon, but I always say you're not so big!" Both men howled with laughter as Red dropped the puck.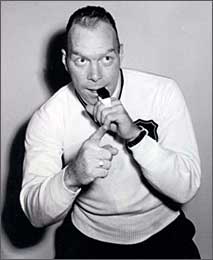 Red Storey officiated his last game on April 4, 1959. (Imperial Oil-Turofsky/Hockey Hall of Fame)

Coaches would regularly send their captains out to argue a call with the referee. In 'Red's Story,' Storey recalled a time when Tommy Ivan, general manager of the Chicago Black Hawks, sent Gus Mortson out to discuss a call. "Gus started waving his arms and the crowd loved it," chuckled Red. "But what he was saying was, 'Where you taking the kids this summer on their holidays'" The two discussed vacation destinations and then Red said, "Thanks. Now get out of here," and Mortson returned to the bench. "We were both laughing inside but Ivan was happy, which was the main thing."

On April 4, 1959, Storey was officiating a playoff game between the Chicago Black Hawks and the Montreal Canadiens. Montreal won the game, as well as the series, scoring the winning goal with 88 seconds left in Game Six. The fans in Chicago went ballistic, throwing chairs and all manner of debris onto the ice in disgust over what they felt were a series of infractions against the Canadiens that should have been called but were not. Black Hawks' coach Rudy Pilous accused Storey of choking by not calling penalties against the Canadiens late in the game. Red was scheduled to referee the final game in the parallel series between the Boston Bruins and the Toronto Maple Leafs, but an Ottawa newspaper quoted NHL president Clarence Campbell as saying that Storey had 'frozen' on two calls that should have been penalties against the Canadiens. Stunned on hearing the quote, Storey immediately resigned. In spite of pleas from players, other officials and some team owners, he never returned to officiate another NHL contest. "When I resigned from the NHL during the playoffs in 1959, I was leaving the greatest job in the world, doing something that enabled me to give my family the things I hadn't had when I was a kid."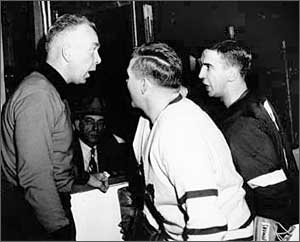 Red Storey quickly became regarded as one of the game's finest officials. (Imperial Oil-Turofsky/Hockey Hall of Fame)

Red Storey's NHL career consisted of 480 regular season games and seven consecutive Stanley Cup Finals from 1952 through 1958. He was inducted into the Hockey Hall of Fame in 1967, and that was followed by being honoured by Canada's Sports Hall of Fame in 1986 and was made a member of the Order of Canada in 1992.

An immensely popular personality, Storey refereed oldtimers' games and was a popular after-dinner speaker and guest on various radio and television shows until shortly before his death at the age of 88 on March 15, 2006.

Red Storey – a 'colourful' hockey personality if ever there was one, and one of the most beloved referees in the long history of hockey.

Kevin Shea is the Editor of Publications and Online Features for the Hockey Hall of Fame.