27 March 2012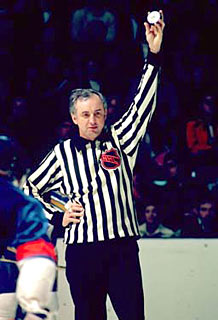 Neil Armstrong served as an NHL linesman for a total of 1,744 games. (Portnoy/Hockey Hall of Fame)

Just east of Sarnia, Ontario sits the town of Plympton-Wyoming, formed in 2001 by amalgamating Plympton Township with the village of Wyoming. And it was in Plympton that Hall of Fame linesman Neil Armstrong was born on December 29, 1932.

Like most Canadian boys, Neil grew up with dreams of being a hockey player. After the family moved to Galt (now part of Cambridge, Ontario), Armstrong registered to play minor hockey, but realized that a career as a National Hockey League player was not going to be part of his future. Instead, after being asked to officiate a game, he decided he could still make hockey a career. Working diligently, Neil earned his Ontario Hockey Association (OHA) certification as an official.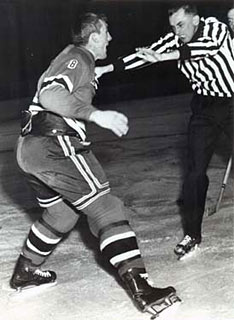 Through twenty-two seasons as a NHL linesman, Neil Armstrong would only miss one game due to injury. (Hockey Hall of Fame)

Referee-in-chief Carl Voss hired Neil to join the National Hockey League, and he made his debut on November 17, 1957 in a 2-2 tie between the Boston Bruins and the Toronto Maple Leafs in Boston. Towards the end of the contest, a fight broke out and the 24-year-old Armstrong broke up the combatants, one of whom was Bruin defenceman Fern Flaman. Flaman skated away but circled back, his arm dangling at his side. "You broke my arm," he said through a painful grimace. Horrified, Armstrong just stared, and then Flaman broke into laughter. "I was only kidding," and swung his arm back and forth to prove it.

When games in which he was working were on 'Hockey Night in Canada,' Armstrong would signal to his family prior to the opening face-off by unzipping and zipping up his linesman's sweater.

Through twenty-two seasons, Armstrong served as an NHL linesman. Nicknamed 'Iron Man,' Neil only suffered one injury that caused him to miss any assignments through his storied career. In 1971, Gary Dornhoefer of the Philadelphia Flyers stumbled awkwardly along the boards, knocking Neil up against the glass. As Dornhoefer fell, his stick came up and jammed Armstrong's hand. He broke a bone and was in a cast for almost three months.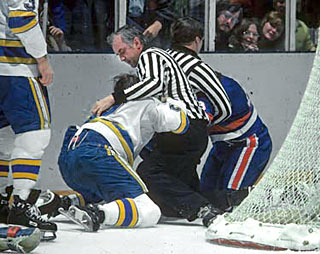 On October 16, 1973, Neil Arrmstrong was honoured for breaking the record for game officiated by an NHL official (1,314 games) previously held by George Hayes. (Portnoy/Hockey Hall of Fame)

In spite of being regarded as one of the finest linesmen ever to work in the NHL, occasionally, like all on-ice officials, Neil would make a mistake. "If I've blown the whistle before I should have and a player comes up to me, I say, 'I've blown the whistle. What do you want me to do about it? I've made a bad call.' You just hope a goal wasn't scored on it - then you're really in trouble. But the players are understanding. We have provisions in our rules that if we make a mistake on an icing call, we take it to centre ice and start again. Both teams aren't necessarily happy but they're content that one team doesn't have an advantage over another."

Neil Armstrong retired in 1978, having officiated an astounding 1,744 games. He joined the Montreal Canadiens and had a long, successful second career as a scout while during the summers, Neil was the golf pro at the Sarnia Golf and Curling Club. In addition, his son Doug is the general manager of the St. Louis Blues, having held the same post previously with the Dallas Stars.

Neil was elected to the Waterloo Region Hall of Fame and in 1991, he was inducted into the Officials' Category of the Hockey Hall of Fame. That year, Armstrong was joined by fellow inductees Scotty Bowman (Builders' Category) and, in the Players' Category, Mike Bossy, Denis Potvin, Bob Pulford and Clint Smith.

Kevin Shea is the Editor of Publications and Online Features for the Hockey Hall of Fame.