25 MAY 2007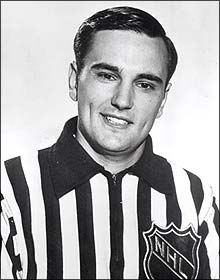 Andy Van Hellemond early into his career as an NHL on-ice official.

Born February 16, 1948 in Winnipeg, Manitoba, Andy Van Hellemond began refereeing after realizing that his career as a forward wasn't going to progress past the junior level. After officiating for two years in the Western Hockey League, Van Hellemond was isolated as a refereeing prospect by the National Hockey League, serving an apprenticeship doing minor pro games as he polished his proficiency for the NHL.

Andy's big break came on November 22, 1972 when Bruce Hood, a veteran NHL referee, injured a knee and the 23-year-old was summoned to fill his spot. Van Hellemond remained in the NHL until June 8, 1996, when he retired after working Game 3 of the 1996 Stanley Cup final between the Florida Panthers and the soon-to-be-victorious Colorado Avalanche.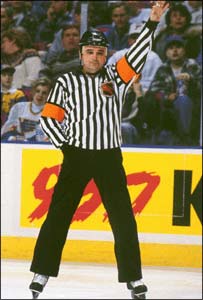 Van Hellemond in action during one of his 1,474 career games.

During those twenty-four years, Van Hellemond established several NHL records: most regular season games refereed (1,475) and most post-season games refereed (227). He worked a record 19 Stanley Cup finals, as well as 35 Cup final games, the latter second to Bill Chadwick. For fourteen consecutive seasons, Van Hellemond was the NHL's top-rated referee. Included on his resume are two NHL All-Star Games, working the 1979 Challenge Cup series and participated in Rendez-Vous '87. A pioneer, in 1984, he became one of the first officials to don a helmet. Andy also served a president of the Officials' Association.

Following his retirement, Andy was hired as the Senior Vice President of Hockey Operations for the East Coast Hockey League, overseeing daily operations of the league and supervising the league's on-ice officials. On one occasion, when an ECHL official was unable to get to a game, Van Hellemond was pressed back into duty.

After three years with the ECHL, in July 2000, Andy was tagged to replace Bryan Lewis as the NHL's Director of Officiating. The hockey world was changing rapidly, and technology had taken a hold on the industry. He outfitted each of his officials with a laptop computer so that he could send his officials video clips of things he saw that he wanted to bring to their attention. Reviewing games in the NHL's Toronto office, Van Hellemond would note things he liked and others he didn't like, have them put on videotape and then later converted to e-mail attachments so that the officials could observe exactly what Andy was referring to.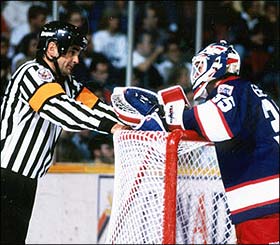 Andy Van Hellemond and former Winnipeg Jets goaltender Bob Essensa in discussion.

"We had a play this year where a guy on a faceoff got clipped in the nose with a stick," Van Hellemond told a reporter. "He fell with his nose bleeding. The referee went over and looked at him and put two minutes up on the clock. When I called the referee and asked him, he said, 'I don't call anything internal. If it's a cut on the face I give four minutes. If it's internal, inside the nose or mouth, I give two minutes.' I wondered how many other guys thought like that. So I sent out the clip and said, 'The blood is flowing from this player's nose. He had to go off the ice. What is the call'? Out of 32 refs, 29 of them said it was four minutes. Three of them thought it was two. We have to correct that. You can't have 29 one way and three the other. When a player has blood flowing from his nose, he's injured. These are the kinds of things you pick up that slowly bring them closer together and create a little more consistency."

The immediacy of delivering e-mailed plays and comments helped the officials improve, but also allowed the entire organization to think in a more unified manner. "I didn't keep track of how many each guy got, and once they found out it was a positive thing, to teach them by showing them an isolated play, they were fine," he told Hockey Digest in 2001. "Teams have had this for years with players, where a mistake was brought up in front of nineteen other guys. I was sending them something on their personal computer that only they could look at. It's a new idea and it took some adjustments, but it was very positive."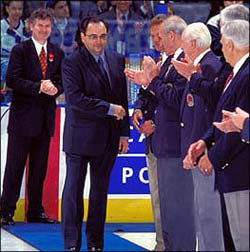 Andy Van Hellemond is welcomed by a line of Honoured Members prior to receiving his Honoured Member blazer during an on-ice presentation at Air Canada Centre in
November of 1999.

Van Hellemond was also on the cusp of the two-referee system in the NHL. "When I left, it was being talked about but was not in place," he explained. "The hardest thing to do as a referee is not to look at the puck, because you've always been programmed that the action is around the puck. When you were by yourself, you tried to look away when you could, but you knew all eyes were on the puck and you didn't want to miss someone getting highsticked around the puck. I need to instruct the other referee, who is high in the zone, to look away from the puck. He needs to catch the guy driving to the net who gets hooked or tripped, or the guy who gets crosschecked in front of the net."

Andy also drew a hard line on insisting that officials call all infractions. "The philosophy of the past regime was, 'Let the players decide the outcome.' They had to realize they were deciding the outcome by not making a call," he told Hockey Digest. "By letting someone foul somebody else, if we don't call it, we are affecting the outcome by allowing somebody to break the rules. What happens is one guy gets away with it, then another guy says, 'They're not calling anything, so I'll do it.' We want players to play a strong, hard game, but within the set of rules, whether it's the first period or the third period."

In July 2004, the NHL announced the resignation of Andy Van Hellemond. Prior to his retirement, Van Hellemond had patrolled his officials like he had the ice as a referee — with fairness, integrity and personality. For his career of exemplary service as an on-ice official, Andy Van Hellemond was selected for induction to the Hockey Hall of Fame in 1999, joining Builder Scotty Morrison as well as Wayne Gretzky.

Kevin Shea is the Hockey Hall of Fame's Editor of Publications and On-Line Features.