26 MARCH 2010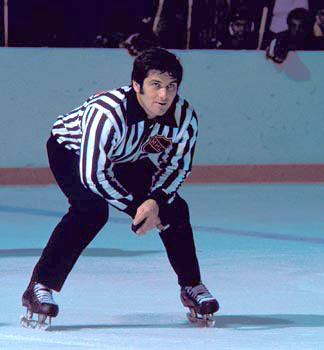 Ray Scapinello was hired as a National Hockey League official for the start of the 1971-72 season. (Portnoy/HHOF)

Hockey fans of a certain vintage cannot forget the sight of veteran linesman Ray Scapinello darting nimbly down the ice to retrieve an iced puck or to stand on the toes of his skates to intercede between two scrapping opponents. Known as one of the finest linesmen of his era, Scapinello was respected, and loved, by colleagues, players and yes, even coaches, through his career in the National Hockey League.

Glen Christie, Ontario was a community of about 80 persons when Raymond Angelo Joseph Scapinello was born there in 1946. "There were about twenty simple houses and all the residents were employees of Domtar," he explained.

Ray played his minor hockey in Hespeler, now part of Cambridge, starting when he was 5 or 6 years of age. As a youngster, Ray was a fine hockey player, employing his skating as a substantial attribute. "I played Peewee and Bantam in Hespeler," Ray stated. When he was 13, the family moved 20 kms (12.5 miles) from Glen Christie to Guelph. "I latched onto a travel team in Guelph for Midget."

Scapinello later played Senior hockey with the Guelph Regals, but while he was a lightning-quick skater, he wasn't as talented in puckhandling. While pursuing a playing career, Mel McPhee (later to become colleague Bill McCreary's father-in-law) convinced Ray to consider a career as an official. "Mel McPhee knew me from baseball," explained Ray. "He asked me if I'd be interested in joining the Guelph Referees Association." Scapinello joined the GRA in the late-1960s, officiating amateur and junior leagues. After attending Bruce Hood's officiating school in 1968, Ray joined an outlaw Junior league.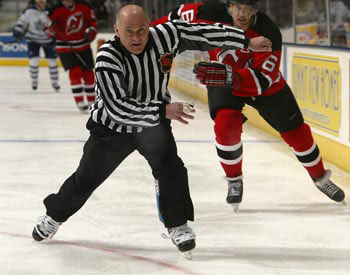 Ray Scapinello's small stature and lightning-quick speed made him stand out among his peers. (Dave Sandford/HHOF)

Although Scapinello was invited to an NHL officials' camp in 1970, he wasn't hired at the time. Undeterred, he returned to the camp a year later and this time, was invited to the NHL rookie camp. "Frank Udvari gave me my break. He went to bat for me. He had (NHL Referee-in-Chief) Scotty Morrison's ear. He told Morrison to keep an eye on me."

Ray returned to the outlaw Junior league, but the landscape changed. "The OHA found out that I went to this (officials') camp, and there was a finder's fee if an official went to the NHL. The Ontario Hockey Association (OHA) urged me to join. I picked up an application and joined." After working in the OHA for a year, Ray was invited back to the officials' camp, and in 1971, at the age of 24, was hired by the NHL.

Ray's first NHL game was in Buffalo, New York on October 17, 1971, with the hometown Sabres losing to the Minnesota North Stars. "I have no recollection of that evening," he chuckled. "Not even showing up at the rink."

The measuring stick of excellence for officials is to earn the opportunity to work in the playoffs, and Ray officiated in 426 playoff contests. But the zenith is to be chosen to work a Stanley Cup final. Scapinello worked his first Stanley Cup final in 1980 and would work twenty finals in all — 1980, 1981, 1983, 1984, 1985, 1986, 1988, 1989, 1990, 1991, 1992, 1993, 1994, 1995, 1996, 1997, 1998, 1999, 2000 and 2004.
Ray Scapinello went through the course of his entire outstanding career never missing a single game to injury or illness. (Ottawa Senators/HHOF)

"Sometimes you think you should be working that big assignment and it hurts when you don't get it," he said. "But only four linesmen work the Stanley Cup final series."

Through 33 NHL seasons, Scapinello never missed an assignment. His size (5'7" and 165 pounds) and speed made Scapinello stand out among his peers, not to mention his lack of head protection. Ray joined the NHL before helmets were made mandatory for officials, and as a result, he was able to go without the helmet during games. Yet, in what is regarded as his most proud accomplishment, Scapinello went through the course of his entire outstanding career never missing a single game to injury or illness. Always one to stay fit, Ray amazed his colleagues during training camp by juggling and riding a unicycle. Considered a real character, he was always highly regarded by his peers, who appreciated his honesty, hard work and a sense of humour that endeared him to all. "I like to have some fun, break the ice and get guys ready that way."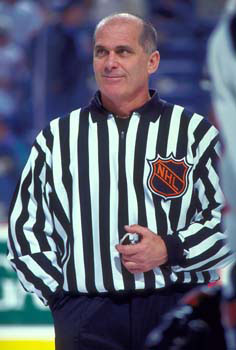 Ray Scapinello was a linesman in three NHL All-Star Games. (Dave Sandford/HHOF)

Never dreaming that his officiating career would last so long, Scapinello's final NHL game was a return to the spot where it had begun. On April 2, 2004, in a game featuring the visiting Toronto Maple Leafs taking on the hometown Buffalo Sabres, Ray officiated his 2,500th, and final, NHL contest. He was 57 years of age. "I can't say enough about what the guys in Buffalo did for my family," Ray said, referring to the gold-standard treatment his family and friends were given at his final contest. "It was amazing."

Beyond the NHL regular and post-season, Ray was also chosen as linesman in three NHL All-Star Games and was one of the officials hand-selected to work at the 1998 Winter Olympic Games in Nagano, Japan. "My whole goal was to be considered one of the best linesmen to lace up a pair of skates," he stated. "Game Seven or gold medal, you can sit down during the day and realize you're considered one of the two best linesmen in the NHL or world."

Since his retirement, Ray Scapinello has been a supervisor for the Central Hockey League, and has written a best-selling book about his storied career. 'Between the Lines: Not-So-Tall Tales From Ray 'Scampy' Scapinello's Four Decades in the NHL' was published in 2006. In 2008, his work as an NHL official was recognized with induction into the Hockey Hall of Fame.

Kevin Shea is the Hockey Hall of Fame's Editor of Publications and On-Line Features.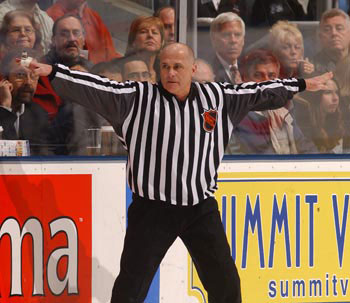 Through thirty-three years as an NHL official, Scapinello never missed an assignment. (Dave Sandford/HHOF)