20 NOVEMBER 2009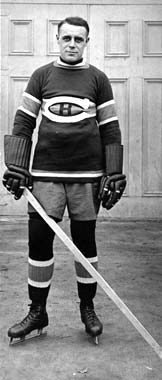 Joe Malone played parts of four years with the Montreal Canadiens. (Hockey Hall of Fame)

An exceptionally gifted player and one of the most dominant forwards of his era, Joe Malone remains an enduring legend decades after his retirement.

Born on February 28, 1890 in Sillery, Quebec, a suburb of Quebec City, Maurice Joseph Malone grew up on the shores of the St. Lawrence River. From childhood, Joe was a well-rounded athlete, playing hockey, lacrosse and baseball. At 17, he joined the Quebec City Crescents for his first organized hockey game and two years later, became a member of the Quebec Bulldogs of the Eastern Canada Amateur Hockey Association (ECAHA), where he offered a glimpse of his scoring prowess by accounting for 8 goals in 12 games. The next season, the team folded after two games, refusing to join the newly formed National Hockey Association (NHA). Malone completed that 1909-10 season with Waterloo of the Ontario Professional Hockey League (OPHL).

When Quebec finally joined the NHA in 1911, they reacquired Malone and immediately named him captain. For the next seven seasons, 'Phantom Joe' led the Bulldogs. During his career, Quebec won the Stanley Cup twice.

Malone exploded in 1912-13 when he won the scoring title with an astonishing 43 goals in 20 games. He centred a dominant line that included Tommy Smith and Jack Marks, and the Bulldogs easily finished first at the conclusion of the regular season.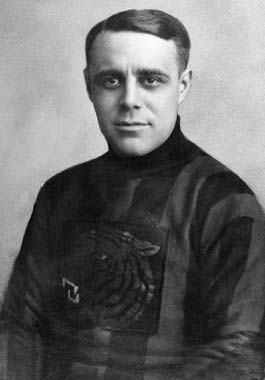 Joe Malone was player and coach of the Hamilton Tigers during his two years with the club. (Hockey Hall of Fame)

They went on to steamroll over Sydney, Nova Scotia in the Stanley Cup final with 'Phantom Joe' Malone scoring 9 goals in the first game alone.

Malone continued to score at an unprecedented pace over the next four seasons, earning another NHA scoring championship in 1917.

When Quebec didn't join the National Hockey League when it was formed in December 1917, Malone joined the Montreal Canadiens. Teamed with Newsy Lalonde and Didier Pitre, Malone scored a career-best 44 goals in just 20 games that season. Joe remained with the Canadiens for one more season before returning to Quebec for the 1919-20 schedule. During his final game for Quebec, he scored 7 goals against Toronto, establishing an NHL record that has yet to be matched.

In 1920-21, the Bulldogs relocated to Hamilton, and Malone joined the Tigers as player-coach, a role he maintained for his two seasons with the squad. In spite of the dual responsibility, he continued to demonstrate his considerable offensive skills, scoring 51 goals in 44 games over the two seasons.

After refusing to attend the Hamilton Tigers' training camp in 1922, Malone returned to the Montreal Canadiens, where he spent the final two years of his glorious career. The Canadiens won the Stanley Cup in 1923-24, his final NHL season, capping an extraordinary career.

Joe Malone finished his NHL career with 143 goals and 32 assists for 175 regular season points in 126 games. In the NHA, he scored 179 goals and recorded 27 assists for 206 points in 123 regular season games.

Joe Malone died of a heart attack in Montreal on May 15, 1969, but not before being honoured by induction into the Hockey Hall of Fame in 1950. In 1998, The Hockey News ranked Joe Malone at 39 in their list of the 100 Greatest Hockey Players.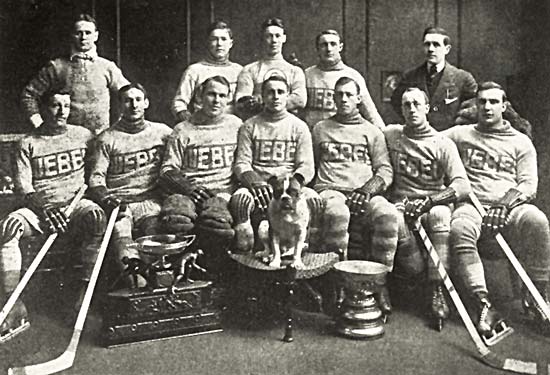 Joe Malone captured two Stanley Cups (1912 and 1913) as a member of the Quebec Bulldogs.
(Hockey Hall of Fame)
Kevin Shea is the Editor of Publications and Online Features for the Hockey Hall of Fame.