4 JANUARY 2005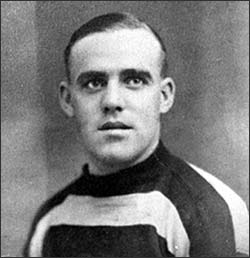 Francis Michael Clancy was born in Ottawa, Ontario on February 25, 1903. The 'King' nickname originally belonged to his father.

Whether you consider that he had the luck of the Irish behind him or just a lot of blarney that carried him through a long, storied NHL career, the leprechaun known as Francis Michael 'King' Clancy is one of the wonderful characters in Hockey's Hall of Fame.

Born February 25, 1903 in Ottawa, Ontario, like many young Canadians at the beginning of the last century, King Clancy learned to skate on the outdoor rinks that littered his birthplace. "The first memory I have of playing hockey was when I was a little gaffer growing up in Ottawa," King told Brian McFarlane in the book, 'CLANCY.' "I played for the fun of it and I really enjoyed myself going out on those cold winter days, walking four or five miles down to the river just to play shinny with the boys." One of his first pairs of skates was handed down to the young lad from Eddie Gerard, a winger who played with the NHL's original Ottawa Senators between 1917 and 1923. Gerard was a friend of King's father, Thomas. Ironically, when King joined the Senators himself in 1921, Gerard was a teammate and Clancy was still wearing his colleague's hand-me-down skates.

Known as Frankie as a youngster, Clancy didn't assume the nickname 'King' until his teen years. And even then, he wasn't the first 'King Clancy.' "My dad was the first American import ever to come to Canada to play football," Clancy explained. "In those days (around 1896) of Canadian football, the ball wasn't snapped from centre as it is today. Instead, the centre would stand upright and from this position he would 'heel' it back to the quarterback. My dad was a master of this art and somewhere along the line, he picked up the nickname 'King of the Heelers.' In time, this was abbreviated to 'King' and so it was that my dad, Tom Clancy, became the original 'King Clancy'."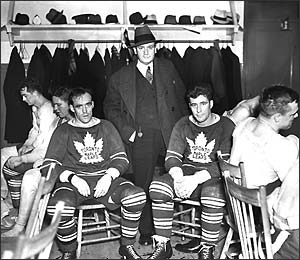 It took the Toronto Maple Leafs an astronomical $35,000 and two prospects to pry Clancy away from the Ottawa Senators in October 1930, but the addition helped guide the Leafs to the Stanley Cup in 1932.

Clancy's first forays into organized hockey took place at St. Joseph's School in Ottawa. He later joined St. Brigid's Athletic Club in the Ottawa City League. "I didn't get much ice time, either," King laughed. "I simply wasn't good enough. I used to sit on the bench, game in and game out." But by 1919, Clancy helped the team win the city championship. "A lot of the boys I played with on that team later turned professional and made names for themselves in hockey. There was Ed Gorman, who went on to play with Ottawa, and Alex Connell, who was to star in goal for many years with the Ottawa hockey club."

Local sportsman Tommy Gorman, a family friend and sportswriter, had been named secretary of the Ottawa Senators by the early 1920's. He signed the aspiring player to a contract for $800 per season, plus a signing bonus of $100. "I looked at Tommy Gorman and asked, 'Do you think I'm good enough to play for your hockey team?' He just laughed. 'To tell you the truth, Frankie, I've never seen you play! But our coach, Petey Green, has looked you over a few times and thinks you might make a hockey player.'"

On December 17, 1921, King Clancy debuted as the youngest player in the NHL to that date. He was seventeen years old and weighed 150-pounds. "This was my introduction to the professional game," King continued. "I played with some wonderful fellows on that Ottawa team. And it's a funny thing, but although they were tough on me and gave me a rough ride when I first worked out with them, once I got to be a bona fide member of the team, I got more encouragement from the players on the Ottawa club than I ever thought was possible." Teammates included Hall of Famers Punch Broadbent, brothers Frank and Buck Boucher, Cy Denneny, Eddie Gerard, Frank Nighbor and netminder Clint Benedict.

Clancy scored in his first game with the Senators, a 3-2 overtime win over the Hamilton Tigers. "It came back to me on the draw, and it looked like a big watermelon rolling my way," described King. "I slapped at it with my stick and stumbled on ahead with it before I let fly a pass across to Punch Broadbent. I kept going up the ice because I didn't have the sense to stay back on defense where I belonged. Then, whoops-a-daisy, I get the puck right back again but I was off at a poor angle on the wrong side of the net when I took this pass. There wasn't much I could do but wing a shot at the net. I let go a backhander and lo and behold, I look up to see the goal judge waving his handkerchief. I had scored." The goal was scored on Clancy' very first NHL shot and was the winning goal in a regular season, sudden-death overtime contest. "I guess that first goal in Hamilton impressed me much more than it did anybody else because I really didn't get too much chance to play when I turned pro. I was with the Senators for two seasons and filled in here and there as a general utility player."

The Ottawa Senators finished first that season, but lost in the Stanley Cup final. Then, in 1922-23, the Senators faced Edmonton Eskimos of the Western Canada Hockey League, a team featuring 'Bullet' Joe Simpson and Duke Keats, for a shot at the Stanley Cup in 1923. The Senators collected two straight victories to win the best-of-three playoff and the Stanley Cup. "Capturing the hockey championship of the world was the greatest thing that ever happened to me," Clancy said in his autobiography. "After earning $800 for the season and then collecting another $750 in one shot for the playoffs, I was a rich man."

The Ottawa Senators won the Stanley Cup again in 1927, with Clancy playing an integral role as a leader on the team. Although a defenseman, King was a strong puck carrier and contributed significantly to the Ottawa offense. Then, after nine seasons with the Senators, Clancy was traded to the Toronto Maple Leafs on October 11, 1930. "I talked to Mr. Smythe, who told me he polled some of the fans and newspapermen in Toronto to find out who they would like to see on his hockey team. Some of those he consulted had brought up my name," Clancy recalled. Smythe, who had purchased the Toronto franchise in early 1927, didn't have the money to secure Clancy at that time. But a day at the track changed the climate for his team. Smythe owned a racehorse named Rare Jewel, who ran at seemingly insurmountable odds. But astonishingly, Rare Jewel won its race with Smythe having bet a great deal of money on his horse. With odds at better than 200-to-one, Smythe collected more than $15,000 and, packaged with a further $20,000 from the team and Leaf chattel Eric Pettinger and Art Smith, the Maple Leafs were able to secure King Clancy from the Ottawa Senators. "To this day, I'm surprised at the amount of money involved in the deal that brought me to the Leafs," Clancy admitted in 1968. "I heard how much money Mr. Smythe had handed over to Ottawa and I must confess, I thought he was a foolish man." Ottawa fans were disheartened to learn of the loss of their star. Toronto fans were ecstatic to hear that their nemesis would be joining their team. "I must stress that when Mr. Smythe bought my contract and brought me to Toronto, I never looked back on any aspect of my career. A few years after I left Ottawa, the Senators folded. By then, I was a member in good standing with the Toronto Maple Leaf organization."

In his first season in blue and white, King Clancy helped Toronto catapult 13 points in the final standings. But in spite of being named to the NHL's First All-Star Team, the addition of Clancy wasn't enough to propel the team to the Stanley Cup. By the autumn of 1931, the Maple Leafs had moved into a brand new arena, having outgrown the 9,000 seat Arena Gardens. During the 1931-32 season, the first for Toronto at the newly-built Maple Leaf Gardens, the Toronto Maple Leafs won the Stanley Cup. "We beat New York (Rangers) 6-4 in that final game and so won the Stanley Cup the first year we were in the Gardens. It was also the first time a team had won the Cup in three straight games." The Leafs beat the Rangers 6-4, 6-2 and 6-4 to capture Lord Stanley's glittering prize in front of a wildly enthusiastic Toronto crowd.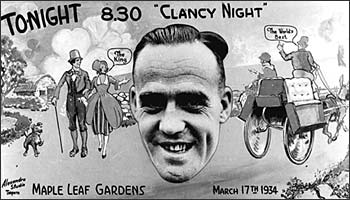 The Toronto Maple Leafs honoured their star defenseman with a special night on St. Patrick's Day, 1934. Lester Patrick of the opposing Rangers objected to Clancy's wearing of a green sweater, so King changed back to his traditional blue and white after the first period.

Clancy, who had always been an offensive star from his defense position (in 1923-24, he finished in the NHL's top ten scorers and led the league with 8 assists) enjoyed his two best offensive seasons in 1932-33 (25 points) and 1933-34 (28 points). In 1933, King was a Second Team All-Star while he was selected to the First Team in 1934. That same year, the Maple Leafs honoured their star with a special night, celebrating his contributions to the team. "Whenever I think back to March 17, 1934 and how the Maple Leafs honoured me with a 'night,' I'm still amazed at the work they went to just for me," Clancy humbly stated. "They gave me the greatest tribute an individual could ever hope to get. I didn't do anything to deserve it. They must have banded together and said, 'He's an Irishman. Let's give him a night,'" Clancy chuckled. King was dressed in a specially-created green Leafs sweater with a shamrock on the back where his number 7 would usually be seen. A series of Irish icons were pulled onto the ice — a giant pipe with teammate Ken Doraty, a huge top hat with Baldy Cotton followed by Joe Primeau on a super-sized harp and a monstrous shamrock that held opponent Bill Cook. "When my turn finally came, the lights were all turned out and, dressed in royal robes and wearing a crown, I was ushered in on a big throne pulled by Hap Day. As the float reached the middle of the rink, I got hit in the face with a handful of soot from (Hap) Day and (Charlie) Conacher. When the lights came on, I looked like Santa Claus but my face was pitch black. It took me two or three days to get that stuff off. This was a wonderful night to give anybody and I have wonderful memories of it. There is also a grandfather's clock at home which is worth more than any amount of money because of the inscription on it: 'From the Toronto Maple Leafs to King Clancy on St. Patrick's Night 1934.'"

His productivity declined in 1935-36, with King finishing with 15 points, the fewest of his NHL career since his day with Ottawa. At training camp in 1936, the Maple Leafs were alarmed to realize that Clancy was unable to keep weight on his already smallish frame. "After sixteen years in the league, I didn't want to injure my health," King claimed. "The check-up revealed nothing, but when Dr. Johnny Rush told me I was taking too much out of myself by playing, I decided that perhaps the time had come to consider retiring. The main reason was my health, but I had also discovered that fellows I could ordinarily stop were getting away from me with no trouble at all." Just six games into the 1936-37 campaign, King Clancy made the decision to conclude his playing career. "I was thirty-three and the highest-paid player in the NHL when I announced that I was hanging up my skates. I'll never forget the date — it was November 24, 1936. I was through as a player but not finished as far as the Toronto Maple Leaf organization was concerned. Mr. Smythe gave me a job as a goodwill ambassador and that kept me in touch with the game I loved."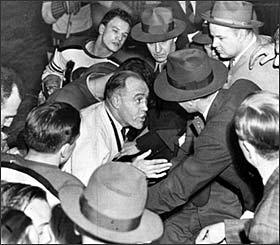 After a short-lived venture coaching the Montreal Maroons, King served as an NHL official for eleven years. Never one to back down from an altercation as a player, he held the same philosophy as a referee.

King Clancy retired with a record of 137 goals and 144 assists for a total of 281 points in 592 regular season NHL games. In 61 playoff contests, King added 9 goals and 8 assists for 17 points.

Clancy was hired to coach the Montreal Maroons in 1937-38. "The team never got untracked in the one month I was there, and before I knew it, I was out of a job," King shrugged. The Maroons won six, lost eleven and tied one in the 18 games Clancy was employed by the Maroons.

"Early in 1938, (NHL president) Frank Calder asked me if I would be a linesman," continued Clancy. "I'd worked perhaps ten games when they asked me to go in and take a shot at refereeing in the International League." That minor league stint earned the hard-nosed Clancy a shot at refereeing in the National Hockey League. "Believe it or not, refereeing is a hard job. You can never satisfy anybody. I wasn't used to the criticism you get as an official, and this hurt a little bit at the start."

King Clancy worked as an NHL official for eleven years before he decided to accept an offer coaching the Cincinnati Mohawks, the American Hockey League affiliate of the Montreal Canadiens for the 1949-50 season. The team started well with Clancy commanding the bench. "I can tell you I was flabbergasted when I was named the American Hockey League's all-star coach in my first year in Cincinnati." Unfortunately, the Mohawks finished last in both seasons which Clancy coached them. In 1951-52, King was hired as head coach of the AHL's Pittsburgh Hornets. "It was a tremendous thrill to get back into the Maple Leaf organization again," he claimed in 'CLANCY.' "I was forty-eight years old and felt I was getting a new lease on life. I just reveled in the challenge I was facing and at being reunited with Mr. Smythe and my old sidekick, Hap Day." The Hornets finished in first place in 1951-52 and wet on to claim the Calder Cup as American Hockey League champions. "It was their first Calder Cup since the team's inception sixteen years earlier. In fact, the last time the Steel City had won anything of athletic note was 1927 when the Pirates brought home the Major League baseball title," Clancy beamed at the time. "Frankly, I wasn't such a hot coach although I did have a good way with my players. I enjoyed the work to a certain extent but it wasn't as pleasurable as playing or refereeing. I was too emotional and actually worried myself sick at times."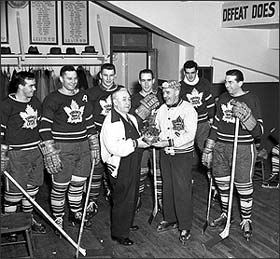 Clancy returned to Toronto to coach the Maple Leafs in 1953 and stayed for three uneventful seasons. He was elevated to assistant general manager in 1956, but returned behind the bench as an emergency replacement during the 1966-67 and 1972-73 seasons.

In 1953-54, Joe Primeau resigned as coach of the Maple Leafs and Clancy was moved into the position as the new coach for Toronto. "I spent three seasons behind Toronto's bench, getting into the playoffs each year, but I didn't perform any coaching miracles," shrugged Clancy. "I never did coach a Stanley Cup winner. I wished I could have." At the conclusion of the 1955-56 season, King was promoted to assistant general manager and retired star Howie Meeker was installed behind the bench. But Toronto's fortunes continued to sink and Meeker was replaced by Billy Reay after one season. Reay was into his second season with the Maple Leafs when he, too, was replaced. Punch Imlach was selected as coach after twenty games of the 1958-59 season. By 1962, Toronto had collected the Stanley Cup again, and won four championships in the sixties. "I think it's a great credit to him (Imlach) that the team was ready for the playoffs and the boys did so well in that final series (in 1962). He rallied them with a skill you couldn't see and when they waltzed off with the Stanley Cup, people began calling Imlach a genius. I knew he was one all the time," Clancy told author Brian McFarlane.

After Imlach's dismissal in 1969, King Clancy remained as assistant to the newly-named general manager, Jim Gregory. He was given a permanent position with the Maple Leafs at this time, a role he carried until his death on November 8, 1986.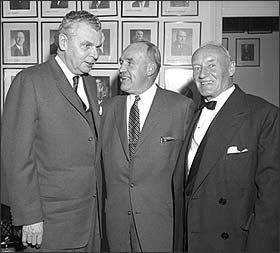 After being inducted into the Hockey Hall of Fame in 1958, King Clancy was witness to Canadian prime minister John Diefenbaker's ceremonial opening of the Hall of Fame at its Canadian National Exhibition location in 1961. The Leafs' Conn Smythe, far right, had been one of the driving forces behind securing a permanent location for hockey's hallowed hall

King Clancy was honoured for his extraordinary contributions on the ice by his induction into the Hockey Hall of Fame in 1958. But equally memorable are his contributions off the ice — Clancy was a true character with an immense joie de vivre contagious for all those who came in contact with him. "Everybody says I have a gift for the gab and I suppose it's true that I take a backseat to nobody when it comes to conversation," reflected Clancy. "In fact, a sportswriter once described me as '135 pounds of muscle and conversation'."

"I was the butt of many jokes on that Toronto hockey club," Clancy laughed, thinking back to his playing days as a Maple Leaf. "During a game in New York, I had some of my teeth knocked out and my tongue split open, but the doctor there couldn't do anything at the time. The day after we were back in Toronto, and Hap (Day) took me to the office of Dr. Johnny Rush, who had to stitch up my tongue. Dr. Rush said, 'Hap, I think we might do mankind a great service if I cut this right off.'"

Former Leaf owner Harold Ballard added a final comment on his best friend, Francis 'King' Clancy: "Like most leprechauns, he never won a fight on or off the ice. In more than fifty years on the Toronto scene, he has been a player, a referee, a coach and, most important, a friend of anyone he has ever met."

Kevin Shea is the Manager of Special Projects and Publishing at the Hockey Hall of Fame.