3 DECEMBER 2011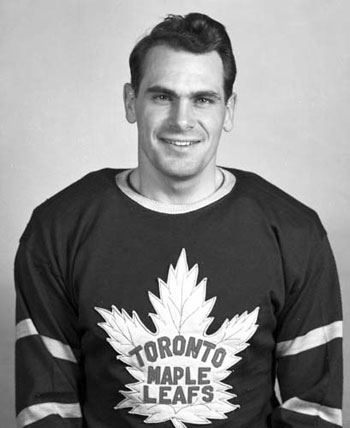 In 1993, Syl Apps had his number honoured at Maple Leaf Gardens. (Imperial Oil-Turofsky/Hockey Hall of Fame)

In the great collection of hockey stories that dot the memories and bookshelves of fans around the world sits an astounding three-generation story of talent, class and inspiration. That story is of the Apps family.

Today, Gillian Apps is recognized as one of the premier members of Canada's women's hockey program. Her brother, Syl III, turned pro in the Maple Leafs' organization, playing parts of two seasons with the St. John's Maple Leafs of the American Hockey League. Their father, Syl Jr., debuted with the New York Rangers in 1970-71, but starred with the Pittsburgh Penguins and Los Angeles Kings. But it is the patriarch of the hockey family, Syl Apps, father of Syl Jr. and grandfather of Gillian and Syl III, who is the subject of today's Spotlight.

Charles Joseph Sylvanus (Syl) Apps was born in Paris, Ontario on January 18, 1915. A big, athletic boy, Apps was pursuing athletic endeavours while studying economics at Hamilton's McMaster University. In 1934, he had earned the gold medal in pole vaulting at the British Empire Games. Tipped off that there was a superb football player at McMaster, Leafs' president Conn Smythe drove to Hamilton and watched Apps dominate the play, and while he had never seen the young man play hockey, offered him a contract to join the Maple Leafs. Syl declined, stating his intention to retain his amateur status so he could compete for Canada in pole vaulting at the 1936 Olympic Games to be held in Berlin, Germany. Apps went on to finish sixth at the international competition.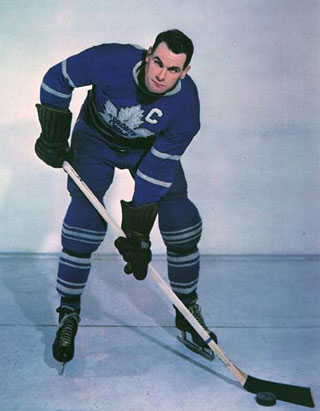 In 1941-42, Syl Apps went the whole season without getting a single penalty and was awarded the Lady Byng Trophy for his gentlemanly play.
(Imperial Oil-Turofsky/Hockey Hall of Fame)

Following the Olympics, Apps signed to play hockey with Toronto, joining the Maple Leafs for the 1936-37. Some questioned whether the non-drinking, non-smoking, non-swearing Apps was simply too nice to play in the National Hockey League. While the smooth-skating centre played the game with gentlemanly finesse, he was not to be crossed. When Boston's Flash Hollett highsticked the placid Leaf, knocking out two teeth, he quickly learned that Apps could more than take care of himself. Syl pummelled Hollett before being restrained and escorted to the penalty box. It was the first of but three fights in which Syl would be engaged through his NHL career.

But because he was gentlemanly didn't mean Apps was soft or ineffective. The rookie stepped in to replace another clean player, 'Gentleman' Joe Primeau on what had been the Maple Leafs' strongest trio, the Kid Line, centring Charlie Conacher and Harvey Jackson. Although Conacher injured his wrist early that season, he was replaced by another sniper, Gordie Drillon, who would team with Apps through the early part of his career. In his first NHL season, Apps scored 16 goals, an NHL-best 29 assists and collected a team-best 45 points, second-best in the entire league. He was named the league's rookie of the year for 1936-37.

By his sophomore season, Syl Apps was already being recognized as one of the finest players in the league, securing a spot on the NHL's Second All-Star Team in 1938-39 after finishing second in the NHL scoring race with 50 points. By 1938-39, Apps finished sixth in league scoring and was selected for the NHL's First All-Star Team.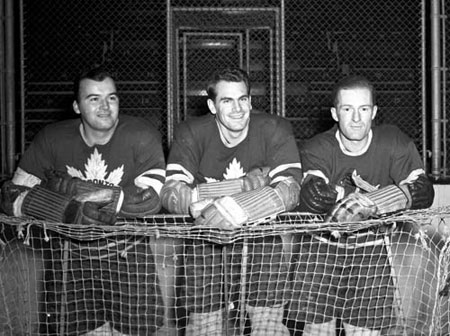 Gordie Drillon, Syl Apps and Nick Metz of the Toronto Maple Leafs.
(Imperial Oil-Turofsky/Hockey Hall of Fame)

A broken collarbone in January of the 1939-40 season curtailed Syl's campaign, but by 1940-41, newly named as captain of the Maple Leafs following Red Horner, Syl was back at the top of his game, and at the top of the league. He finished second in scoring that season, in spite of missing a month with a knee injury, and was again an All-Star, being picked for the NHL's Second Team.

Apps finished eighth in scoring in 1941-42, but almost more remarkable was the fact he went the entire season without collecting a single penalty. Along with First All-Star Team honours, he was awarded the Lady Byng Trophy for his gentlemanly play. During the playoffs, Apps led his teammates to the most improbable Stanley Cup victory in the franchise's history. After being down three games to none to the Detroit Red Wings in the Stanley Cup final, the Leafs rebounded, winning the next four games and thus earned the Stanley Cup.

Injuries again kept the Leafs' captain out of action in 1942-43, this time, a broken leg incurred when sliding into a goal post during a contest with Boston in January 1943. Nevertheless, he still scored 23 goals and 40 points in 27 games and was named to the NHL's Second All-Star Team, the fifth of his five NHL selections.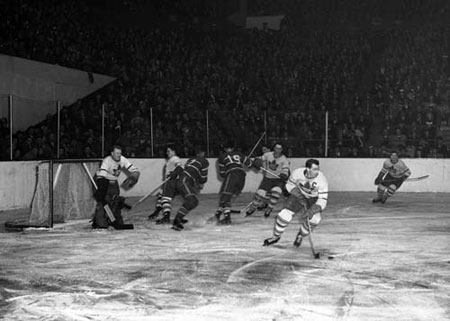 Toronto Maple Leaf Syl Apps in action against the Montreal Canadiens.
(Imperial Oil-Turofsky/Hockey Hall of Fame)

Apps's gentlemanly demeanour may best be exemplified by his actions following the January 30, 1943 accident. Syl was making $6,000 per season, but visited Leafs' president Conn Smythe with a cheque for $1,000, feeling that if he wasn't earning his pay by playing, he should reimburse the team. Astounded, Smythe refused the gesture, but his estimation of Apps grew even greater.

Like many others across the National Hockey League, Syl Apps left this hockey career to serve his country during the Second World War. On the suggestion of Smythe, Apps enlisted in the Canadian Army, and missed two seasons while the war raged in Europe. When he returned for the better part of the 1945-46 season, coach Hap Day gave him back the team captaincy (teammate Bob Davidson had served as captain in Apps's absence), and although it was an almost completely different team from the one that won the Stanley Cup with Apps in 1942, the Maple Leafs won again in that spring of 1947.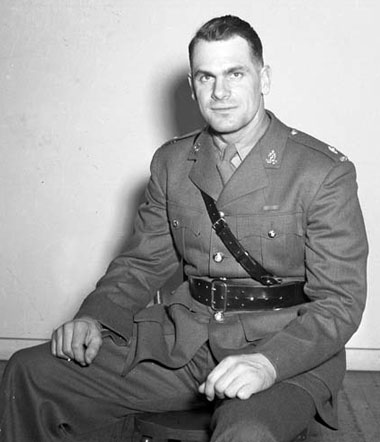 Following the 1942-43 season, Syl Apps left the Toronto Maple Leafs to join the Canadian Army. (Imperial Oil-Turofsky/Hockey Hall of Fame)

They'd win again in 1947-48, too. But Syl had had enough, and chose to serve in other ways. Although only 33 years of age and having finished seventh in league scoring, including a hat-trick in his final regular season game, Apps decided to move on in his life. Both Conn Smythe and Hap Day attempted to change their captain's decision but he was resolute. He took a marketing position with Simpson's department store.

On his retirement, Syl Apps had scored 201 goals, assisted on 231 others and accumulated 432 points in 423 regular season NHL games. During that time, he had but 56 penalty minutes. In post-season play, Apps played 67 games, scoring 25, assisting on 29 and collecting 54 points, and served just 8 minutes in penalties. v Apps was well-rewarded for his exemplary play. In 1998, the three-time Stanley Cup champion was ranked thirty-third on The Hockey News' list of 100 Greatest NHL Players. He was inducted into the Hockey Hall of Fame in 1961. In 1975, he was elected to Canada's Sports Hall of Fame and he is also a member of the Canadian Amateur Athletics Hall of Fame and McMaster University's Sports Hall of Fame. Apps was made a Member of the Order of Canada in 1977.

In 1993, the Toronto Maple Leafs chose to honour Syl Apps's number 10, doing so at the same time as his prodigy, Ted Kennedy, who was having his number 9 honoured. Kennedy, who succeeded Apps as team captain in 1948, commented, "To share that honour with Syl Apps, a superb player and perfect gentlemen, was a great moment."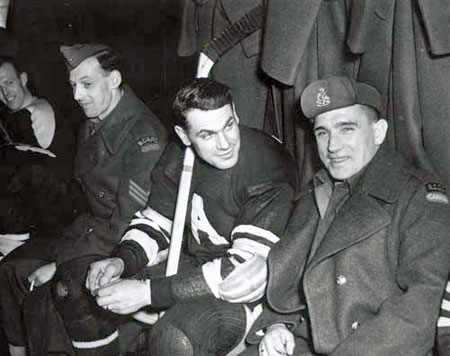 During his two year absence from the Toronto Maple Leafs and the NHL,
Syl Apps suited up for the Toronto Army Daggers, the Brockville Army
and the Ottawa All-Stars. (Hockey Hall of Fame)

It is important to mention that during his playing career, Syl Apps also intended to be a politician. He had run for parliament as a candidate for the National Government Party in the Brant riding in the 1940 federal election, but lost in a close vote count to the incumbent. He later ran and was successful as a Progressive Conservative member of the Legislative Assembly of Ontario, serving the riding of Kingston from 1963 to 1967, followed by serving the newly-devised riding of Kingston and the Islands from 1967 to 1975. During that time, Syl served as chairman of the Select Committee on Youth until he was appointed Minister of Correctional Services in 1971, serving in that position until 1974. He also served as the Ontario Athletic Commissioner during this time.

Syl Apps died on December 24, 1998, leaving a spectacular legacy in the sporting world that has reverberated through three generations.

Kevin Shea is the Editor of Publications and Online Features for the Hockey Hall of Fame.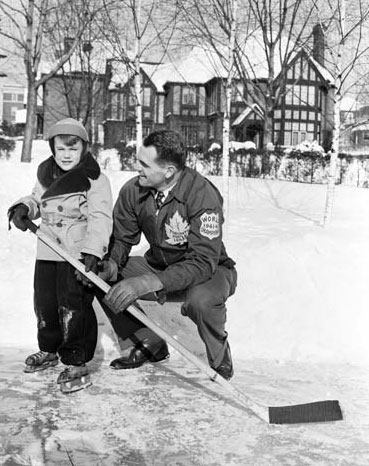 Syl Apps and his son Robert Ernest Coulson Apps in the backyard rink. (Imperial Oil-Turofsky/Hockey Hall of Fame)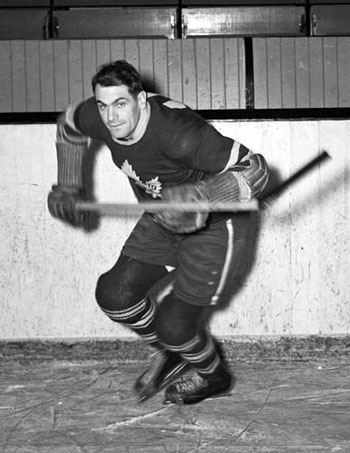 In 1947, Syl Apps was appointed the athletic commissioner for sport in Ontario. (Imperial Oil-Turofsky/Hockey Hall of Fame)