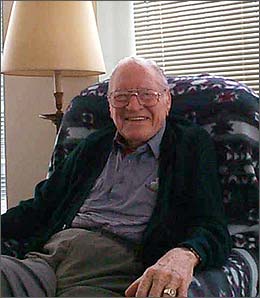 At 94 years of age, Red Horner is the oldest living Honoured Member of the Hockey Hall of Fame. His daily routine includes two thirty-minute sessions on the stationary bike.

(December 30, 2003) -- Red Horner holds the distinction of being the oldest Honoured Member in the Hockey Hall of Fame. At 94 years old, Reginald 'Red' Horner is every bit as alert as he has ever been, and his attention to detail is extraordinary.

"I was born in Lynden, Ontario, not far from Brantford," starts Horner. Born May 28, 1909, Red's memory is astoundingly clear as he details the nuances of a long, outstanding life. "My father was a farmer and sold his farm and moved to Ancaster, where I started at school. Then we moved to Hamilton after that. We lived there a couple years and then we moved to Toronto. I've lived in Toronto more than eighty years."

Red never misses a beat, readily recalling the businesses, buildings and details of his childhood. "My father and mother were both married a second time. My mother was 41 when I was born and my father was 52. My half-brother, my mother's son from her first marriage, had a grocer/butcher store at the corner of Sussex and Spadina (in Toronto). In my early teens, I stayed with my half-brother and his wife for a couple years and I worked for him delivering groceries. That's where I first met Mrs. Selke." Mrs. Selke was the wife of Frank Selke, a prominent hockey figure in Toronto after the First World War. Selke was general manager of the Toronto Marlboros in the 1920s, later joining the Toronto Maple Leafs where he stayed until he and Conn Smythe had a philosophical discussion that necessitated a parting of the ways. Frank Selke joined the Montreal Canadiens during the summer of 1946.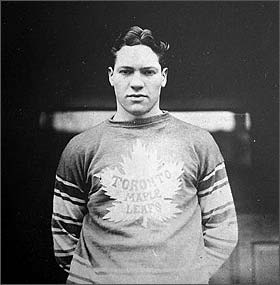 While still a member of the junior Toronto Marlboros, Red debuted as a Toronto Maple Leaf on December 22, 1928 in a 3-2 loss to the Pittsburgh Pirates.

Horner takes us back to his beginnings with the Toronto Maple Leafs. "At that time (1928), Frank Selke was business manager of the International Brotherhood of Electrical Workers. (Selke had worked for the University of Toronto several years prior to that.) He had come down from Kitchener (in 1917). He and Conny Smythe were good friends. Frank Selke was manager of the Marlboro Juniors. They were an offset of the Maple Leafs. I asked Mrs. Selke if she thought her husband would mind if I came down and tried out for the Marlboro Juniors. She said, 'By all means. I'll find out from Frank when the next practice is.' I went down to the old Mutual Street Arena on Shuter Street. Twenty or thirty young fellas were trying to make the team. In the meantime, I had played in the Toronto Hockey League right up from the time I was a bantam, played midget, juvenile and junior. That's when I tried out for the Marlboro Juniors. At the first of the season back in those days, they had the SPA - the Sportsmen's Patriotic Association. If you lost a game, you were out."

"I made the Marlboro Juniors but I wasn't one of the regulars." Red smiles at his memory of playing junior in Toronto. "During one of the games, one of the players on the Marlboro team was hurt and Selke sent me out in his place. We were playing the North Bay Juniors at the time. I must have impressed Selke and played all right because he kept me on the team and I played on the Marlboro Juniors for a couple of years and became captain. I was captain of the Marlboro Juniors when I joined the Leafs."

In the 1962 book, 'Behind the Cheering,' author Frank Selke remembers the Maple Leafs of the late 1920s. 'One day in 1927, Conn Smythe was back in Toronto with his new team. It was called the Maple Leafs, and everything he touched seemed to conspire against him. Worst of all, his beloved Leafs were having trouble in the NHL. Try as they did, they couldn't cope with the hard-hitting Maroons from Montreal. And since no club would sell any good players to the Maple Leafs, Smythe's team failed to make the playoffs. One day when Conn was in a mood more despondent than usual, he asked me what I thought he should do about it. 'How in the world am I ever going to get a team good enough to whip those Maroons?' he groaned. 'I'll tell you how,' I said. 'Just fire the old men you have playing on your team now. Replace them with these young bucks I have with me on the Marlboros. Do that and you'll never look back.'' Smythe heeded Selke's advice, and over the next few years, added Charlie Conacher, Harvey Jackson (later to be known as 'Busher'), Alex Levinsky and a bruising defenseman named Red Horner.

Horner recalls the scenario. "I was playing for the Marlboro Juniors but I was playing for the Broker's League too. I was a clerk. They assigned me to a desk then sent me over to the (Stock) Exchange. It was a little curious because there were so many different abbreviations and I had to take the information over the telephone from the office at the Exchange. I had to put it down but I didn't know the abbreviations and had to write them out in long-hand. I got them all mixed up for a couple of days until I got to know the abbreviations."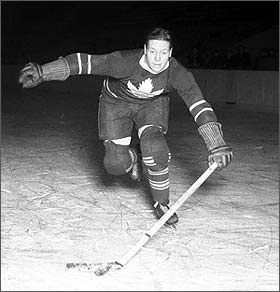 The 'Bad Boy of Hockey' led the NHL in penalty minutes eight consecutive seasons --
1932-33 to 1939-40.

"On Friday night, I played with the Marlboro Juniors. The Broker's League always played Saturday afternoons. I played Saturday afternoon with Solway Mills. Smythe was at the game and he came to me and said, 'Red, you've had enough of this amateur hockey. We want you to come with us!' Those were his words. This was just before Christmas (December 22) in 1928. I said, 'Thank you very much, Mr. Smythe. When do you want me?' He said, 'Tonight!' I said, 'But I played last night and this afternoon!' He said, 'Well, that's nothing for you.' He said, 'I'll tell ya what I'm gonna do. I'll pay you $2,500 for the balance of the season.' I thought about it and it sounded pretty good because I was making $25 a week as a clerk at the Standard Stock Exchange. I said, 'Well Mr. Smythe, I've only seen two pro games in my life before, I don't know any of your players, I haven't a car but if you'd like to pick me up and take me down tonight, I'll take you and introduce you to my mother and father and I'm pretty sure it'll be all right.' He said, 'That's a deal,' and we shook hands on it. That's all there was to it. No signing of anything, just a handshake. He was general manager at the time. There was a fella named Art Duncan who was the coach, but he was playing also. We were playing Pittsburgh (Pirates) and that's how I started. (Pirates won 3-2) I really hadn't thought about playing professional hockey. I was so wrapped up in the Marlboro Juniors. When I left the Marlboro Juniors, Charlie Conacher became the captain and they went on and won the Memorial Cup." As Frank Selke mentioned in the book, 'Behind the Cheering,' 'Red Horner joined the Maple Leafs Professional team at Christmas when he was only nineteen years old. That left a bad hole in our Marlboro squad, but we were still good enough to win the Memorial Cup, defeating the Winnipeg Elmwoods at Toronto in two straight games.'

But joining the big club didn't come without its price, Horner remembers. "I had my hand broken in my second game. (Christmas night at home in a 4-1 win over the Montreal Maroons). I had been knocking them down pretty well and I started up the ice with the puck. Nels Stewart came over and sandwiched me with another Maroon, then he took his stick and hit me over the back of my hand. The gloves weren't too padded and he broke my hand."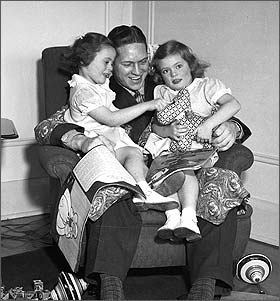 Fearless on ice, Horner melted in the presence of
his children. Red and his wife had four
children, three girls and one boy.

In 1931, the Maple Leafs moved from the Arena Gardens, often referred to as the Mutual Street Arena, to an extraordinary new home mere blocks away. Maple Leaf Gardens opened with much fanfare on November 12, 1931, and there on the blueline for the opening faceoff was Red Horner. It was a magical year for the Toronto Maple Leafs, who went on to collect the Stanley Cup - the first of eleven through the years as Maple Leafs.

That summer, Conn Smythe had plans for Horner. "I was in the league for two or three years and Smythe said to me, 'You should go to a camp for the summer and put on some weight. Otherwise, you'll be washed out of the league.' So I heard that Camp Wanapitei north of Sudbury was looking for a counsellor. Ed Archibald was the camp director." Archibald was a pole-vaulter who represented Canada at the Olympic Games in 1906 (Athens) and 1908 (London). "We had about 150 boys in camp and we used to take 100-mile canoe trips in 18-foot Prospector Canoes. And we made many portages too. Toward the end of the (camping) season, I got so I could carry an 18-foot Prospector Canoe over a two-mile portage without stopping. That's a good workout!"

Red returned to the Leafs ready for action, and in his case, the more physical the better. "When I got to training camp, I was in great shape. In those two years, I put on ten pounds of good solid beef from going to Camp Wanapitei. I got up to 190, which was my playing weight. I was much stronger." Horner led the NHL in penalty minutes for eight consecutive seasons between 1932-33 and 1939-40.

The Leafs of the thirties were a high-flying ensemble with a reputation for playing hard and living fast. "The team, as a whole, became quite friendly because we always travelled by train and we were together a great deal. But we didn't socialize to any great extent. The only player I socialized with was Andy Blair. He and I were roommates on the road for about seven years. We socialized with our wives a bit."

"I had high regard for our Kid Line - (Charlie) Conacher, (Busher) Jackson and (Joe) Primeau. No one could shoot the puck as hard as Charlie Conacher. He had the hardest shot in the league."

"We only had four defensemen in those days," Horner continues, moving from discussing the Leafs' forwards to the blueline. "King Clancy and I played together for seven years. Hap Day played on the other pairing with Alex Levinsky. I was just naturally a heavy hitter. I always was. I wasn't a graceful skater but when I joined the Leafs, Frank Selke told me, 'Red, if you can learn to break fast from the blueline, you'll make this team.' You'd hit somebody and the puck would be at your feet. You had to break fast. I worked at it. Hard. After practice - breaking from the blueline, breaking from the blueline."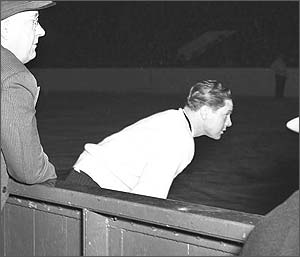 After retiring from the Toronto Maple Leafs April 18, 1940, Red was an NHL linesman for two years, but his primary post-hockey career was as president of a coal company.

In an oddity unique to that era, Horner was forced to play goal in a game on March 15, 1932. At the time, goaltenders served their own penalties and a minor infraction lasted the entire two minutes, regardless of whether a goal was scored during that time. "Lorne Chabot was reprimanded for hitting someone with his stick. I went in to take his place. They scored a goal on me. (Marty Barry was the scorer.) Then, somebody else went in (Alex Levinsky) and Barry scored on him too." King Clancy then played goal and George Owen collected yet another goal for Boston, who won the game 6-2. "I had never played goal before that day," laughs Red.

The Leafs were tough, but Red insists that the fast-living reputation may be overblown. "There was no drinking, of course - for anybody. Smythe insisted." Conn was a notorious non-drinker and was heavy-handed enough to ensure that no one drank alcohol while he could control the situation. But the Major controlled other areas for the Leafs, including motivating his charges with pep talks. "Smythe made a motivational speech before we went out to play. We couldn't wait to get out on the ice and get at the other team."

Hap Day captained the Toronto Maple Leafs through most of Horner's career, but in September 1937, Day was traded to the New York Americans. Charlie Conacher was made captain for the start of the 1937-38 season, but after suffering a number of injuries, The Big Bomber retired on January 19, 1938. Red Horner replaced Conacher as captain of the Leafs. "I was the captain my last two years. When I retired (following the 1939-40 season), Smythe asked me if I'd become their master of ceremonies. That meant attending banquets and speaking to them about the Leafs, which I did for two years."

Red Horner played his final game with Toronto, the only NHL team with which he ever played, on March 17, 1940. In 490 regular season games, Red scored 42 goals and added 110 assists for 152 points. The heavy hitter collected 1,264 penalty minutes during that time.

"I was a linesman for two years," states Horner, reflecting on his retirement from hockey. "At the same time, I was hired to work in the summer with Love & Bennett for probably a year." (Love & Bennett was a sporting goods store in Toronto in the 1930s and forties.) But Horner was only thirty-one years old, and had an entire business life ahead of him. "I started to work for Rogers Coal. They sent me out on the road to sell bituminous (soft) coal. They had sole control of the market, and I was calling on the various small dealers around Ontario. They had their own suppliers. I came back and told them, 'I don't think there's much future in this.' I got to know the head of the Canada Coal Company. I asked him, 'Will you give me the privilege of developing a tonnage of this soft coal on your dock?' He said, 'I'll supply you with the soft coal as long as you don't call on any of my customers.' He offered me customer tonnage so I could still make a profit on it. I did pretty well with it. It got to a point where the president of Canada Coal, who owned 48% of the company, went to North American Coal Company in Cleveland, who owned 52%. They said to him, 'You're getting on in years. It's about time you got somebody to take your place when you retire.' Well, he said, 'The only fellow that I know who could take my place is this fellow Horner from Rogers Coal. But they own St. Mary's Cement. I have the tonnage for St. Mary's Cement, but if I take Horner from Rogers, I might lose St. Mary's Cement. Well, they said, 'Regardless of that, you'd better take him over.' So I went over to Canada Coal as sales manager. They only had two or three salesmen. I was with them ten years before he retired. I took over as head of the company. I ran the company for North American Coal out of Cleveland and made a profit. After ten years, they came to me and said, 'Red, we're going to sell the company. We'll give you first refusal to buy it.'"

Red considered the option and realized he had a terrific business opportunity presented to him. "Our lawyer at that time was Dan Lang. I said to Dan, 'North American wants to sell their company. It's a good company, but they want a lot of money for it. I haven't any money but you and I can go together.' He said, 'I haven't any money either,' so I said, 'The bank has a lot.' I went to the bank at the corner of Richmond and Bay. They loaned me the money to buy the company. I didn't have to sign anything. They said, 'You've run the company for ten years. That's good enough for us.'"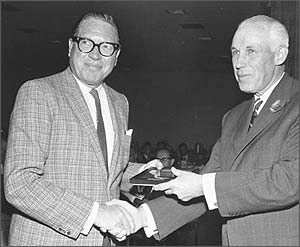 In 1965, Reginald 'Red' Horner was inducted
into the Hockey Hall of Fame after compiling 110
points and 1,264 penalty minutes in 490 games, all with the Maple Leafs. Red accepts his Hall of Fame plaque from NHL President Clarence Campbell.

Horner bought Canada Coal from North American Coal and gave his lawyer fifty percent. "Dan Lang never sold anything but he did help me with contracts for large tonnage of coal with the mines and to sell large tonnage to large companies. He was very helpful. He went on to be a Senator. I had all the hospitals - every one of them - plus the T. Eaton Company and General Motors in Oshawa."

Red Horner ran the company for ten years. "It was quite obvious that oil and gas were coming into the market. The coal business was diminishing. I sold Canada Coal to another company called Valley Camp."

Although business consumed much of Horner's time, he is a devoted father and was a loving husband. "My wife and I were married for pretty near sixty years before she passed away," states Red, tears welling in his eyes. When asked how he met his wife, he spins a story with the same remarkable memory that identified his hockey stories. "My wife's father, Mr. Norman, was manager of the Bank of Nova Scotia in Sutton for many years. There was a man who became a friend of Mr. Norman's who was a customer in the bank and he got to know some of the players. My wife had a sister a year or two different in age. This man asked the girls if they wanted to come down and meet myself and Harvey Jackson and he and his wife would take the six of us out for dinner. We went out to Old Orchard Park on Kingston Road. And that's where I met my wife. We went out for a year or so before we got married."

Red and his wife had four children. "We had one boy and three girls. My son became one of the executives of Dominion Securities. He just retired after thirty years and he lives in Kelowna. My eldest daughter lives in Kamloops. Her husband is a doctor. My other two -- one lives in Cambridge and the other lives in Oshawa."

Like so many players who are tough as nails on the ice, there is often a soft-hearted gentleman off the ice, and Red Horner embodies that description as well as anyone. But don't think he's too soft! On the day of his interview with the Hockey Hall of Fame, the 94-year old Horner cut the conversation short so he could get his usual spot in the gymnasium where he rides the exercise bike twice a day for thirty minutes each session!

Kevin Shea is a hockey historian and best-selling author. In October 2004, his fourth book, 'Barilko - Without A Trace,' will be published by Fenn Publishing.