15 JANUARY 2010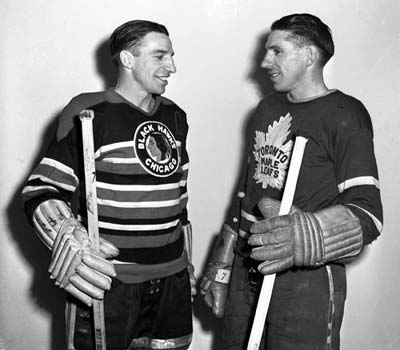 Brothers Doug and Max Bentley.
(HHOF/Turofsky Collection)

At one time, the Bentley family of Deslisle, Saskatchewan was regarded as the greatest hockey family in western Canada. The family of thirteen children - six boys and seven girls, all excellent athletes -- was guided by the family patriarch, Bill. Maxwell Herbert Lloyd Bentley, the youngest of the boys, was born March 1, 1920.

In his younger days, Bill Bentley had been a speed skating champion around North Dakota, but after moving to Delisle, the elder Bentley, by then the mayor of the town, was one of several locals who helped provide Deslisle with a covered arena in 1917. It was there that all of the Bentley kids learned to skate.

Jack, the eldest boy, and Roy, the next boy in line, both enjoyed long careers in senior hockey. They were followed by Wyatt, who was nicknamed 'Scoop,' who graduated from senior hockey to the Pacific Coast Hockey League in the late-1940s. Reg, who had a brief fling at the National Hockey League, was next in line, followed by Doug and then Max, both who starred at hockey's highest level.

Max, like his siblings, was taught to skate by his Dad at four years of age. Max and Doug, the two youngest, bonded together through hockey and both served as stickboys for the teams coached by their father in Delisle.

All of Bentley boys were small in stature, and were taught from their earliest forays on the ice that, "If they can't hit you, they can't hurt you." It was using this philosophy that Max learned the extraordinary stickhandling prowess that would later identify his NHL career. In addition, Bill Bentley convinced the boys that milking the cows on the family farm would strengthen their wrists, contributing to a harder shot. Max later said, "My Dad had eight cows on the farm back in Delisle ever since I can remember and I've milked those cows two hours in the morning and two hours at night every day I've been on the farm. That's a lot of milking, but it gives a guy strong wrists."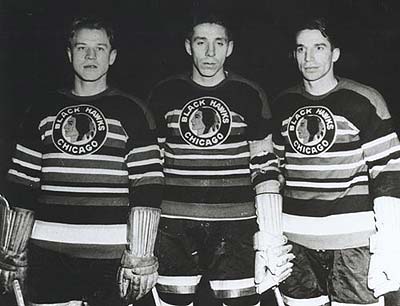 Dubbed the "Pony Line" for their quickness, Chicago's Max and Doug Bentley along with Bill Mosienko. (HHOF)

Doug graduated to organized hockey first and starred from the onset. Spurred on by his brother, Max followed, and he, too, excelled. In 1936-37, he joined the intermediate Rosetown Red Wings, with brother Roy as playing-coach and linemate, along with 'Scoop.' Though just sixteen, Max ended up as the league's scoring champion. The next season, the brothers remained together as a line on the Drumheller Miners, and again, Max led the league in scoring, earning the Gordon Efficiency Medal for his play.

By 1938-39, Reg and Doug joined the team. The family purchased a service station in town and Roy, Reg and Doug ran it while all five boys played for the Miners. The novelty attracted widespread attention, and that season, Drumheller finished second in the league, with Max and Doug tied for second in scoring, four points behind Bob Kirkpatrick, later to play for the New York Rangers, who collected 57 points.

Doug Bentley had been placed on the negotiation list of the Boston Bruins while the Montreal Canadiens had locked up Max's rights. But Doug was dropped by Boston and the Canadiens' physician determined that Max had a heart condition and would never play in the NHL.

Harry Scott, a local sportswriter, tipped off Paul Thompson, the coach of the Chicago Black Hawks, that there was a kid named Doug Bentley who, although small, could help improve the Chicago Black Hawks, who had finished last in 1938-39. Doug excelled at training camp and when the 1939-40 season opened, he was one of six rookies in the Hawks' line-up.

Doug did exceptionally well, and at one point, team owner Bill Tobin called him into the office to offer him a bonus for his play. In response, Doug said, "Gee, Mr. Tobin. If you think I'm good, you should see my brother Max. He's twice as good!"

At that point, Max was playing senior hockey for the Saskatoon Quakers. Tobin and the Hawks did not contact him right away, much to the chagrin of the Bentley boys. Tobin admitted that his scouts had investigated Max and determined that he was too small for the NHL and had also uncovered the fact that he had a heart condition.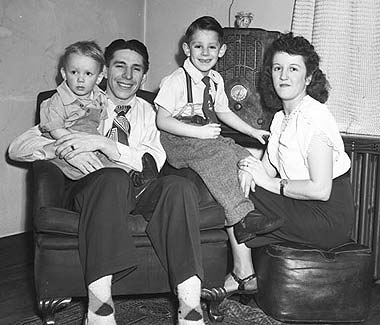 Toronto Maple Leaf forward Max Bentley and his family.
(Imperial Oil-Turofsky/HHOF)

Fortunately, desperate for scoring, the Hawks had a change of heart and sent Max a telegram, asking him to join the team in Detroit for a trial. Making his first-ever flight, Max flew to Detroit and was greeted by Chicago's management team. Tobin, apparently, whispered to coach Paul Thompson, "That Max Bentley is the sickest looking kid I ever saw!"

As it turned out, Max was sick. He simply had the flu, and while he didn't play with the Hawks at that point, he did stay with the club and watched as they were eliminated by the Toronto Maple Leafs in the playoffs.

Max was invited to Chicago's training camp in October 1940, and while signed, was sent to join the Providence Reds of the American Hockey League. "Don't worry about me," he told his brother. "I'll be back!"

In his first game with the Reds, Max scored the winning goal with 12 seconds remaining in the contest. He played well for Providence, and on November 19, 1940, was summoned by the Hawks. He played his first NHL game two nights later, but was on the ice for both Boston goals in a 2-0 Chicago loss to the Bruins. It took until December 1 for Max to score his first goal, a first-period tally against the New York Rangers in a 4-1 Chicago victory. In a curious bit of trivia, four sets of brothers played in that game - Max and Doug Bentley and Bill and Bob Carse played for Chicago while Mac and Neil Colville and Lynn and Muzz Patrick toiled for New York.

Max went through a slump triggered by an injury and was demoted to Kansas City. Discouraged, he was mentored by Johnny Gottselig, and quickly set the league on fire. He was returned to the NHL and never looked back. 'Unsung Rookie Returns from Minors and Steals Show from Mates,' reported an Associated Press story from the time.

After two promising seasons, Max, along with his brother Doug, went to Bill Tobin and suggested that the Hawks sign their older brother, Reg, for 1942-43. With all six NHL franchises (the Brooklyn American ceased operation that summer) faced with decimated rosters due to the war effort, new opportunities presented themselves, including a spot for Reg Bentley. The three brothers played together on the same line for Chicago beginning with December 3, 1942 - a marketing bonanza - but the line was together but briefly. Reg didn't prove to be of NHL calibre on an on-going basis and last just 11 games.
Ted Kennedy, Max Bentley and Syl Apps of the Toronto Maple Leafs.
(Imperial Oil-Turofsky/HHOF)

Although a third Bentley was a dream realized, Max and Doug were not adversely effected by the loss of Reg. On January 28, 1943, playing on a line with Doug and Bill Thoms, Max recorded his single most productive game, scoring four times and assisting on three more in a 10-1 win over the New York Rangers. The 7 points tied a record set earlier that season by Carl Liscombe of the Detroit Red Wings. That season, Doug Bentley won the NHL scoring championship with 73 points, becoming the first Black Hawk to accomplish that feat. Max tallied 70 points. Having collected just two minutes in penalties, Max was awarded the Lady Byng Trophy as the NHL's most gentlemanly player.

At the zenith of his career, Max spent two years in the Canadian Armed Forces. While serving his country, he was still able to stay sharp by playing hockey with the Currie Barracks team of Calgary, winning the scoring championship in the Alberta Services League in 1943-44 and finishing second in 1944-45.

On his return to the Black Hawks for the 1945-46 season, Max and Doug Bentley were teamed with a new right winger, Bill Mosienko. Sportswriters salivated at the quickness of the trio and dubbed them the 'Pony Line.' That season, Max led the NHL in scoring, collecting 61 points. His 31 goals and 30 assists were the first time since Charlie Conacher in 1935 that the scoring leader earned more goals than assists. Max was also voted to the NHL's First All-Star Team and was recipient of the Hart Trophy as the league's most valuable performer.

Despite a hard scrabble season for the Hawks, Max again led the league in scoring in 1946-47. His 29 goals and 43 assists gave him 72 points, one better than Maurice 'The Rocket' Richard. Only two players had previously won back-to-back scoring championships - Charlie Conacher in 1933-34 and 1934-35 as well as Sweeney Schriner in 1935-36 and 1936-37. In spite of his scoring exploits, Max was the Second All-Star Team's centre while Milt Schmidt took the First Team honours.

Although the Pony Line was tearing up opponents' defences, the Black Hawks were unable to turn the scoring points into points in the standings. Desperate, Chicago made a spectacular trade with the Toronto Maple Leafs on November 4, 1947. Needing help through the line-up, the Hawks received forwards Gus Bodnar, Bud Poile and Gaye Stewart, as well as defencemen Ernie Dickens and Bob Goldham from Toronto, with Max Bentley and prospect Cy Thomas heading in the opposite direction.

Toronto had been looking to strengthen their centre ice spot, and could then boast Syl Apps, Ted Kennedy and Max Bentley - three of the finest centres ever to play in the National Hockey League. Chicago, in turn, strengthened their line-up but at the expense of breaking up the immensely popular Bentley brothers. Max, decimated by the prospect, resigned himself to the inevitable and reported to the Leafs.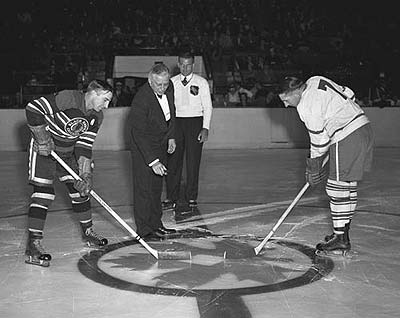 Chicago's Doug Bentley and Toronto's Max Bentley take the ceremonial face-off at Maple Leaf Gardens on October 15, 1950.
(Imperial Oil-Turofsky/HHOF)

The trade captivated the city of Toronto, and Max's stickhandling prowess dazzled the Maple Leaf faithful. Writers quickly nicknamed Bentley the 'dipsy-doodle dandy from Delisle.' While he didn't earn a third consecutive scoring championship, Max finished fifth, with 26 goals and 28 assists for 54 points. The Leafs were ecstatic, getting such huge production from their third line centre. Toronto finished in first place and went on to win the Stanley Cup. "I waited a long time for this," he beamed. "A Stanley Cup championship at last!"

Syl Apps retired prior to the 1948-49 season, elevating Max into the second line centre slot. While Bentley, joined by Joe Klukay and Ray Timgren on the 'Three Feathers Line' (a nod to the weight of the trio of forwards), Max's production slipped. He finished the season with 19 goals, and while Toronto struggled to a fourth place finish, the team went on to capture a third successive Stanley Cup championship, and a second for Max.

Bentley rebounded modestly in 1949-50, leading the team with 23 goals, but his assists fell off. His 41 points were comprised of just 18 assists. Toronto finished third, and was unable to pull out another Stanley Cup victory. The Detroit Red Wings thwarted the Maple Leafs that spring, ending Toronto's run at three Cup wins in a row.

Although he considered retiring to his Saskatchewan wheat farm, Max did return to the Maple Leafs in 1950-51. He had a productive campaign, finishing third in NHL scoring with 62 points (21 goals and 41 assists). "I thought I was going to get 100 points that season, the way I started," Bentley shrugged.

Toronto eliminated the Boston Bruins and earned the right to compete against the Montreal Canadiens for the Stanley Cup in 1950-51. In a thrilling series, one in which every game went to overtime, the Maple Leafs returned to the winners' circle, collecting the Stanley Cup on a dramatic goal by Max's best friend on the team, tragic young hero Bill Barilko. 'Bashin' Bill' would lose his life that summer while returning from a fishing trip in northern Quebec.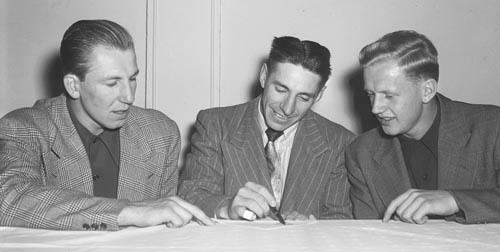 Members of the Toronto Maple Leafs "Three Feathers Line", Joe Klukay, Max Bentley and Ray Timgren. (Imperial Oil-Turofsky/HHOF)

Max played two more seasons in Toronto, scoring 24 goals and 41 points in 1951-52 and then 12 goals and 11 assists during an injury-riddled 1952-53.

Doug Bentley had played just 8 NHL games in 1951-52 and had returned to Saskatchewan to play with the semi-pro Quakers. The New York Rangers proposed a reunion of the brothers for one last go-around in the NHL. Doug returned to the NHL after his rights were traded to the Rangers for cash in June 1953. Max was sold to the Rangers by Toronto that same summer. The two played well for the Rangers in 1953-54. Doug lasted just 20 games, but contributed 12 points while Max earned 32 points in 54 games. Both Bentleys concluded their NHL careers at the end of that season, but continued playing together, often with their other brothers, with Saskatoon of the Western Hockey League.

In 646 regular season NHL games, Max Bentley scored 245 goals and added 299 assists for 544 points. In 1966, he was selected for induction into the Hockey Hall of Fame, where he, once again, joined his brother Doug. Max died on January 19, 1984. In 1998, The Hockey News ranked him number 48 on their list of the 100 greatest players of all time.

A player deemed too small and too sickly to play professional hockey showed his detractors that extraordinary skill can usurp size, and today, Max Bentley is regarded as one of the finest playmaking centres to have enjoyed an NHL career.

Kevin Shea is the Editor of Publications and Online Features for the Hockey Hall of Fame.