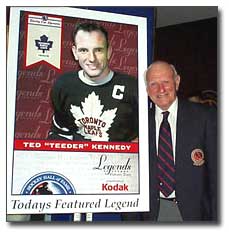 (November 15, 2002) -- "C'mon Teeder!" was the immortal cry from the stands of Maple Leaf Gardens during the 1940s and 50s, aimed at inspiring one of the great captains and competitors in Leaf history, Ted 'Teeder' Kennedy.

"My Christian name is Theodore," says Kennedy explaining the origin of the nickname, "but I came from a small town and boys names were either Bill or Jack or Joe. For the other players it was too much to pronounce my name so they abbreviated it. One of the local reporters heard them saying 'Teeder' so that's how it appeared in the newspaper and it spread from there. The only one who called me Theodore was my mother."

Although Kennedy wore the blue and white of the Maple Leafs during his entire career, he was originally set to play for Leaf rivals the Montreal Canadiens having been recruited as a teenager and sent to join the Montreal Royals at the age of 16. This was short lived, however, as Kennedy soon abandoned the city and returned home. When back in his hometown of Port Colbourne, Ontario, he joined the senior hockey team with no intention of returning to Montreal. A Canadians rep was sent down in an attempt to get Kennedy to sign a minor league contract, to no avail.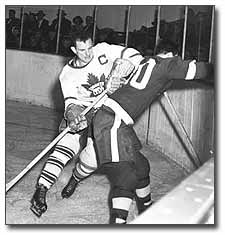 "For all the youth in most of Ontario," he relates, "Toronto was our team and the Maple Leaf players like Conacher, Primeau, Jackson, Clancy, and Hap Day were our heroes. It wasn't a bluff for more money, I simply had no intention of going to Montreal. It was a boyhood dream to play for Toronto."
Eventually Kennedy's rights were traded to Toronto in exchange for the rights to another outstanding junior prospect, Frank Eddolls, and Kennedy joined the Leafs.
By all counts, Conn Smythe's declaration that Kennedy was "the greatest competitor in hockey" was true. This feisty spirit can be traced back to his childhood. Growing up under two older brothers drove Kennedy to play with a fierce intensity merely to keep up with his siblings. Though he returns some of the credit for his tenacity to Smythe himself.
"We played for very intense people in those days," he says. "Conn Smythe who ran the Leafs organization and Hap Day who was the coach of the team when I arrived there devised the Leafs system which was particularly adhered to in the playoffs. We were meticulously trained - it was drilled into us. Day was insistent on doing it his way, leaving as little as possible to chance. Smythe provided a lot of inspiration too. He fought in the two world wars and he knew what inspired men, how to motivated them. That combined with Day and the class of an individual like Joe Primeau manifested into a very successful system and organization."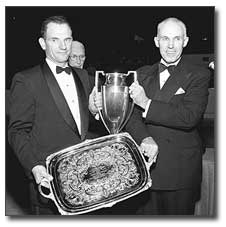 Teeder Kennedy is presented the 1955 Hart Trophy from NHL President Clarence Campbell

History bears out this claim. Under Smythe, Kennedy and the Leafs hoisted the Cup 5 times in Teeder's first 7 seasons, including 3 in a row from '47 to '49. During the final cup of the three-peat, Kennedy led the team as its Captain, inheriting the 'C' from a retired Syl Apps.

"I was highly honoured and what pleased me very much was how it came about," enthuses Kennedy. "We were in the dressing room after practice in the fall of '48 when Hap said 'since Syl is no longer with us we have to choose a new captain'. Then he put it out to the floor to take nominations verbally and put it to a vote. Turk Broada said 'I think Teeder should be our captain'. Day asked if there were any other nominations and no one else was put forward so they were all satisfied that I became their captain and that's the way it happened."

The Leafs won again in 1951 making it 4 in five years, although it could have been five straight if not for a controversial incident involving Kennedy and the legendary Gordie Howe in game one of the 1950 semi-finals verses Detroit which shifted momentum in the Red Wings favour.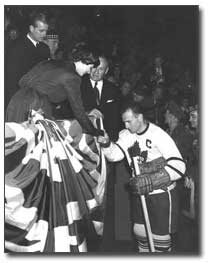 Teeder Kennedy shakes the hand
of Queen Elizabeth II.

"This has been told a lot through the years, but my version is the official version," he declares. "We were playing in Detroit in the first game of the playoffs and we'd beat them the past two years 4 games to none both times. I was carrying the puck up the boards and out of the corner of my eye I see Howe coming at me from the centre of the ice and he's going to hammer me. The referee has his hand raised to give Howe a penalty for charging or boarding when he made contact. When I stopped and pulled up, Howe tried to halt his own progress but instead hit the fence and gets knocked out cold. The trainer hops out to give him first aid says to me 'you dirty s.o.b., you butt ended him.' Which I couldn't have since the end of my stick was pointing towards the boards being a right hand shot going up the left side of the ice. Now Jack Adams who ran the Red Wing organization and who was a very high strung man started to rant and rave about me injuring Howe. But I wasn't even given a penalty and I was officially exonerated, I never had to appear before the president of the NHL at all. Joe Klukay said later about the incident 'when have you heard of a guy carrying the puck committing a penalty?' We lost that series in 7 games on a couple of very fluky goals from the point. That series with the Red Wings was only the semi finals, but the Rangers who made it to the finals that year were a very mediocre team. If we had won that series, we probably would have been the first team to win 5 in a row."

In 1955, after tallying a solid 10 goals and 42 assists, Kennedy was named the Hart Trophy winner as the league's most valuable player, in essence an acknowledgement of a career, rather than a season. Following his retirement from hockey in 1957, Kennedy spent a year coaching Junior A in Peterborough before entering the business world for the next decade. This was abandoned when Ted devoted his full attention to his life-long interest in horses beginning with the opening of his own thoroughbred training center in the late 60s.

"I had a quarter mile indoor track and a half-mile outdoor track with 36 stalls that I operated for 9 years. Then I went to work for the Ontario Racing Commission as a steward or judge for 11 years. I left the ORC for the Ontario Jockey Club as head of security at Fort Erie Racetrack before retiring. I've been a horse racing fan since I was about 9 years old as my hometown of Port Colbourne is only 14 miles from Fort Erie and even during my hockey career I raised horses for the market over the years. I've just always been involved with horses."

Ryan Watson is a freelance writer from Toronto and can be reached at ryanawatson@hotmail.com.