30 JAN 2009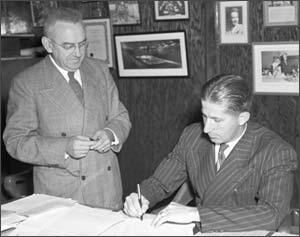 Elmer Lach signs his first professional hockey contract as Montreal Canadiens General Manager Frank Selke looks on. (HHOF Images)

Examining the NHL record books, it is astonishing to discover that Elmer Lach was the National Hockey League's career point leader at the time of his retirement in 1954. At that time, Lach had collected 623 points, and that record was broken, in succession, by three of the greatest players ever to don a pair of skates: Maurice Richard, Gordie Howe and Wayne Gretzky.

That Lach is often forgotten in this regard should come as little surprise to most, as the centre's outstanding career was overshadowed by his long-time linemates, Richard and Toe Blake. The trio, known as The Punch Line, was as potent as any line in hockey during the 1940s.

Elmer James Lach was born January 22, 1918 in Nokomis, Saskatchewan, a small town 133 kilometres (83 miles) due north of Regina. Lach played a couple of games in junior with the Regina Abbotts in 1935-36, then played two seasons with the senior Weyburn Beavers followed by two seasons with the Moose Jaw Millers, both in the Saskatchewan Senior Hockey League.
In his rookie season with the Habs, Elmer Lach earned a respectable 21 points in 43 games while his fearless approach to the game took form. (HHOF Images)

It was with Moose Jaw that Elmer flourished. Using his blazing speed and abundant playmaking skills, in 1938-39, he led the loop in assists (20), also scoring 17 goals. That spring, Lach was the leading playoff scorer. The next season, he scored 15 goals and added 29 assists, then followed by leading the playoff scoring parade for a second straight spring. Yet, Lach was equally recognized for his defensive responsibilities.

NHL scouts hovered over Elmer like a duck on a junebug. Toronto Maple Leafs owner Conn Smythe called Lach 'a deserter' — not because he was dodging military service, but because Smythe felt he was pre-destined to be a Toronto Maple Leaf. "He came east to play hockey at St. Michael's College in Toronto, a Leaf-sponsored team, and he agreed to sign with me," Smythe complained, "but he deserted, went back home without saying a word to play some senior hockey, and then returned to star for Montreal," wrote Douglas Hunter in War Games. Lach was invited to sign with the New York Rangers but a member of that team told the prospect to steer clear because the Rangers were "too cheap." Instead, on October 24, 1940, Elmer Lach signed with the Montreal Canadiens.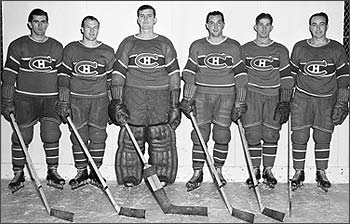 Throughout the mid-1940s the Elmer Lach, Toe Blake and Maurice Richard formed one of the league's most feared top forward lines. (HHOF Images)

At the training camp, held in Ste-Hyacinthe, Quebec, Elmer was excellent and made the team. "When I came to training camp, I had no intention of staying or being offered a contract," Lach recalled. "I came with an overnight bag. I talked with the manager back in Moose Jaw and he told me, 'You can't make that kind of money ($4,000 a season) here!' That was a lot of money back in 1940. He told me to try it because if it didn't work out, I could always come back. So my girlfriend went to my house, picked up all my clothes and sent my wardrobe." In fact, the first NHL game Elmer ever saw was the first contest in which he played.

The rookie scored 7 goals and 14 assists that season, but impressed with his dogged determination; battling in the corners, backchecking and pursuing the puck at all costs. But that same fortitude caused the first of several injuries that seemed to follow Elmer. In the first game of the 1941-42 season, a contest against Detroit, the young centre suffered an elbow injury that ended that season after one game. But the next season, he bounced back, and in 1942-43, scored 18 goals and 40 assists for 58 points. On February 6, 1943, Elmer set a team record that still exists by picking up 6 assists in an 8-3 romp over the Rangers.

Chemistry and fairy dust are strange partners, but when Montreal coach Dick Irvin assigned Lach new linemates in 1943-44, he discovered alchemy. With veteran Toe Blake on his left and a youngster named Maurice Richard on his right, Lach found himself with the linemates he would play with for the duration of his career. Tagged 'The Punch Line,' Lach, Blake and Richard caught fire and set the bar exceedingly high for other lines.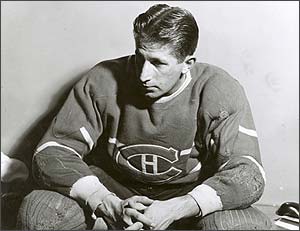 Few NHL'ers have been able to match the determination to return to the ice after suffering a major injury like Lach did throughout his extraordinary career. (HHOF Images)

In 1943-44. Lach was selected to the NHL's Second All-Star Team after exploding for 24 goals and 48 assists; good for fifth in NHL scoring. The Canadiens, who lost just five games through the regular season, went on to sweep the Chicago Black Hawks to win the Stanley Cup.

The next season, the Punch Line finished first (Lach), second (Richard) and third (Blake) in scoring. Elmer led the way with 26 goals and an incredible 54 assists, an NHL record, to finish with 80 points that season. Richard scored 50 goals, also an NHL record. Elmer was named to the NHL's First All-Star Team and was also the recipient of the Hart Trophy as the league's MVP. "Blake was the backbone of that group," explained Lach. "He was always in position; he was always serious and he was the same when coached the Canadiens. The three of us did like to win. We made sure that we didn't have any goals scored against us. We hated that more than wanting to score. As for Rocket, he enjoyed scoring the goals and I enjoyed watching him." Although Montreal finished first for a second straight year, they were eliminated in the playoff semi-final by the Toronto Maple Leafs, who went on to claim the Cup.

The toughness and talent of the Punch Line led the Canadiens to a third consecutive first place finish in 1945-46, but this time, the trio took the team to the Stanley Cup championship. Lach was the playoff scoring leader with 17 points, including an NHL record 12 goals. The Canadiens defeated Boston in five games to win ther championship. At the conclusion of the season, Elmer was selected for the NHL's Second All-Star Team.

Montreal finished first again in 1946-47, but again, was thwarted by Toronto. Then, in 1947-48, Elmer topped the scoring parade for the second time in his career. In fact, he became the first recipient of the newly-created Art Ross Trophy, scoring 30 goals and 31 assists for 61 points. In addition, Elmer was again selected for the NHL's First All-Star Team.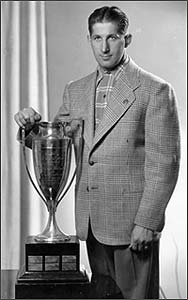 In the 1944-45 season, Lach tallied 26 goals and a league-best 54 assists for 80 points as the Canadiens dominated the NHL, finishing first over-all. (HHOF Images)

The NHL was a league of haves and have nots during the post-War era. While New York, Chicago and Boston were challenged to ice competitive teams, Montreal had to share the spotlight with Toronto and Detroit. The Maple Leafs won the Stanley Cup in 1947, 1948, 1949 and 1951, while the Red Wings finished first for the first of seven consecutive seasons in 1948-49. But the Canadiens, although overshadowed, still boasted an outstanding squad, including the Punch Line. In 1951-52, Elmer finished third in NHL scoring and topped the league in assists for the third time in his career, contributing 50 helpers. On February 23, 1952, Lach recorded his 549th NHL point, passing Boston's Bill Cowley as the league's all-time scoring leader. At the conclusion of that season, Lach earned a berth on the NHL's First All-Star Team, his third such reward, along with twice enjoying being named to the Second All-Star Team. That spring, the Canadiens went to the Stanley Cup final for the second year in a rowm but were stymied by the Detroit Red Wings.

The same can't be said of 1952-53, when Montreal faced the Boston Bruins for the right to collect the Stanley Cup. Montreal and Boston split Games One and Two, but the Canadiens rebounded with a 3-0 shutout in Game Three and a 7-3 spanking of the Bruins in Game Four. The fifth contest was a scoreless tie at the end of regulation time. Then, at 1:22 of overtime, Elmer scored the Stanley Cup-winning goal. "I never saw it go in," yelled Lach as his teammates mobbed him. Maurice Richard leapt into the hero's arms and, in doing so, his stick struck Elmer's nose, breaking it. Asked for the highlight of his playing career, Lach responded, "I would say scoring the winning goal when we beat Boston in overtime to end the series in 1953. It doesn't get any better than that!"

Following the championship in 1953, Elmer played one more season and then retired, accepting an offer to coach the Montreal Junior Canadiens. With the conclusion of the 1953-54 season, Lach's fourteenth, Elmer Lach had played 664 regular season contests, collecting 215 goals and 408 assists for 623 points. In 76 postseason games, he accumulated 64 points on 19 goals and 45 assists. But the points, as impressive as they are, reflect but one aspect of an outstanding career. The skilled centre was master of the faceoff and was effective defensively as he was in the offensive zone. The Hockey News ranked Lach number 68 on their 100 Greatest Hockey Players in 1998. In 1966, Elmer Lach was elected to the Hockey Hall of Fame. "Being elected to the Hall of Fame was the climax for me," he stated. "I was surprised and I couldn't describe I how felt at the time. When I think about it now, I probably should've shown more emotion, which I didn't." Hard to imagine that, in light of his sensational hockey career, Elmer had planned to spend his life as a meter reader for a Moose Jaw power company!

Kevin Shea is the Editor of Publications and Online Features for the Hockey Hall of Fame.