(November 18, 2003) -- When Leonard Patrick Kelly arrived in the world on July 9, 1927, it was assumed that one day, he would take over the family's Simcoe, Ontario farm, following in the footsteps of his father. But the boy they dubbed 'Red' showed skills in other areas that set his life course in a different direction. "We didn't have artificial ice," Red explains about his earliest hockey memories. "They only had natural ice and open-air ponds so you'd play hockey out on the ponds. You'd go out a few miles to the cedar swamp to play by the tracks." As Kelly's considerable skills developed, local teams clamoured to add him to their rosters. "You'd play hockey in the arena at Port Dover and also in the arena at Simcoe. They wouldn't get ice there until just before Christmas-time usually and it wouldn't last too long because the weather would get mild and the ice would thaw out so we wouldn't get a lot of skating."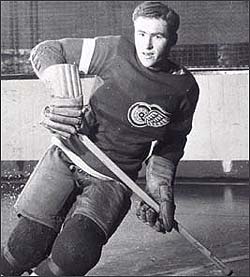 Kelly wore Number 20 with Detroit in 1947-48,
his rookie season in the NHL. Teamed with Hall of Famer Bill Quackenbush, Red quickly established himself as a premier
NHL defenseman.

Red Kelly's skills were advanced playing hockey at school. "I think I played just three games of midget because the ice melted and we didn't get a chance to play any more. It's a little different today," Kelly chuckles.

He grew up a fan of the Toronto Maple Leafs, recalling, "I used to listen to Foster Hewitt on the radio. My Dad used to go down to some games but I never got down there. I'd have my ear right up by the radio and listen to (the play of) Red Horner and (King) Clancy. You imagined yourself as a Leaf - Foster Hewitt made the games really great. Red Horner had red hair. I had red hair. I imagined myself being Red Horner but I never played the game like Red. He was a different type of player than I was. (Horner led the NHL in penalty minutes eight consecutive seasons between 1932-33 and 1939-40; Kelly won the Lady Byng Trophy as the NHL's most gentlemanly player on four occasions). One time, I scored eight goals or some dang thing in one of the games and they nicknamed me. Because of the red hair, they started calling me 'Red.'"

Kelly might have realized his dream of playing with the Maple Leafs sooner than he eventually did. "There was a birddog scout up in Port Dover, Gerry Karges. He was originally out of the Kitchener area and he was working at our farm," recalls Red. "He said that he could get me into the Maple Leafs' training camp down at St. Catharines. We were working together out in the field and I got excited. It didn't happen. At the last minute, he said he wasn't able to get me in there."

Although disappointed, the Kelly family, staunch Roman Catholics, encouraged Red to move to Toronto to continue his education. "I left Simcoe when I went to school at St. Mike's (St. Michael's College was founded in 1852 by the Basilian Fathers and is aligned with the University of Toronto). I got three times the skating there in one year that I would get back home." At the time, the Toronto Maple Leafs encouraged young hockey players to sign with them by offering continued educational opportunities at St. Mike's. Although it wasn't an exclusive relationship, through the 1930s, the school had helped Toronto develop players like Nick and Don Metz, Art Jackson, Reg Hamilton and Pep Kelly. "My Dad, who originally had gone to St. Mike's way back, called St. Mike's. He knew some of the priests there and so he got me into St. Mike's. I went in late, I didn't go in until October - had to help get the crops in. They accepted me and I waited on tables there to help pay the way through and that's how I got recruited."

But joining the St. Mike's hockey team was easier said than done. "I tried out for the 'A' team and I was cut after one practice. I tried out for the 'B' team, and I was cut after one practice. I tried out for the midget team and I was cut after one practice. Now I'm out in the backyard in the open-air rink playing with some of the teachers -- they were going through to be priests -- and one of them was an assistant to Father Flanagan, who was coaching the midget team. After playing against him out there, he went to Father Flanagan and told him, 'You'd better take another look at this guy.' They brought me back and I made the team on the third line. We won the midget championship that year (1943-44). The next year ('44-45), we won the B championship and the next year (1945-46), we went to the Memorial Cup, and we lost out to the Winnipeg Monarchs in the seventh game at the (Maple Leaf) Gardens," acknowledges Kelly. Other future NHLers who competed for St. Mike's were Tod Sloan, Les Costello and Ed Sandford.

Vengeance was sweet for St. Mike's. "The next year (1946-47), we won the Memorial Cup in four straight out West against Moose Jaw," recalls Kelly. That championship squad featured Joe Primeau as coach, with Kelly (Detroit), Costello (Toronto), Sloan (Toronto), Sandford (Boston) as well as Fleming MacKell (Toronto), Rudy Migay (Toronto), Ray Hannigan (Toronto), Ed Harrison (Boston) and Benny Woit (Detroit) all graduating to the NHL. Another team member, Johnny McLellan, didn't get to the NHL but later coached the Maple Leafs.

Although many of his teammates were already property of the Toronto Maple Leafs, Red Kelly had no NHL affiliation. "They (teams in the NHL) had lists in those days. They could leave you on for a year (but) then they'd have to sign you to something in order to keep you on their list. A lot of the guys on St. Mike's were on the Maple Leafs' list. Some of the boys had been sent there by the Leafs from up North. I wasn't sent there by anybody. The first thing I knew anything was when I was playing Junior B, I got a call from the principal and he said there was a Detroit scout there so would I come down, he'd like to meet with me. So I went down and Carson Cooper -- 'Shovel Shot' Cooper -- was there. He had me on the Detroit list, which I didn't even know, and he wanted me to sign so they could put me on the next list. I was tickled pink that anybody wanted me. I didn't hesitate about signing!"

After winning the Memorial Cup with St. Mike's, Detroit invited Kelly to their training camp in the fall of 1947. "The first training camp I ever went to was the first year. It was in Kitchener-Waterloo. I was slated to go down to Indianapolis or Omaha - one of the farm teams. When training camp ended, they said I was going to Detroit as the fifth defenseman. They had some great defensemen - Bill Quackenbush, Jack Stewart, Leo Reise, Doug McCaig -- so when you're a fifth defenseman in those days, four defensemen played and the fifth one only got in occasionally," smiles Kelly. But fate intervened. "At Christmas-time, Doug McCaig broke his leg and I got to play on a regular basis. They thought I could do the job and when Doug got better, they traded him to Chicago. My partner was Bill Quackenbush. We roomed together on the road. I'm the rookie, so I got to get the cabs and I got to close the window in the morning when it's cold. But it was a great experience playing with those all-star defensemen. You learned a lot right off the bat."

The difficult transition from junior to the NHL was made easier with the assistance of the Red Wings' coach and a grounding in hockey fundamentals. "I had a coach, Tommy Ivan, who was quite similar to (St. Mike's coach) Joe Primeau in his manner," agrees Red. "Joe was Gentleman Joe and could really teach you. He taught me how to move from forward to defense and how to turn to take the guy coming down against you at thirty miles per hour when you're backing up at ten. You've got to turn and go with him. He showed me how to make that turn. I worked on it. He never shouted, never ranted and raved. He was very quiet. Tommy Ivan didn't teach me the things that Joe did, but Tommy Ivan's manner was much like Joe's. Never shouted. Never ranted and raved. Very quiet but very authoritative too. I was lucky. Tommy knew the systems and he trained you in those systems - how to play your position, where to play. I was lucky to have those kind of coaches. Joe Primeau had trained me very well, like all his players, so when I went to the NHL, I had been taught the things I should have been taught and I didn't have to learn them when I went up there. I never had to play in the minors."

After training camp in 1947-48, Kelly found out he was a Red Wing when he was handed a sweater. "The first number I was given when I went to the Red Wings was Number 20. I had that the first year; I was the fifth defenseman. The other defensemen had the low numbers - Black Jack Stewart, Bill Quackenbush, Leo Reise and Doug McCaig. The next year when I walked into the dressing room, they gave me a new sweater with Number 4. I said, 'Oh, I'm happy with 20. I don't know why I've been given this new one.' (Jack) Adams said, 'Twenty -- that's two numbers, that's too heavy. You only want one number.' That's how I ended up with a 4," Kelly recounts.

Some of Kelly's lessons were not only what to do on the ice, but how to stay on the ice. "I had a temper. I had red hair," Kelly laughs. "I was the welterweight boxing champ at St. Mike's. I could take care of myself. Joe Primeau taught me you don't win games in the penalty box. You've got to stay on the ice. Players would try to get you off the ice sometimes but you're more valuable to a team when you're on the ice."

That first season, the Red Wings went to the Stanley Cup final, but were defeated by the Maple Leafs. "We were young guys. Ted Lindsay had gone to St. Mike's; he was ahead of me. I used to watch him because I was playing midget and he was playing A. We went to all the games. When I got to Detroit, he'd been there three years ahead of me. Howe had been there for one. Marty Pavelich joined the Red Wings the same year as me," Kelly states.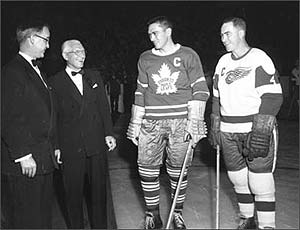 Maple Leaf captain George Armstrong joins
Red Kelly, captain for the Red Wings, in a pre-game ceremony October 12, 1957. Later, as teammates in Toronto, Armstrong and Kelly would win the
Stanley Cup on four occasions.

With that young, strong team, Detroit advanced to the finals again in 1948-49, but again were thwarted by Toronto. Kelly enjoyed his first of four Stanley Cup championships with Detroit in 1950. That season, Red scored fifteen goals and was named to the NHL's Second All-Star Team. Kelly established himself as one of the league's premier defensemen, and was chosen for a First All-Star berth in 1951, 1952, 1953, 1954, 1955 and 1957, and to the Second All-Star Team in 1956. Detroit was enjoying a renaissance and after capturing the Stanley Cup in 1950, collected the championship again in 1952, 1954 and 1955. In 1956, they were beaten in the final by Montreal, who were embarking on their own dynasty at that point.

After four Stanley Cup championships, eight All-Star selections, a Norris Trophy (the first ever) as best defenseman and three Lady Byng awards, Red was devastated to be traded to the New York Rangers on February 5, 1960. With Kelly went Billy McNeill, while Bill Gadsby and Eddie Shack were ticketed for Detroit. But there was a hitch - both Kelly and McNeill refused to report to New York. "Twelve and a half years in Detroit and then they trade you. I thought I was out of hockey. I retired," admits Kelly. "I thought my hockey days were over. When I started playing in the league, I thought, 'If you have a ten year career, that's a long career.' I played twelve and a half years and thought, 'That's it. Now I gotta earn a living.' I started to work the next day with a tool company. But hockey was my whole life. I loved hockey ever since I was knee high to a grasshopper."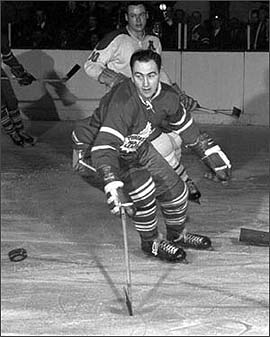 After 12½ all-star seasons with Detroit, Kelly balked at a trade to New York, but accepted a deal that sent him to Toronto in exchange for Marc Reaume.

The trade was voided, but Maple Leafs' general manager Punch Imlach asked permission to talk Kelly into renouncing his retirement. In a clandestine meeting, conducted in tandem with assistant GM King Clancy, Red agreed to join the Maple Leafs, and on February 10, Toronto sent Marc Reaume to Detroit to complete the transaction. "When I had the contract talk with Imlach, we talked most of the day and then it went until midnight before we agreed. Nothing was ever said about where I was going to play or anything until after I agreed to come to Toronto. Toronto was playing Montreal the next night. They had to fly my skates in from Detroit for that game. After I signed, I told Punch, 'I've been off skates for ten days or so. I'd hate to make a mistake out there and cause a goal,' and Punch said, 'Red, how would you feel about playing centre?' I said, 'Great! No problem.' I didn't care where I played as long as I was playing hockey. He said, 'If we're going to win the Stanley Cup, we 're going to have to go through Montreal. I need somebody to check Beliveau.' He said, 'How would you feel if I started you against Beliveau?' I just said, 'Fine. Great. Love it!'"

Kelly was delighted with the situation in Toronto. He was going to an organization that dearly wanted him and that had a legitimate shot at the Stanley Cup. But Toronto was also his childhood favourite and was located close to his family in Simcoe. "When I went to Toronto, after I agreed to everything with the contract, I was going out the room and (King) Clancy said, 'Red, how would you like to wear Number 4?' I said, 'That'd be great!' Well, he had asked my wife - I didn't know this - when Clancy was trying to reach me, he talked to her (Andra) and he asked her if there was anything he could do for her. She said, 'Yes. You could give my husband Number 4!' I was tickled pink of course. I had the Number 4 for nineteen years." Red continues, "I was really happy to come to Toronto. I played my junior hockey in Toronto. They had a big crowd the opening night and they really applauded and cheered when I came onto the ice. It made the hair on the back of my head stand up because it was such a great feeling to think that they really welcomed me in Toronto."

In his first season in blue and white, Red and the Leafs went to the finals but lost to Montreal. The next season, they finished second for a second straight season, but Detroit defeated the Leafs in the semi-finals. Kelly's role at centre ice made him not only a versatile performer but an invaluable one, too. The NHL recognized his worth by awarding Kelly the Lady Byng for a fourth time in 1961.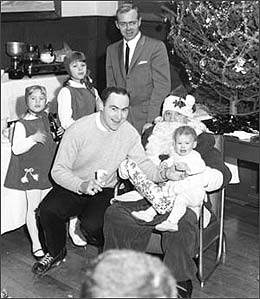 Red Kelly maintained a frantic pace during the early 1960s. He became a father of three, led Toronto to three Cup celebrations and was a Liberal Member of Parliament, commuting to Ottawa weekly for government duties.

Toronto finally achieved its goal in 1962, collecting the Stanley Cup for the first time since 1951. It was a superb year for Kelly, who recalls how busy he was. "I went into politics in '62 because Mike (Lester) Pearson asked me. I was really green; I didn't really have any experience in politics but I thought, 'If I can help get Lester Pearson elected, it'll be great for the country.' I thought, 'Here was twelve years with Detroit and I was gone. I've got to think of my future.' I had to prepare for it. You never knew if it might happen again. I decided to run and got elected in '62 and we won the (Stanley) Cup in '62 and we had a baby in '62." Kelly was elected as Liberal Member of Parliament in the York West region of Toronto, which necessitated flying to Ottawa on a weekly basis. But Red combined hockey and politics into a highly successful, if not frantic career. "We had another election in '63 because we were a minority government and we defeated (John) Diefenbaker on a vote of confidence. We came back as the government in a minority position in '63 and we won the Cup again in '63." The pace accelerated that much more in '64. "We won the Cup in '64 and my wife and I had another baby in '64. Conn (named after former Leaf owner, Conn Smythe) was born at the end of January. In the last game (of the Stanley Cup final), I had my knee frozen and I passed out in the shower after the game. They took me to the hospital on a stretcher. Mr. Pearson (the prime minister) was at the game and he came into the dressing room and I didn't even get to see him. I had to be in Ottawa the next day at 2PM so I was down on crutches and didn't get to be part of any of the celebration. Harold Ballard brought the Cup and a couple bottles of champagne and a photographer out to my house and they took a picture of my family around the Cup. I put Conn in the Cup and they took a picture. And the look on Conn's face - he did the whole load in the Cup! Our family always chuckles when they see guys drinking the champagne out of the Cup."

Kelly was thirty-nine years old and in the twilight of his career during the 1966-67 season. That year, the Leafs were loaded with older players - Johnny Bower, Terry Sawchuk, Allan Stanley, Tim Horton, Marcel Pronovost and George Armstrong to name but a few. It is no coincidence that each has since been inducted into the Hockey Hall of Fame. The team battled hard and surprised the hockey world by defeating the Montreal Canadiens for the Stanley Cup. "That was the fourth Cup for us and my eighth," states Kelly proudly. "We were the 'over the hill gang.' We upset Chicago, then Montreal. They offered me a four-year contract to stay and play for the Leafs, but I realized I couldn't do what I used to do. I could skate as fast, I could keep up with the guys -- I was always a good skater, that wasn't the problem. You don't recover quite as fast and who knows - what if a year down the road I couldn't cut it? Well, they said, 'You could be a ticket taker or this or that,' but I thought, 'No, I'd rather go out on top. We had just won and I wanted to go out when I wanted to go out rather when someone tells you you can't cut it anymore." One more honour awaited Red Kelly upon news of his retirement. "Being elected to the (Hockey) Hall of Fame the year after I retired was unbelievable," Kelly admits.

Red retired, winning the final NHL game he ever played. Larry Regan, who had been a teammate with Toronto during Red's first two seasons with the Leafs, was general manager of the Los Angeles Kings, one of six new teams that would enter NHL competition in 1967-68. "They were going into expansion from six teams to twelve teams," explains Kelly. "Larry Regan and (Los Angeles owner) Jack Kent Cooke approached me about coaching. They didn't have a rink in L.A. We had to play in Long Beach for so many games and unfortunately, we didn't get the Forum built until February. There were only two teams out west, Oakland and L.A., so we were always on the road traveling back east. It was a tough grind." But under rookie coach Kelly, Los Angeles did very well in its inaugural season, with a team that featured forwards Eddie Joyal, Bill Flett and Lowell MacDonald, Bill White and Dale Rolfe on defense and old pal Terry Sawchuk in goal. "We split .500 against those old clubs. I was really proud of those guys I coached out there."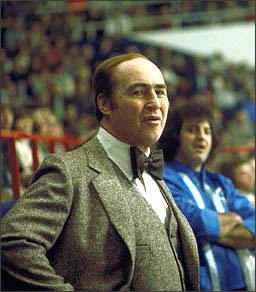 After retiring following a Hall of Fame career,
Red embarked on a coaching career that took him to Los Angeles, Pittsburgh and prince
of pyramid power in Toronto.

Red lasted two seasons in Los Angeles, then joined the Pittsburgh Penguins as head coach from 1969-70 until midway through the 1972-73 season. After being fired, Kelly didn't have to wait long before he was summoned to coach again. "When I was in Pittsburgh, I got a call from Millhaven Penitentiary (in Kingston) from Mr. Ballard," Kelly chuckles. "He was serving time up there. He asked me if I'd be interested in coaching in Toronto. I think I'm the only coach who's been hired by somebody incarcerated!"

Kelly coaxed the Leafs to a fourth place finish in the NHL's East Division in 1973-74, although they stumbled in the first round of the playoffs. The next season, Toronto advanced to the second round of the playoffs before losing to Philadelphia. Then, in 1975-76, Kelly led the Leafs to a modest regular season finish, but it was his inspiring pyramid power that helped guide the Leafs first past Pittsburgh, then into a hard-fought seven game series eventually lost to the arch-rival Flyers. Red distributed pyramids throughout the dressing room and under the players' bench, hoping to harness power. Placebo? Likely, but the psychology had a positive effect on the Toronto team that spring.

The Leafs returned to the playoffs again in 1976-77, and again beat Pittsburgh in the preliminary round. That set up another showdown with the Philadelphia Flyers. In a bitter war, the Flyers dumped Toronto four games to two. It spelled the end of Toronto's Stanley Cup hopes that season. It also spelled the end of Kelly's coaching career.

Red Kelly retired as a player with 1,316 regular season games played, scoring 281 goals and adding 542 assists for 823 points. As a coach in 742 regular season games, he won 278, lost 330 and tied 134. Kelly ran an international aircraft maintenance company following his Hall of Fame hockey career. Yet, with all that professional success, Red Kelly determines that he was rewarded in more significant ways. "I've had a wonderful life. I have a wonderful family and a wonderful wife. Andra was a world champion figure skater, was the world freeskating champion and replaced Sonje Henie (Olympic skating champion) in the Hollywood Ice Review when she was only fifteen. When we married, she threw everything behind my sports life and didn't try to compete on her own. She could have skated much longer but she felt there could only be one professional and threw everything behind my career. I'm so lucky to have a great family and all so supportive of the hockey and that kind of life."

Kevin Shea is a freelance hockey journalist in Toronto.