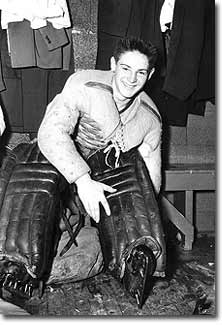 A young Terry Sawchuk, fresh from his home in East Kildonan, Manitoba, embarks on what would be an extraordinary twenty-year NHL journey.





(March 9, 2004) -- When any mention is made of Terry Sawchuk, two items are inevitably discussed. One is his extraordinary career record of 103 regular season shutouts. The other is the tragic manner in which he died.

Just after Christmas Day, 1929, Louis and Anne Sawchuk welcomed an addition to their growing family. Terry Sawchuk was born on December 28, the third of five children born to the family residing in Winnipeg, Manitoba's suburb of East Kildonan. Terry's childhood was marred by tragedies that scarred the goaltender for the remainder of his life. Terry's brother Roger died of pneumonia when Terry was still a baby. His oldest brother, Mike, died of a heart attack when Terry was ten. "He used to take me out in Dad's car and let me drive," laughed Terry. "We played cards together all the time. I missed him for a long time afterwards."

Growing up, Terry followed the Toronto Maple Leafs and named goaltender George Hainsworth as his favourite player. "I had one picture of him, a card I traded four other players' pictures for," stated Sawchuk. After Hainsworth's retirement in 1937, Terry adopted the Rangers' Chuck Rayner as his favourite player.

At the time of his death, seventeen-year-old Mike Sawchuk had been a promising netminder and would often let his younger brother try on his pads in order to pretend he was playing goal. Terry began playing organized hockey the year Mike died, playing goal like his brother. His coach, Bob Kinnear, remembers Sawchuk. "He was about eleven or twelve, and chubby. We always needed equipment for the rink and I recall Terry telling me that he had a pair of pads at home. I told him to bring them down and suggested, 'You try them.' He was great from the time he put the pads on."

After writing letters describing the talented Sawchuk to Detroit Red Wings' general manager Jack Adams, Kinnear was told to bring fourteen-year-old Terry to Detroit for an evaluation. Terry was exceptional, and Kinnear remembers 'Black Jack' Stewart telling Adams, "That boy is going to be a great one." The Red Wings signed Terry to a contract shortly afterwards and in the fall of 1946, sixteen-year-old Terry Sawchuk moved to Galt (now Cambridge, Ontario) to play for the junior Red Wings.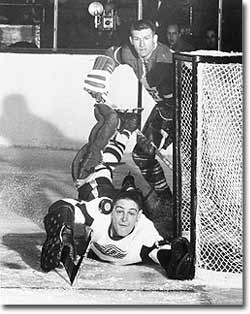 Sawchuk stretches to push the puck away from the Wings goal as Johnny Wilson looks on. The two had been teammates on the outstanding Detroit teams of the early 1950s.

During the Original Six era from 1942 to 1967, many great players were forced to wait for their opportunity to play in the NHL. Some never got that call. Terry worked his way through the Red Wings' organization, held back from the parent club by the goaltending of veteran Harry Lumley. But Lumley injured his ankle and on January 8, 1950, Terry Sawchuk made his debut in the NHL. It was a 4-3 loss to Boston. Sawchuk played seven games that season before Lumley returned to the Wings, winning three including the first of his 103 shutouts. That summer, knowing he was secure in goal, Jack Adams traded Lumley, 'Black Jack' Stewart, Pete Babando, Al Dewsbury and Don Morrison to Chicago for Gaye Stewart, Bob Goldham, Metro Prystai and netminder Sugar Jim Henry. Henry was sent to Indianapolis to replace Sawchuk, who moved to Detroit and became a permanent fixture with the Red Wings for the next five seasons.

As a rookie, Terry Sawchuk led the NHL in games played (70), wins (44) and shutouts (11), backstopping the Red Wings to a first-place finish. Although knocked out of the playoffs by the Montreal Canadiens, Terry enjoyed an outstanding NHL debut, and at year end, was selected the Calder Trophy winner as rookie of the year. It was his third such award — Sawchuk had been selected outstanding rookie in the USHL in 1948 and in the AHL in 1949.

1951-52 proved even better for Sawchuk. Again, he led the NHL in games played and wins (70 and 44 respectively), but his twelve shutouts led the league and bettered his total of the previous season by one. Terry's goals-against average was a sterling 1.90 - good for the Vezina Trophy as the league's best netminder. Detroit finished first once again, but this season, they were not to be denied. A sportswriter summed up Sawchuk's performance, writing, 'Terry acted like he was triplets. He swooped from side to side, jumped up and down as if on a pogo stick and fielded shots like a Phil Rizzuto (New York Yankees all-star infielder).' Sawchuk said, "I feel a lot better this year than I did in last year's playoffs. I felt nervous and jittery a year ago but feel right at home now." That spring, a Detroit tradition began. An octopus was thrown on the ice, its eight tentacles signaling the number of wins the Red Wings needed to claim the championship. They accomplished their goal — Terry Sawchuk and the Detroit Red Wings collected the Stanley Cup.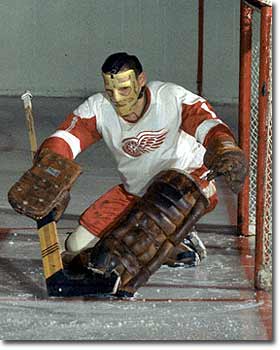 Terry adopted the mask during the 1962-63 season, but not before the scars of more than 350 stitches crisscrossed his face.

The following December, Sawchuk was forced to sit out a few games due to injury, but the anxiety ate away at him. "You remember what happened the last time a Detroit goalie was forced out with injuries," Sawchuk mused, referring to his replacing Harry Lumley three years earlier. "Yes. And Lum was gone from here the next season. Maybe that will happen to me now." In the wings waited Glenn Hall, anxious to show that he, too, was an NHL calibre netminder. The Wings finished first for an unprecedented fifth consecutive season. Again, Sawchuk won the Vezina and for a third season in a row, was selected the NHL's First All-Star Team goaltender. But Boston edged Detroit in the semi-finals to end Detroit's championship run.

The Red Wings rebounded in 1953-54, led by Sawchuk's outstanding work in net. Again, he led the NHL in wins, plus finished with a goals-against average under 2.00 and was rewarded with selection to the NHL's Second All-Star Team. The Red Wings were not to be denied, and although the winning tally was scored on a fluke goal in overtime in the seventh and final game, Detroit beat Montreal to win the Stanley Cup. The Red Wings repeated, winning the championship again in 1954-55. Sawchuk's goals-against average was a sensational 1.96 and his twelve shutouts again were best in the league, as were his forty wins. Terry was the Vezina Trophy winner for a third time and the NHL's Second Team All-Star, Sawchuk's fifth straight year as an all-star. Yet, the hockey world was stunned that summer when Sawchuk was packaged with Marcel Bonin, Lorne Davis and Vic Stasiuk and sent to the Boston Bruins for Gilles Boisvert, Real Chevrefils, Norm Corcoran, Warren Godfrey and Ed Sandford. "We let Sawchuk go because we found ourselves with two top goalies," rationalized general manager Jack Adams. "(Glenn) Hall is more advanced now than Sawchuk when he joined us and all the players insist Glenn has been NHL material for the past year. It was a case of trading one of them and Sawchuk is the established player. Consequently, he brought a better offer." Boston GM Lynn Patrick was delighted to receive the enigmatic Sawchuk. "In our wildest dreams, we didn't think we could pry loose a guy of Sawchuk's status."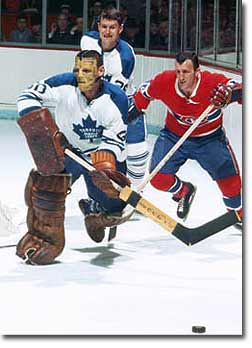 The Maple Leafs plucked Sawchuk from Detroit in the 1964 Intra-League Draft. Terry would spend three years in Toronto, contributing to their Stanley Cup championship in 1967.

The Bruins struggled, but Terry was regarded as a hero to the Bruins' fans and teammates. "Everybody in Boston has been wonderful to me. I'll always give them my best," Sawchuk stated. And he did, although Boston didn't have the quality team that Detroit had and in 1955-56, the Bruins finished fifth, missing the playoffs.

The following season, Boston rebounded and finished third, but the season was not without its drama. Sawchuk contracted mononucleosis. While recuperating, he decided he'd had enough. "The pressure is getting to me. I'm not doing a good job. I'm letting the team down and I want to quit," Terry told Walter Brown, the Bruins' president. Although the Bruins went to the finals before losing to Montreal, Terry Sawchuk had already decided he wanted out of Boston, hoping to return to Detroit.

Having missed much of the 1956-57 season to nervous exhaustion, Sawchuk was invigorated when Detroit traded Johnny Bucyk to Boston for Sawchuk, followed by the trading of Glenn Hall to Chicago. "When Terry Sawchuk is on his game, he's the best goalie in the world," boasted Jack Adams. "I had decided I didn't want to play for any club unless it might be the Red Wings," Terry responded. In 1957-58, Sawchuk played every one of the seventy regular season games, but the Wings lost in the first round of the playoffs. The next season, Detroit finished last, although Sawchuk was selected for the NHL's Second All-Star Team.

Terry Sawchuk adopted the goaltender's mask at the start of the 1962-63 season. "It has helped my game tremendously," smiled Sawchuk. "I wouldn't be surprised if it added a few more years to my career." The mask seemed to give Terry a new confidence, and the Red Wings, after missing the playoffs the year before, went to the finals but lost to the Toronto Maple Leafs for the Stanley Cup. Mid-season, Sawchuk had the tendons in his hand cut by a skate and missed twenty-two games. Injuries and erratic behaviour seemed to dog Sawchuk more frequently. Finally in 1963-64, the Red Wings introduced Roger Crozier to the NHL, platooning the two netminders. On January 18, 1964, Sawchuk blanked the Montreal Canadiens 2-0 to collect his record-breaking ninety-fifth regular season shutout. "I'm proud of it (the record) and feel it means something. After all, for a shutout, you're not allowed one mistake," Sawchuk stated. That spring, Sawchuk and the Wings went to the Stanley Cup finals, but Bobby Baun on a broken foot scored a goal in overtime that glanced off Bill Gadsby's stick. "That fluke goal by Baun in overtime killed us," snarled Gordie Howe. "It gave the Leafs the momentum they needed."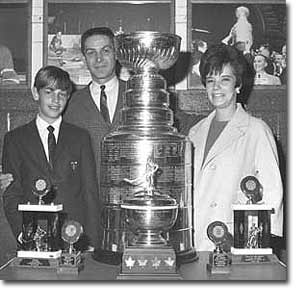 Following the victorious 1967 season, Terry posed with the Stanley Cup, his wife Pat, son Jerry and various awards.

In the intra-league waiver draft, the Toronto Maple Leafs claimed Terry Sawchuk from Detroit in the third round. "I'm shocked," Sawchuk fumed. "But what are you going to do?" Leaf general manager Punch Imlach was clearly elated. "With Terry and Johnny Bower rotating in the nets, we'll be tough to beat. What more could we ask for?"

Toronto finished fourth in 1964-65 and that year, Johnny Bower and Terry Sawchuk shared the Vezina Trophy for best goals-against average. But the Leafs were no match for the Canadiens, who not only won the Stanley Cup in 1965, but again in 1966.

The 1966-67 campaign began with Terry contemplating retirement again. Injuries were catching up to him and he was exhausted. "I was tired and discouraged. There seemed no point in staying around any longer," Sawchuk sighed. Punch Imlach convinced him to play and Sawchuk was glad he did. Platooning with Bower again, Terry had a very good season, which included earning his one hundredth career shutout on March 4 in a 3-0 win against the first place Black Hawks. "The first hundred are the hardest," Terry joked, much to the amusement of a roomful of reporters.

The Leafs, a team of grizzled veterans including Bower and Sawchuk, went into the playoffs as underdogs. But after Bower was hurt, Sawchuk was on a mission and was an integral reason why the Leafs beat the Hawks in the first round. Facing the Montreal Canadiens in the finals, Sawchuk was possessed. Save after miraculous save and as the seconds counted down to a 3-1 Leaf win in the final game, Terry Sawchuk and the Leafs had won the Stanley Cup. It was the fourth championship for Sawchuk, but as his team celebrated on the ice, he retreated to the dressing room alone. "I don't like champagne and I'm too tired to dance around," Sawchuk bleated. "This has to be the thrill of my life. I've had a lot of wonderful moments in hockey and other Stanley Cups but nothing equal to this."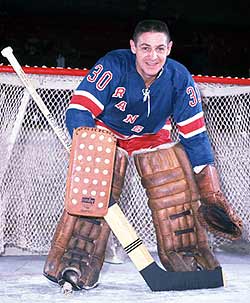 The New York Rangers jersey was worn by Sawchuk for just eight games during 1969-70. It would prove to be Terry's final NHL season. That summer, he died following a tragic off-ice incident.

Expansion invaded the NHL that summer, adding six new teams to the league. On June 6, 1967, the Los Angeles Kings made the first selection from available players. "Los Angeles drafts Terry Sawchuk from Toronto," announced team owner, Jack Kent Cooke. The move paid off. Anchoring a youthful team, Sawchuk appeared in 36 games and helped the Kings finish second in their division. They were defeated by the Minnesota North Stars in the first round of the playoffs.

The next fall, Sawchuk sat down with the Kings' management and explained his situation. "Last season was not all I hoped for. I had some good games but I had some bad games. But I figure I have one more year left and plan to make it a good one." It wouldn't be in Los Angeles. Sawchuk was traded to Detroit for Jimmy Peters Jr., the son of a former teammate. "I'm happy to be coming back to Detroit. The Kings did me a favour by getting me back to Detroit. This is where my home is and it's where I got my start in the NHL." Terry played just thirteen games for a hapless Detroit squad that missed the playoffs.

The legendary Terry Sawchuk concluded his NHL career in the employ of the New York Rangers, who sent Larry Jeffrey to Detroit for Sawchuk and minor leaguer Sandy Snow. "All we want from Terry is twelve or fifteen games," explained Rangers' GM Emile Francis. "Just enough to give Ed Giacomin an occasional rest." Sawchuk played eight games, including his one hundred third career shutout. The Rangers made the playoffs and faced the Boston Bruins. Sawchuk played in three games; one as a starter. The Bruins knocked the Rangers out of the playoffs. These were to be the final game appearances of Terry Sawchuk's brilliant career.

During the summer of 1970, Terry Sawchuk rented a house at East Atlantic Beach on Long Island with Ranger teammate Ron Stewart. Like Stewart, both men were divorced hockey veterans. After visiting the E & J Pub in nearby Long Beach on April 29, the two got into an argument. A wrestling match ensued and the two men stumbled to the ground. Sawchuk was rushed to the hospital where his gall bladder was removed. A second operation later removed blood from a lacerated liver. Unable to recover, Terry Sawchuk died on May 31. "His heart just stopped beating because he was so generally weak," a hospital spokesperson stated.

In 1971, Terry Sawchuk was elected to the Hockey Hall of Fame; one of the handful of NHL greats who had the three-year waiting period waived for their induction. "I have done a lot of presentations at the Hockey Hall of Fame and elsewhere, but Terry's induction was the most emotional and difficult to do," expressed Emile Francis. In 1994, the Detroit Red Wings honoured Sawchuk's memory by retiring his Number One. In 1998, The Hockey News announced its top fifty players of all time. Terry Sawchuk was chosen ninth; he was the highest ranked goalkeeper.

During his NHL career, Sawchuk played in 972 regular season games, winning 446 — a record that stood until Patrick Roy broke it in 1999-2000. His 103 shutouts are also a league record. In discussions regarding the greatest goaltenders of all time, Terry Sawchuk's name is one that must be included. "The Uke (Sawchuk) was the best goalie I ever saw," stated an emotional Gordie Howe. "Everything that a goalie should be!"

Kevin Shea is the Manager, Special Projects and Publishing at the Hockey Hall of Fame.