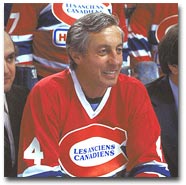 (November 26, 2001) -- Perhaps no other man in hockey's history embodies and defines ability and success more than Jean Beliveau. A gentleman off ice, a competitor on, a man of integrity and pride his whole career, his life has been a series of successes. Funnily enough, he holds no single NHL record, yet put all of his "near" records into one man and you have the archetype for all those record holders. His 507 career goals is not a record, but it ranks among the rarest of feats--the 500-goal club. Ditto for his 1,219 points and 1,125 games played. His 176 career playoff points is no longer tops, and even his amazing ten Stanley Cups was surpassed by teammate Henri Richard. And yet, the sum total of all of Beliveau's achievements ranks him among the statistcial greats.
And then there is the man, the player away from the numbers. Tall and strong, he proved himself physically early on with a couple of one-sided fights and then never had to prove himself again. A graceful skater with fluid stride, he played with a tenacity that belied--or, perhaps, confirmed--his gentleman's reputation.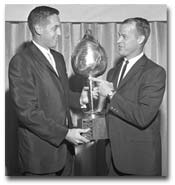 As a captain, he believed he had three responsibilities. "I always said," he explained, "a captain has three roles on the team. One, is during a game, when the fans and referees are watching him. Two, his role between management and the players, and to be available to the players at all times, whether it's for hockey reasons or personal reasons. And three, a captain must represent his team and city well." No one--neither teammate nor opponent--could argue he did anything but carry out these duties impeccably during his years with the "C" on his sweater. His values were instilled to him as a boy growing up, both from his parents and the Sacred Heart brothers.
Of all his Stanley Cup glories, Beliveau, like many others before and since, cherishes his first Cup most of all. "In 1956, we finally won the Cup," he says with satisfaction even today. "Ever since I was a boy, I dreamt of two things: one, to wear the sweater of the Montreal Canadiens; and two, to win the Stanley Cup. In '54 and '55, we lost to Detroit. We came so close, but we never won. Then, finally, in 1956, we won."
Yes, he won, and then won again and again and again! In Montreal, the Stanley Cup parade not only became an expected annual tradition, it was a celebration that took longer and longer. Some years, the route stretched 12 or 13 kilometres and took hours to complete, though one hilarious moment sticks out in Beliveau's mind. "One year, we were going along Sherbrooke Street, and a wedding party was just coming out of the Ritz Carlton hotel. Everyone from their reception was soon near the road, and as we came by the bride ran from the groom, crossed the crowd, and came up to me and gave me a big kiss!" Indeed, that's how Beliveau lived every day in Montreal, from the minute he signed with the Habs to the present. "One of the most enjoyable things in my life," he said, summing up his reverence by the Montreal fans, who even today knock on his front door looking for autographs and photos with Le Gros Bill.

Beliveau is also appreciative for the skill and talent with which he was blessed. "In the summers, when I was young," he explained, "I used to work for my father who had a job with Shawinigan Water & Power, which later became part of Quebec Hydro. If I hadn't played hockey, I probably would have followed him and worked for Hydro all my life," he said with a slight chuckle at the miscast sight of that image.
Although he doesn't skate himself any more, he still goes to many home games of the Canadiens, and like many in Montreal laments the downfall of the once great team. "They have made some bad trades," he opined, "and never got enough in return. That and bad drafting have been their main problems the last few years."
Beliveau still would like to have won the 1967 Cup during Canada's Centennial, a finals series he credits two men with winning. "Bower and Sawchuk beat us," he said simply, in reference to the two ancient guardians of the Leafs' cage. No matter. Beliveau won more than his share, anyway during a spectacular career!