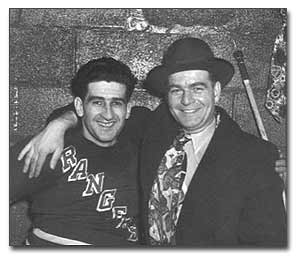 Chuck Rayner is visited by his brother Cotty in the Rangers' dressing room at Maple Leaf Gardens.

(February 21, 2003) -- The New York Rangers' goaltending woes were at their most desolate during the Second World War. With 'Sugar' Jim Henry enlisted, the Rangers scrambled to find alternate goalkeeping help. In 1942-43, New York employed four netminders, none of whom were particularly successful. Steve Buzinski was quickly nicknamed 'The Puck-Goes-Inski,' explaining his 6.11 goals against average over nine games played. Lionel Bouvrette played just one game, but saw more rubber than a dead skunk in the middle of a highway, allowing six goals. Bill Beveridge lasted a little longer, but in his 17 games, was able to claim just four victories. Jimmy Franks had the most respectable showing, earning a goals-against average of 4.48, but the Rangers won just five of the 23 games he played.

During 1943-44, Ken McAuley was signed to bandage the leaking Rangers' defense, but he had as little good fortune as his predecessors, winning just six games of the 50 he played and sporting a helium-filled goals against average of 6.20. The next season, McAuley returned and improved his goals-against average to 4.94. The Rangers won just 11 games that entire season.

Claude Earl Rayner, meantime, was serving his country with the Royal Canadian Navy. Rayner, known as 'Chuck' since boyhood, was born August 11, 1920 in Sutherland, Saskatchewan. Playing junior with the Kenora Thistles, Rayner had led his team to a Memorial Cup final in 1939-40, although the Thistles were defeated by the Oshawa Generals that season. Rayner was signed and played 12 games with the New York Americans, replacing an injured Earl Robertson.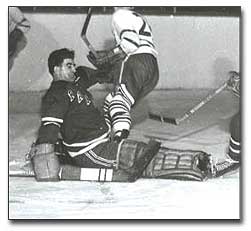 The New York Americans were renamed the Brooklyn Americans the next season, and again, Rayner split the goaltending duties with Robertson. But the franchise was on its last legs, and ceased operation at the end of the 1941-42 season. While the war raged, Chuck Rayner sparkled as a goaltender with the Victoria Navy team. Returning from his active duty, Rayner was signed as a free agent with the woeful New York Rangers, who were desperately trying to regain some sense of hockey decency. Unfortunately, that was not to happen for some time, in spite of Rayner's best efforts.
The Rangers missed the playoffs in all but two of the seasons Rayner played on Broadway. In 1946-47, Chuck led the NHL with five shutouts and had a solid goals-against average of 3.05, but the next season, the Rangers brought Sugar Jim Henry back to tend goal. Henry had been their goaltender in 1941-42, but had played in the minors since. Coach Frank Boucher attempted to alternate the two goaltenders, first by games and later by five-minute periods of time, changing Rayner and Henry like forwards. "Frank switched us every third line or so," explained Chuck Rayner. "The truth was, the club only had one set of goalie gloves. When I skated off to the bench and Sugar Jim came on the ice, we would meet at the blueline so we could exchange gloves in front of 15,000 fans." But when Rayner suffered a double fracture of the cheekbone, the experiment was concluded. Henry took over and finished the regular season. Ironically, the Rangers made the playoffs for the first time in six seasons that year. But when it came time to ice the playoff lineup, Boucher had Chuck Rayner in net.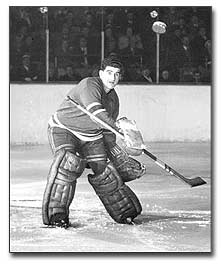 Returning full-time to the Rangers in 1948-49, Rayner played very well behind a weak New York team and ended up being named to the NHL's Second All-Star Team. In fact, Rayner made the Second All-Star Team for three consecutive seasons, playing behind a losing team - a tribute to his prodigious talent in spite of a losing record. Even more impressive was the announcement that Chuck Rayner was the Hart Trophy recipient as the NHL's most valuable player in 1949-50. Chuck posted a 2.62 goals-against average, helping New York win 28 games while losing 30 and tying 11. The Rangers snuck into the playoffs that season, and to the astonishment of hockey fans everywhere, faced the Red Wings in the Stanley Cup finals, although ultimately losing the ultimate hockey award to Detroit. The New York Daily News boasted about Charlie Rayner, stating 'He is to the Blueshirts what DiMag (Joe DiMaggio) is to the Yanks.'
During the 1951-52 season, 'Bonnie Prince Charlie,' as he had been tagged by the press while a rookie, suffered a serious knee injury, and was never quite the same afterwards. He played just 20 games the next season, but watched while Gump Worsley emerged as the Rangers goaltender. Worsley eventually won the Calder Trophy as the NHL's rookie of the year. Those 20 games were the final contests in Rayner's fine NHL career. "I would have loved to be on a Stanley Cup team, but I have no complaints. I feel the Rangers treated me right and I don't have anything to complain about," smiled Rayner.
Establishing himself as one of the finest Ranger goalkeepers ever, Chuck Rayner finished his NHL career with 424 regular season games played, winning 138, losing 208 and tying 77. He earned 25 shutouts through his 10 NHL seasons, and finished with a goals-against average of 3.05.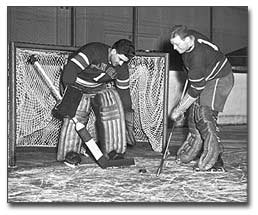 Rayner having fun with fellow goaltending great Turk Broda

A superb skater, it was not unusual to see Rayner carrying the puck down the ice. "(Eddie Shore in Springfield) always told me you have to have balance on your skates and you would just find yourself moving out to get the puck." Although his dream was to be the first goalkeeper to score a goal in the NHL, he did not achieve his dream - but it certainly wasn't through a lack of effort. "I got to the blueline against Toronto one night. They had pulled Broda for an extra attacker late in the game. I stopped the puck and shot it down the ice. It bounced off the boards and suddenly, it started going straight for the empty net. Well, you could have heard a pin drop in Madison Square Garden, the people were so quiet. But at the last moment, it swerved and missed going in by just a couple of inches," Rayner reminisced. He did score against an opposing goaltender while playing during the war. "I was on a Navy team during World War II. We were playing an Army team in Vancouver. It was a rough game and at one point, the penalty boxes were full. Bill Carse, who had played for the Chicago Black Hawks, led a rush into our zone. Carse had a terrific shot and he let one go. The damn puck hit me in the chest and bounced way out. I looked up and couldn't see anything but that puck and Art Jones, the goaltender, at the other end. So I started (skating) and I got going so fast, I couldn't stop. I thought, 'The hell with it. I must as well keep going.' Everybody was so stunned they didn't know what was happening. I didn't even bother to deke. I got to the other end, let one go about an inch off the ice and she went in." It wasn't until Jacques Plante starred with Montreal a decade later that other goalkeepers exhibited strong puckhandling and playmaking skills.

During the late 1940s, the New York Rangers used Rayner on the point during powerplays late in a handful of games. "That was Frank (Boucher's) idea all the way. I used to do a lot of skating and shooting in practice, so he decided to try it in a game. I'd only come out half way up the blueline. It only happened four of five times," laughed Rayner.

During the 1940s, the 5'11" Rayner was considered tall and was aggressive in (and out of) the crease. One of his trademark moves was a pokecheck. "You would be going in on Charlie and that stick would come out like a serpent's tongue," explains Ted Kennedy in the book, 'WITHOUT FEAR.' "You'd be on your fanny in no time." In the same book, Johnny Bower admits that he was taught to pokecheck by Rayner. "I owe a lot of my success to Prince Charlie. Chuck was the person who taught me the pokecheck while I was with the Rangers in 1953-54. I really appreciate what he did for me in my career." Emile Francis, Rayner's understudy in New York during the late 1940s, adds, "He was the best pokechecking goaltender I had ever seen. If he missed you with his stick, he was so big, he would knock you ass-over-teakettle with his body."

"Hockey's been awfully good to me. I've been well paid for something I like to do," stated Rayner in a retirement speech. In tribute to a sensational goaltender who spent his entire NHL career with losing teams in New York, Chuck Rayner was selected as an Honoured Member of the Hockey Hall of Fame in 1973. After retiring, Chuck Rayner and former teammate Sugar Jim Henry ran a tourist business near Kenora, Ontario. Rayner later operated a machinery rental business in Winnipeg and was employed by Molson Brewery. Chuck Rayner lived in Langley, BC for the remainder of his life, and died at his home October 5, 2002 at the age of 82.

Kevin Shea is co-author of several hockey biographies. His most recent book is "Over The Boards - The Ron Ellis Story" (H.B. Fenn), released November 2002.