5 JANUARY 2007
Irvine Bailey was born in Bracebridge, Ontario on July 3, 1903. A proficient scorer as a junior, 'Ace' starred for four seasons with the local Bracebridge Bird Mill before moving to Toronto in 1922 to attend the University of Toronto. At that time, the 19-year-old joined the Toronto St. Mary's, a junior team run by Frank Selke, where he played for two seasons. Then, beginning in 1924-25, Bailey joined the Peterborough Seniors, playing for two productive seasons including an Allan Cup run in his final season.

Although Frank Selke had certainly taken note of the high-scoring Bailey, it wasn't until Ace joined Peterborough that the Toronto St. Patrick's convinced him to try out for their team. On November 3, 1926, 'Ace' Bailey was signed as a free agent by the National Hockey League team, and made his debut in the season opener November 17, a 4-1 loss to Chicago. During Bailey's rookie season, a consortium led by Conn Smythe purchased the franchise, which had been suffering financially and threatened to move to Philadelphia. Smythe re-named the team, calling them the Maple Leafs, and changed the team's colours from green and white to the now well-known blue and white. Ace Bailey and the newly-named Maple Leafs played their first game on February 17, a home win over the New York Americans.

The Toronto Maple Leafs finished last in their division, but the young rookie led the team in scoring, collecting 28 points. Bill Carson finished second with 22 points, including a team-best 16 goals (one more than Bailey), while Hap Day completed the season with 16 points, third best on the team. Bailey's 28 points placed him in a tie with New York's Frank Boucher for sixth in that season's scoring leaders.

Bailey's speed and shot had made an immediate impact, and continued into the 1927-28 season. But in 1928-29, Ace's third season, he finished the season as the NHL's scoring champion, winning the Paul Whiteman Trophy (a predecessor to today's Art Ross Trophy) with 22 goals and 10 assists in 44 games. With Bailey leading the team, the Maple Leafs' record moved into the positive category for the first time. Toronto finished third, with 21 wins, 18 losses and 5 ties.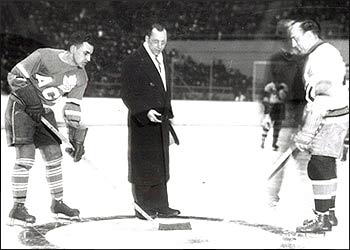 1929-30 continued well for Ace Bailey, who enjoyed a career season that included 22 goals, 21 assists and 43 points. That season, the Leafs introduced two outstanding rookies to the Leafs line-up: Charlie Conacher and Harvey Jackson. The impact was significant. As Conacher, Jackson and their centre, Joe Primeau, emerged as the Maple Leafs premier offensive line, Ace Bailey's role on the team evolved into more of a defensive forward. In 1930-31, Bailey was second to Charlie Conacher in both goals (23 to Conacher's 31) and points (Ace's 42 was one shy of the Big Bomber's total). But 1931-32 saw Bailey's production slide to 8 goals and 5 assists, in spite of playing in 41 contests.

That season began in a brand new arena. The Maple Leafs, as well as the St. Pat's, had played in the cramped Arena Gardens on Toronto's Mutual Street. But the revenue generated wasn't sufficient to carry an NHL squad, so Conn Smythe went to work to create a new, much larger edifice. The story is legendary - Smythe and his team moved into Maple Leaf Gardens for opening night, November 12, 1931. The outstanding new arena was miraculously and cleverly financed during the Great Depression, and the building constructed in an astonishing 165 days at the corner of Carlton and Church streets.

Bailey's production tailed off severely in 1931-32. The Kid Line of Jackson, Primeau and Conacher finished one, two and three on the team in scoring, and finished first, second and fourth in the NHL scoring race. Ace's 8 goals, 5 assists and 13 points paled considerably to Busher Jackson's league-best 53 points, and even his own 42 points of the previous season. Yet, Bailey was a key contributor to the team that year, and after a hard-fought final with the New York Rangers, the Toronto Maple Leafs collected the Stanley Cup — the first in franchise history.

The fleet forward scored 10 goals and 18 points in 1932-33, a season in which the Rangers got retribution and dumped Toronto in the final.

Then, on December 12, 1933, during the second period of a game between Toronto and the Bruins in Boston, hometown hero Eddie Shore was checked hard by Toronto defenseman Red Horner while carrying the puck into the Leafs end. "Eddie Shore was having a very frustrating night," explained Red Horner. "He was playing a great game but it wasn't getting him or the Bruins anywhere. They couldn't score on us. (Coach) Dick Irvin sent out King Clancy and myself and Ace Bailey up front to kill off the (two) penalties. Bailey was a very expert stickhandler, and he ragged the puck for awhile. Eventually, Shore got his stick on the puck and made a nice rush deep into our end. Shore came down my side and I gave him a very good hipcheck." As play moved back into the Boston end, Shore, dazed by the hit and searching for revenge, skated wildly towards Ace Bailey, likely thinking that he was charging Horner. "He wanted to get even for the check I'd just put on him. He thought Bailey was me. He charged into Bailey on an angle from the side. He hit Bailey and flipped him in the air, just like a rag doll. Bailey landed on his head just a few feet from where I was standing. Bailey hit the ice and he went into some kind of convulsion. I thought to myself, 'That's the end of Ace!'" Bailey lost consciousness and began bleeding from a head wound. Horner, sickened by the sight of his injured teammate, coldcocked Shore, knocking him to the ice unconscious. "Shore skated away in a very nonchalant fashion. I wasn't going to let him get away with that, so I went after him."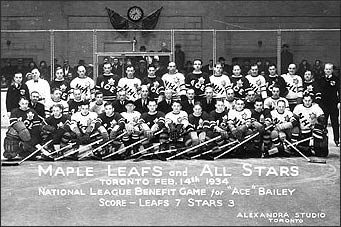 Both Bailey and Shore had to be carried off the ice by teammates. Shore suffered a three-inch gash to his head, but Bailey's injury was far more serious. He was being attended to by Boston doctors in the Bruins' dressing room when Shore, having regained consciousness, went over to apologize. "It's all part of the game," Bailey said before convulsing and lapsing into unconsciousness again.

A drunken fan accused Bailey of faking his injury. Incensed, Leaf manager Conn Smythe struck the man with a punch to the mouth. The fan pressed charges and Boston police locked up Smythe for the night. Conn later was released and paid the spectator's dental bills.

Ace was rushed to Audubon Hospital with a cerebral hemorrhage and by the next morning, his condition was so poor that his death seemed imminent. Dr. Donald Munro, a brain specialist, consulted with Ace's wife about a dangerous but necessary operation. In the meantime, Boston homicide detectives were interviewing Shore and other players about the on-ice incident and it became widely known that, in the event of Bailey's death, Shore would be charged with manslaughter.

When word of his son's injuries reached Bailey's father, he armed himself with a handgun and a train ticket to Boston, intent on exacting revenge on Shore. Word filtered to Conn Smythe, who alerted Frank Selke. Selke contacted a friend on the Boston police force who discovered Ace's father in the bar of the Leafs' hotel and was able to convince him to abort his plot. The senior Bailey was put on a train back to Toronto and the empty gun returned by mail two weeks later.

Dr. Munro had Bailey transferred to City Hospital, where he performed two operations to relieve the pressure on his brain. After the second operation, Munro sighed, "His chances of living are very slim." A priest was called to read the last rites. With a pulse of 160 and a temperature over 106 Fahrenheit, doctors were measuring Ace's life expectancy in minutes. But by the following morning, Bailey showed sufficient recovery to give medical staff hope. In the ensuing days, Bailey grew stronger and by Christmas, Ace was expected to live.

NHL president Frank Calder suspended Eddie Shore indefinitely and Red Horner until January 1, 1934. Shore was not permitted to visit Bailey in the hospital, but when Boston's manager Art Ross visited the Leafs star, Ace absolved Shore of any willful wrongdoing once again. Shore convalesced in Bermuda for three weeks.

Once it became evident that Ace would survive but would never be able to play hockey again, Calder announced that Eddie Shore would be allowed to return to the NHL as of January 28 after missing 16 games. "There was no bad feeling between us," explained Shore. "It was purely accidental."

The Boston Bruins set aside almost $8,000 in gate receipts from a contest with the Montreal Maroons, and the money was sent to Bailey's family. On January 24, 1934, the NHL's Board of Governors announced that a special benefit game featuring the Toronto Maple Leafs facing the best from the rest of the league would be staged at Maple Leaf Gardens with the proceeds going to Ace Bailey and his family. The idea had originally been proposed by Walter Gilhooley, the sports editor of the Montreal Journal. The Leafs' opposition would be selected by a committee consisting of Frank Calder, Frank Patrick and league director Thomas Arnold.

Prior to the game, held on February 14, 1934, the All-Stars skated onto the ice in their regular team sweaters and had their picture taken as a group. They were then presented with their All-Star sweaters by NHL president Calder, Lester Patrick and Maple Leaf officials, including Ace Bailey himself. The first in line was goalie Charlie Gardiner, who received his number 1 jersey. He was followed by number 2, Eddie Shore. An apprehensive silence fell over the Gardens as Shore skated to centre ice. But as Bailey extended his hand to the Bruins star, the crowd erupted in an explosion of spontaneous cheering. Bailey, in his street clothes, met Shore, dressed in his hockey equipment ready for the game, at centre ice. Bailey handed him an All-Star sweater with number 2. The two shook hands and the hatchet was buried. "It was the loudest I ever heard a Maple Leaf Gardens crowd," mentioned longtime season ticket subscriber Tommy Gaston. Bailey's extraordinary sportsmanlike gesture made clear his forgiveness of Shore. The near-tragic Bailey incident haunted Shore for the rest of his life. "I hold no grudge," Bailey later said. "I see Eddie often when he comes up to Toronto for the games. It was just one of those things that happens."

Before the opening faceoff, Bailey gave NHL president Calder a special trophy inscribed with his own name. It had been commissioned by the Toronto Maple Leafs in hopes that it would be the prize of an annual All-Star Game that would be staged to set up a fund for injured players. The paid attendance at Maple Leaf Gardens that night raised $20,909.40 for Ace Bailey and his family. The NHL All-Star Game took place on a more regular basis after that game.

No sweater number had ever been retired to that point in the NHL's history. Prior to the opening faceoff of the All-Star Game, Conn Smythe took the microphone and announced, "No other player on a Maple Leaf hockey team will ever again wear the number 6." The crowd roared its approval.

The Toronto Maple Leafs retire very few sweater numbers. In fact, there are only two retired numbers hanging from the rafters of the Air Canada Centre -- Ace Bailey's number 6 and Bill Barilko's number 5. Only players who have made a significant contribution to the Toronto Maple Leaf Hockey Club and have experienced a career-ending accident while a member of the Leafs have their numbers considered for retirement. Other sweater numbers are honoured, but not retired. Yet, in a curious but wonderful tribute, Ace Bailey took his number 6 out of retirement for a period of time. "Ace Bailey had been watching me; he was there (as an off-ice official at Maple Leaf Gardens) every game," began Leaf great Ron Ellis. "I knew who he was, of course, but there had never been an opportunity to meet with him and talk. For some reason that still amazes me, Ace made a decision to take his Number 6 out of retirement. He went to Harold Ballard and requested that I be allowed to wear his retired sweater number!" Ellis's exemplary play and clean lifestyle had made an impression on Ace Bailey, and prior to the 1968-69 season, the former star paid industrious winger Ron Ellis the highest professional compliment. "This came completely out of left field. I was flabbergasted. It was the greatest honour of my career and I will always be grateful to Ace Bailey!"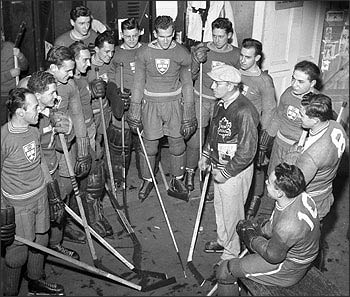 Through his career, Ace Bailey scored 111 goals and added 82 assists for 193 points in 313 regular season NHL games. In 1975, Ace Bailey was inducted into the Hockey Hall of Fame. He was joined that year by George Armstrong, Gordie Drillon, Glenn Hall and Pierre Pilote.

Once forced to retire, Ace Bailey asked the NHL if he could work as a linesman, but the offer was declined. Nevertheless, Bailey continued in hockey by coaching the University of Toronto Varsity Blues hockey team between 1935 and 1940, then again after the Second World War from 1945 to 1949. During his coaching tenure, the U of T Blues won three Canadian Interuniversity Athletics Union championships. In addition, from 1938 to 1984, Ace continued his ties with hockey by serving as a timekeeper at Maple Leaf Gardens. In 1984, at the age of 81, Maple Leafs owner Harold Ballard dismissed Bailey from the position he enjoyed so much.

The Toronto Maple Leafs planned to honour both Ace Bailey and the late Bill Barilko in a pre-game ceremony on April 1, 1992 to officially retire both sweater numbers. But a players' strike shut down the league for ten days beginning on March 30. Bailey suffered a stroke on April 1 and died at the age of 89 on April 7, 1992. He never got to see his sweater raised to the rafters.

A memorial service was held at St. James-Bond United Church in Toronto on May 1, 1992. Fittingly, one of those who spoke at the service was Ron Ellis. On October 17, 1992, Bailey's number 6 and Barilko's number 5 were finally hoisted to the rafters of Maple Leaf Gardens. Ron Ellis was on the ice along with Ace's daughter Joyce during the emotional ceremony.

Kevin Shea is the Hockey Hall of Fame's Editor of Publications and On-Line Features.