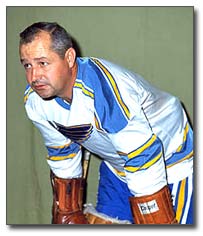 (November 29, 2002) -- On October 3, 1931, the population of Humboldt, Saskatchewan grew by one with the birth of Hockey Hall of Fame netminder, Glenn Hall. "The population of Humboldt was about 4,000 people when I was growing up and it's 5,500 today," smiles Hall. "The town was great in those days and it's still great. It's still a beautiful little town."

Like many boys on the Canadian prairie during the Depression, entertainment was comprised mostly of listening to the radio. "All the goalkeepers were Turk Broda in those days and the forwards were Syl Apps because Toronto was the only exposure we got to the National Hockey League, and that was through Foster Hewitt. We were all Toronto fans," admits Glenn Hall. "I never thought for a minute I'd play in the National Hockey League."

Hall was signed by the Detroit Red Wings after attending a tryout camp in Saskatoon. The Wings sent the 18-year old to Windsor, Ontario to play junior with their affiliate, the Spitfires. Graduating through the ranks, Hall played with the Indianapolis Capitals of the AHL in 1951-52 and three seasons with the WHL Edmonton Flyers. But there was one problem: Detroit had a pretty fair young goaltender already between the pipes in Terry Sawchuk, and in the one goaltender era, there was no room for Hall. "My first exposure to the league came when Sawchuk was hurt. I was playing in Edmonton at the time. In 1952-53, I played 6 games and in '54-55, I played 2 games."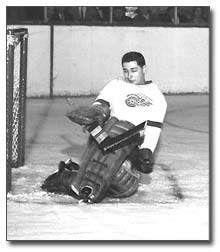 Finally, in 1955-56, Glenn Hall got his opportunity to play in the NHL. The Detroit Red Wings traded Sawchuk to the Boston Bruins as part of a blockbuster 9-player deal, leaving the netminder slot open for the full-time debut of Glenn Hall. Glenn played all 70 games that season, leading the NHL with 12 shutouts, and was not only selected to the NHL's Second All-Star Team but was awarded the Calder Trophy as rookie of the year. "We started out really slow, and I suppose that was partly my fault," remembers Glenn. "Detroit had made a bunch of trades that year. Sawchuk, who was probably the best goalkeeper ever to play the game, was sent to Boston, but he was just one of eight players they traded off the team that year. The players wondered what the heck had happened, but as the year progressed, I picked up a little bit and we got along fine and had a reasonably good year."
After three excellent seasons in Detroit, including both First and Second All-Star Team selections, the hockey world was stunned during the summer of 1957 when Glenn Hall and fiery all-star Ted Lindsay were sent to the Chicago Blackhawks in exchange for Hank Bassen, Forbes Kennedy, Bill Preston and Johnny Wilson. "I loved the Detroit organization. They were really good to me. They were good to all of us, except they didn't pay us any money, but we all knew that," Hall admits. "Ted Lindsay had tried to start the Players' Association and they were trying to break it up so they traded Ted. They threw me in (in the trade) because they didn't think I'd ever be a goalkeeper. I didn't have a great playoff and the general manager, Jack Adams, and I differed on a few points. Teddy and I went to Chicago and it was probably the best thing that ever happened to me."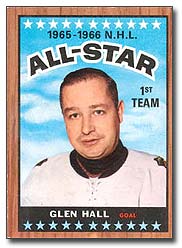 Chicago was a nice fit for Glenn, and during his 10 years as a Black Hawk, Hall was named to the First All-Star Team five times and to the Second Team on three occasions. In 1963, Glenn was rewarded with the Vezina Trophy as the NHL's best goaltender. By 1966-67, the Vezina Trophy was awarded to the goaltending team with the best goals against average, and Hall shared the award that season with partner Denis DeJordy. But the highlight of a decade in Chicago came in 1960-61 when the Blackhawks captured the Stanley Cup for the first time since 1937-38. "We were improving steadily. Teddy's (Lindsay) contribution was really great. He taught the team how to win; what you had to contribute to win. Even though he wasn't there the year we won it, his presence was still huge". The Blackhawks boasted sensational talent during that era. "We had Bobby (Hull) and Stan (Mikita) - what great hockey players. Really, we had better teams after where we couldn't win it (the Stanley Cup), but the opposition got better as we got better. We came close several times but couldn't quite topple over the top."
During his years in Chicago, Hall often balked at reporting to training camp, citing a need to stay home and work on the farm. "I was living on the farm and was doing a little bit of harvesting. But you used to go to training camp to get into condition. Well, I always felt I was ready to play - I didn't need any conditioning. Give me a couple of days and that's all I needed. I firmly believed that training camp hurt you rather than helped you. You got into bad habits. It was ridiculous for me to go to training camp to lower the standards of my game rather than improve them."
Expansion added six new teams to the NHL in 1967-68. "I had retired the year before in Chicago," recalls Glenn. "I never realized why Chicago offered me more money and offered me things to the point that it made it difficult not to play that final year in Chicago. It was the fact that expansion was coming - something that I hadn't even looked at. Chicago needed to leave a goalkeeper open (unprotected), so I think that's the reason that I was signed. And then they did leave me open." The teams known as the 'Original 6' were allowed to protect but one netminder, and the Hawks left the 36-year old Glenn Hall unprotected in favour of Denis DeJordy. "The teams didn't really give up anybody. They left old players available; guys who they figured would never be able to play again, as well as young players who they felt never would be able to play." The St. Louis Blues quickly grabbed the prized veteran to solidify their goaltending. "To go to St. Louis was great. We had great owners. We had Scotty Bowman and Lynn Patrick. We got a good combination of players. Had St. Louis not represented the expansion division so well, I don't know if expansion would have been as successful. The whole atmosphere around St. Louis was tremendous."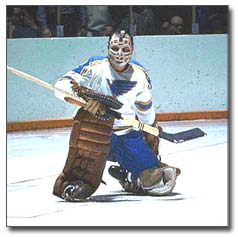 That first season, the Blues led their Western Division and went to the Stanley Cup Finals against the Montreal Canadiens. Although they were defeated in four games, the Conn Smythe Trophy for the most valuable playoff performer was presented to Glenn Hall of those St. Louis Blues. That season, Hall was also named to the NHL's First All-Star Team for an extraordinary seventh time. "That's one of the things I'm really proud of. I made the First All-Star Team on three different teams. I don't think anybody else has done that in any other sport, so I feel pretty good about that," beams the modest Hall.
The Blues added Jacques Plante before the 1968-69 season, and the two, who had faced each other as opponents on so many occasions through the years, formed such a terrific tandem in the Blues' goal that they combined for the Vezina Trophy that season. "The team was tremendously complimentary to goalkeepers. There was never a second rebound. There was no doubt that it would be picked up by our defense. We had a good mixture of the old guys plus the young kids. Everybody was really happy and we were glad to get to the rink. We were having fun."
Throughout his extraordinary career, Glenn Hall provided two constants. One was that you would get a competitive game every time Hall skated out onto the ice. But the second has become legend. "I simply felt I played better when I got sick before a game. I really did. I felt I was ready; I was up for the game and I was gung ho. Quite often, between periods, I was the same way. I don't think it hurt me and I hope it never bothered my teammates. The way I looked at it was, 'Holy crow, let's get serious guys. We've got to go to work.' The game is only intended to be played one way and that's at the very best of your ability, and I played better when I got sick."
Glenn Hall retired after the 1970-71 season, and in 1975, became an Honoured Member of the Hockey Hall of Fame. "Just to play in the National Hockey League was something you never figured you'd do when you're a kid. I absolutely enjoyed playing against these great hockey players and I do feel that I played quite well. It was fun and they were great years. But you don't have to play in the National Hockey League to enjoy the game. If you're not having fun playing hockey, you're doing something wrong."
Kevin Shea is co-author of several hockey biographies. His most recent book is "Over The Boards - The Ron Ellis Story" (H.B. Fenn), released November 2002.