29 MARCH 2005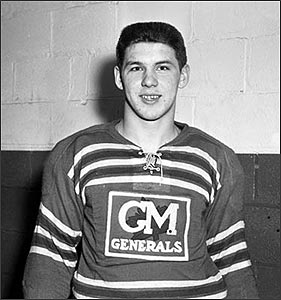 After signing with the Red Wings, the 17-year-old Delvecchio was brought in to play junior with the Oshawa Generals and finished second in
OHA scoring in 1950-51.

Alex Delvecchio was just six years of age when he first had a pair of skates pulled onto his feet and made his initial wobbly attempts at skating on the bitter, outdoor rinks of his hometown --Fort William, Ontario — now part of the city of Thunder Bay. Alex learned early that strong skaters get the best opportunities to advance through the ranks in hockey.

Born December 4, 1932 in Fort William, Delvecchio played his first organized hockey for the Knights of Columbus Canadiens, a team of twelve to fourteen year olds. Later, while excelling with the East End Athletic Club, a Red Wing scout named Lou Passador, who was working in the Lakehead region of Northern Ontario, spotted the young Delvecchio and recommended Alex to Detroit general manager Jack Adams. Adams signed the youngster and Alex was placed on Passador's Fort William Hurricanes, a Junior B team. In two years there, Delvecchio grew five inches in height and gained twenty pounds. The Red Wings GM transferred the seventeen-year-old to the Detroit-sponsored Oshawa Generals, a junior team in the Ontario Hockey Association. "My coach was Larry Aurie. He was a veteran of the Red Wings of the thirties," Alex recalled in an interview as he reflected back on that 1950-51 season. "He made practices interesting, was so earnest and intense in passing on his knowledge that we players hated to leave the ice. He emphasized to me the finesse of stickwork and playmaking." But Larry Aurie's impact went beyond productivity. "I was a hothead then, getting too many penalties for fighting and popping off," Alex admitted. "Aurie smartened me up in a hurry about keeping out of trouble."

Alex learned his lessons well, and in 1950-51, he and linemate Lou Jankowski, also a Red Wing prospect, burned up the junior loop. Jankowski led the league in scoring with 65 goals and 59 assists for 124 points. Alex finished second, scoring 49 goals and adding 72 assists for 121 points. The productivity forced Wings GM Jack Adams to turn Delvecchio professional, in spite of his still retaining a year of junior eligibility.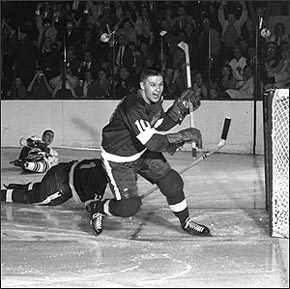 After just six games in the minors,
Alex Delvecchio debuted as a Red Wing, and stayed
in Detroit for 24 years as a player plus stints
as coach and as general manager.

During the 1950-51 campaign, Alex played his first game in the National Hockey League — a contest against the Toronto Maple Leafs. "I probably didn't get off the bench," Alex laughed many years later.

Delvecchio started the 1951-52 season with the Indianapolis Capitols, Detroit's American Hockey League affiliate. In the first six games, he had scored three goals and six assists. The parent Red Wings summoned the nineteen-year-old. "(Indianapolis coach) Ott (Heller) told me that I was to catch a plane the next morning for Detroit and join the Wings. I figured first that Ott was in on a gag fixed up by the players. Then, when he told me this was really business, I got so nervous that I couldn't remember a thing he said about tickets or which plane."

Delvecchio broke into the Wings' line-up as a centre, replacing Larry Wilson. "Those first few years, I didn't play that much," admitted Alex. "We were on the third line, mostly Johnny Wilson, Metro Prystai and myself. We didn't hit the ice much unless we were way ahead or way behind." Yet, in 1951-52, his first full season with the Detroit Red Wings, the rookie scored 15 goals and 22 assists, helping Detroit finish first through the regular season. That spring, Alex and the Wings won the Stanley Cup in eight straight games. "That was a great team we had and I felt proud to be among so many players that were true stars of the game. Terry Sawchuk was in goal and in those eight playoff games against Toronto and Montreal, he only gave up six goals. We had Ted Lindsay, Sid Abel, Gordie Howe, Glen Skov, Tony Leswick, Metro Prystai and Marty Pavelich up front. Marcel Pronovost, Red Kelly and Bob Goldham were three of our defensemen," Delvecchio recalled.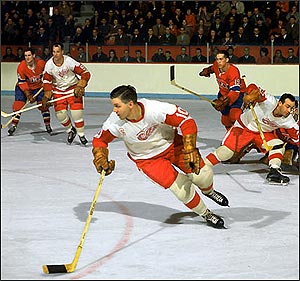 Detroit won the Stanley Cup in Alex's first year in the
NHL -- 1951-52. The Wings won the Cup in three of Delvecchio's first four seasons in the Motor City.

The Detroit Red Wings were in the midst of one of the most celebrated times in the franchise's history. Prior to Alex's joining the club and continuing through his first few seasons, Detroit finished first overall seven consecutive seasons. In 1954 and 1955, the Red Wings won the NHL championship again. It was the fourth time in six years for the talented Detroit squad. "We won the Stanley Cup those years and that's what hockey is all about, right?"

From his NHL debut, Alex established himself as a skilled goal scorer, but prided himself more on his playmaking abilities. "The goals are nice, of course, but I've always taken a lot of pride in assists. It's a centreman's job to get assists," he stated.

Delvecchio cracked the twenty-goal mark for the first time in 1955-56 and finished ninth in NHL regular season scoring that season. It was the first of ten times Alex would finish in the top ten amongst the NHL's regular season scorers, accomplishing the feat again in 1957-58, 1960-61, 1961-62, 1962-63, 1964-65, 1965-66, 1966-67, 1967-68 and 1968-69.

In 1962-63, Delvecchio assumed the captaincy in Detroit, replacing Gordie Howe, who was given an assistant coach title as well as continuing his play on right wing. Alex served as captain of the Red Wings until his retirement.

Although overshadowed throughout his career by the accomplishments of Howe, Delvecchio is one of the brightest stars in the Red Wing galaxy. "I probably had my best year in 1965-66 when I scored 31 goals," admitted Alex, whose goal total that year was a career best. "When I first came up, defense was the name of the game. You always played to win at home. And if you thought you could get away with a tie on the road, you were glad to get it."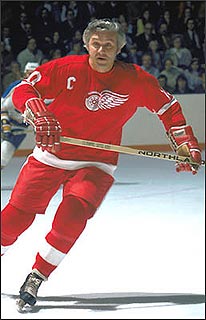 Overshadowed by the immense aura of teammate Gordie Howe, Delvecchio quietly amassed remarkable Hall of Fame statistics. At the time of his retirement, Alex ranked second only to Howe in most career games played, most assists and most points.

Like so many of his peers, Alex Delvecchio felt the lure of the World Hockey Association when that professional league debuted in 1972. A very generous offer was tabled by the Houston Aeros which would allow Alex to re-join his friend and former linemate, Gordie Howe. "I'd spent my whole life with the Wings and, what the heck, I'd better finish with them," Delvecchio decided at that point. "Why fool around somewhere else for one year. Why not spend it right here where I enjoy playing hockey." In 1972, Alex was approaching his fortieth birthday, and had already played twenty-one seasons. "If I was younger and had another eight or ten years of hockey left, I would have really considered that Houston offer just for a change of scenery."

On November 9, 1973, Delvecchio, in his twenty-fourth NHL season, all with the Detroit Red Wings, and in his thirteenth campaign as captain, was selected by Wings' owner Bruce Norris and general manager Ned Harkness, to replace Ted Garvin as coach of the Detroit Red Wings. It was just eleven games into that season, but the Wings felt age had finally caught up to their elder statesman. "When I was first called in, I thought to myself, 'Uh oh, I'm going to join Bergy (Gary Bergman) in Minnesota,'" mused Delvecchio, thinking about his teammate's trade the day before. "But when Ned asked me to take over as coach, I guess the surprise must have showed on my face. It was the happiest day of my life." The next morning, Alex met with his former teammates in an entirely different role. "I told them I needed their co-operation and asked them to be patient while we attempted to turn things around."

For some time, the Detroit Red Wings had promised Alex a career with the organization when the day finally came to hang up his skates. Coaching had been an occupation he had considered. "You look at things differently when you become coach," Delvecchio admitted in an interview at that time. "You are part of management and instead of thinking just about your own game, you are thinking about twenty guys. The thing that hit me immediately was practice; the difference of players in practice. Some players work their tails off while others hardly break a sweat. I remember my first reaction. 'Did this go on while I was a player?' It did, of course, but when I was a player, I was working on my own problems at practice and not paying attention to others."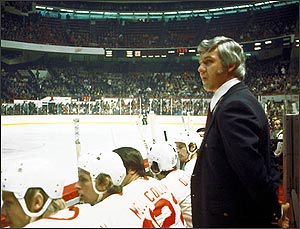 In November 1973, as Alex was starting his twenty-fourth NHL campaign, Red Wings GM Ned Harkness appointed Delvecchio coach of the Wings. He stayed with the organization until March 1977.

After Ted Garvin's regime, the easy-going Delvecchio was a breath of fresh air to the Red Wings players. "Hockey is too fluid a game to burden with a system," stated Alex in 1973. "You must make split-second decisions and you can't be wondering when you make a split second decision whether it fits with a system or not. It's the game we played as kids on the frozen ponds. It's not complicated and you have fun. That's the way hockey should be."

Alex was later awarded the dual role of coach and general manager, hiring former Wing defenseman Doug Barkley in 1975 to handle the coaching duties so he could focus on the GM's role. Barkley lasted just two months and, after being relieved of his duties by Delvecchio, the GM went back behind the bench to coach. Alex was relieved of both the general manager's duties and the coaching responsibilities in March, 1977, and was replaced by former teammate, Ted Lindsay.

Alex reflected on his life as a professional hockey player, pointing out candidly how there are lows that go with the exceptional highs. "It's still a hard life for a man and his family. The professional athlete surrenders his life to his sport. He surrenders his social life, his freedom, his whole being. He is governed by managers and coaches. He is regimented. Often, there are rules as to when he goes to bed and when he wakes up, when he eats and what he wears. A professional athlete definitely cheats his family. He is not always there when his wife and children need him. His wife has to bear a lot of the burdens alone. The athlete so often is gone on the holidays. He is home a little while, then gone again. The family gets used to the routine. At first, maybe the little ones cry when you pack up to go away again. For a father, that's sad. I feel like I have not really gotten to know my children as well as I wanted to. They have grown up without me. That is a hard thing for a man to accept."
Alex Delvecchio was inducted into the Hockey Hall of Fame in 1977, joined by Tim Horton and Builders Bunny Ahearne, Harold Ballard and Joe Cattarinich.

When Delvecchio retired, he was only the second player in NHL history to play in twenty or more seasons with a single team. Linemate Gordie Howe was the first. Alex had played twenty-four seasons with Detroit, scoring twenty goals or better in thirteen of those seasons. Both talented and durable, Alex suffered a serious ankle injury in 1956-57 that caused him to miss twenty-two games, but missed only twenty-one more through the rest of his remarkable career. Competing in 1,549 regular season games, Alex scored 456 goals and 825 assists for 1,281 points. At the time of his retirement, Alex Delvecchio ranked second only to Gordie Howe in career games, assists and points. He collected just 383 penalty minutes during his career, and never more than thirty-seven in any one season. His gentlemanly play won Delvecchio the Lady Byng Memorial Trophy on three occasions — 1959, 1966 and 1969. Alex was twice selected to an NHL All-Star Team. In 1952-53, Delvecchio was selected to the NHL's Second All-Star Team as a centre and in 1958-59, was the NHL's Second Team All-Star leftwinger. Alex was also recipient of the Lester Patrick Award in 1974 for outstanding service to hockey in the United States.

An outstanding forward, a wonderful teammate and a tribute to the sport that he loved, in 1977, Alex Delvecchio was inducted into the Hockey Hall of Fame to commemorate an extraordinary career.

Kevin Shea is the Hockey Hall of Fame's Manager of Publishing and Editorial Services.