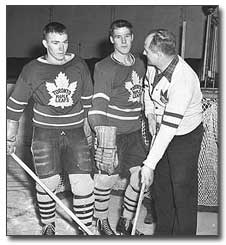 A young Tim Horton (centre) receiving instructions from coach Hap Day.

(December 13, 2002) -- Tim Horton was born in Cochrane, Ontario on January 12, 1930. Although christened Miles Gilbert Horton, using the names of his two grandfathers, Horton's mother began calling him 'Tim' even before his birth, and that was the name by which he was always known.

While playing with future Leaf teammate George Armstrong in Copper Cliff, Ontario (near Sudbury), Horton was scouted by the Toronto Maple Leafs, signed and sent to St. Michael's College in 1947 to play junior and continue his education. Tim starred with St. Mike's for two seasons, and was chosen best defenseman in the Ontario Hockey Association in 1948-49. As a junior, Horton quickly became known for his Herculean strength, a trait he carried with him to the NHL. Montreal Canadien John Ferguson, no creampuff himself, gasped, "Horton's the hardest bodychecker I've ever come up against. He's as strong as an ox and hits with terrific force."

That fall, Tim was invited to the Toronto Maple Leafs training camp in St. Catharines. Horton impressed the Leafs' management, and was assigned to Toronto's AHL farm team in Pittsburgh in preparation of stepping into the NHL. Toronto was a powerhouse on defense at that time, with a nucleus of Bill Barilko, Garth Boesch, Jim Thomson and Gus Mortson with Bill Juzda the fifth defenseman. Horton played his first game in a Leaf uniform on March 26, 1950. At the end of that season, Garth Boesch left hockey, deciding instead to farm. Then, after winning the Stanley Cup in 1951, the Maple Leafs lost defenseman Bill Barilko -- never to return after a tragic fishing trip that summer. Tim Horton appeared to be a shoo-in to replace Barilko, but coach Hap Day decided to go with Hugh Bolton instead. Horton did get into 4 games in 1951-52, but it wasn't until 1952-53 that he became a full-time member of the Toronto Maple Leafs.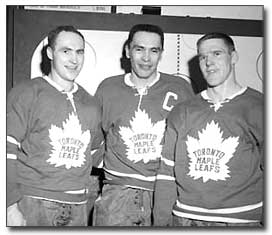 Tim Horton (right) is pictured with Red Kelly (left) and childhood friend George Armstrong (centre).

After winning the Stanley Cup four times in five seasons between 1946 and 1951, the latter part of that decade proved to be a challenge for the Toronto Maple Leafs. The team went through personnel changes, coaching changes and an ownership change, but as the team evolved, the junior system began to produce high calibre players that eventually formed the foundation of a dynasty that saw the Maple Leafs win four Stanley Cup championships in the 1960s. Carl Brewer, Bob Baun, Dave Keon, Frank Mahovlich, George Armstrong, Bob Pulford, Mike Walton and Ron Ellis joined Tim Horton as products of the exceptional Toronto Maple Leaf system.

Horton was paired with Allan Stanley on defense through the sixties, and with Baun and Brewer as the other tandem, the Leafs had as formidable a defense as anyone in the NHL. In the case of Stanley and Horton, Allan was the more defensive-minded of the duo, while Tim had more offensive prowess. "Horton is typical of the new type of defenseman who must be equally adept on attack and defense," wrote Canadian Weekly in 1965. Toronto won the Stanley Cup three straight seasons between 1960 and 1963. Coach Punch Imlach commented, "I think Horton, more than any other one player, was the key to those glory days."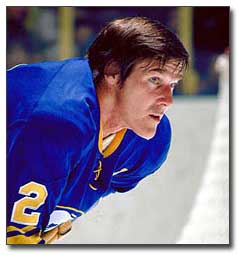 The Toronto Maple Leaf team that surprised the hockey world by winning the Stanly Cup in 1967 was considered an ancient team. Johnny Bower was 42 and Allan Stanley 41. Red Kelly was about to celebrate his 40th birthday while Terry Sawchuk was 37 and both George Armstrong and Marcel Pronovost were just shy of their 37th. Tim Horton had turned 37 earlier that year. Between retirement and the NHL's expansion in 1967-68, Toronto lost a number of their veterans and was forced to rebuild.
While playing with the Maple Leafs, Tim Horton tried his hand at various business ventures. He and his brother Gerry opened a restaurant -The Big Seven -- in North Bay, Ontario. In 1961, Horton and a partner opened Tim Horton Motors in Toronto. Tim later attempted a burger restaurant in Scarborough, but settled for the donut business when he opened the first Tim Horton Donuts in 1964, located in Hamilton, Ontario. Within ten years, the company had 33 locations. Today, Tim Horton Donuts has over 2,000 locations in Canada and more than 140 in the United States.
Horton remained with the Leafs past their last Stanley Cup win, and as the team's elder statesman, anchored a young defense corps. In 1967-68, Tim was selected to the NHL's First All-Star Team and in 1968-69, Horton enjoyed his most productive season, collecting 40 points and was named to the First All-Star Team for a second consecutive season.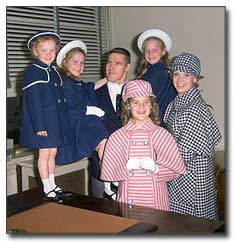 The family of Tim Horton.

And then, Toronto fans experienced the unthinkable. After 1,185 games in Maple Leaf blue and white, Tim Horton was traded to the New York Rangers on March 3, 1970. In return, the Leafs received future considerations, which evolved into Jacques Plante, Denis Dupere and Guy Trottier. After a full season with the Rangers, Horton was claimed by Pittsburgh in the Intra-League Draft during the summer of 1971, and Tim played a season with the Penguins.

A year later, Punch Imlach, the coach and general manager of the Buffalo Sabres, plucked the 41-year old Horton from the Penguins' roster in that summer's Intra-League Draft. Imlach, who had been Horton's coach with the Leafs through the Stanley Cup years, was considered daft by many, but his savvy was proven when Horton stepped in and added stability and confidence to a young Buffalo blueline. "We had young, green defensemen and I knew there was no player to set an example better than Horton," said Imlach at the time. NHL scout Gerry Melnyk added, "His stamina and strength are amazing. At 43, he's playing as well as he performed 10 years ago when he was helping Toronto win Stanley Cups."

Horton was hesitant to sign for another year in Buffalo. His donut empire was growing exponentially and at 43, he was the second oldest player in the league, just months younger than netminder Gump Worsley. But Imlach realized he needed Horton on the blueline, and offered him another one-year contract. Negotiations were confirmed with Horton receiving a Pantera sportscar as a bonus.

On February 20, 1974, Buffalo was visiting Toronto, hoping to steal two points and help gain enough momentum to propel the team towards a playoff spot. Horton played his typical game, and although the Sabres lost 4-2, Tim was named the game's third star.

"He was hurting too bad to play a regular shift in the third period," recalled Sabre coach Punch Imlach. "We faded without him and lost the game to the Leafs. After the game, he and I took a little walk up Church Street and had what was our last talk. He was down in the dumps because he didn't like to miss a shift and he felt he had cost us the game. I got on the bus with the team. Tim drove the cursed car back to Buffalo. He didn't make it." On his way back to Buffalo at 4:30 the morning of February 21, 1974, Horton lost control of his speeding car on the highway near St. Catharines, rolling it several times. Tim Horton was killed instantly.

Horton left several legacies beyond the wife and four daughters who remained behind. Certainly there is the Tim Horton's donut chain that carries his name. John Saunders, writing for the Globe and Mail, correctly noted that, "Mr. Horton will be famous long after most Timbit dunkers have forgotten what he did for a living." Then, there is the extraordinary hockey legacy -- 23 NHL seasons, 1,446 games played (including 468 consecutively with Toronto during the 1960s), 4 Stanley Cup championships, three-time member of the NHL's First All-Star Team and three times named to the Second Team. But it wouldn't be a stretch to say that Tim Horton's finest legacy was as a person. As friend and former teammate Vic Hadfield stated, "I couldn't have had a better friend, on or off the ice." Similar feelings were expressed by George Armstrong at the time of Horton's death, "No finer person, teammate or hockey player ever lived." Former defense partner Allan Stanley added, "He was the finest man I knew on or off the ice. He was a great leader without a mean streak in him. Playing with him was a wonderful experience."

Tim Horton was inducted into the Hockey Hall of Fame in 1977. During the 1995-96 season, the Buffalo Sabres retired Horton's Number 2 while that same season, the Toronto Maple Leafs' honoured Number 7 in honour of Tim Horton. "Tim was as hard-nosed a defenseman as hard-nosed gets," explained Leaf general manager Cliff Fletcher. "The Maple Leafs haven't given proper recognition to these great players in the past and we want to change that."

Kevin Shea is co-author of several hockey biographies. His most recent book is "Over The Boards - The Ron Ellis Story" (H.B. Fenn), released November 2002.