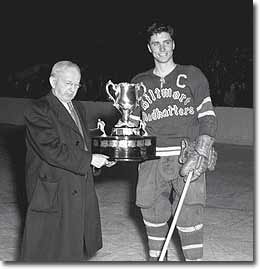 Andy Bathgate accepts the Memorial Cup as captain of the 1951-52 Guelph Biltmore Madhatters. Guelph defeated the Regina Pats to collect what is often referred to as 'the toughest trophy to win in hockey.'

(April 20, 2004) -- He was known as a smooth-skating playmaker who, through the ten years from 1955 to 1965, was among the most prolific forwards in the National Hockey League, despite playing with the struggling New York Rangers. Today, we go 'One-On-One with Andy Bathgate.

Born August 28, 1932 in Winnipeg, Manitoba, Andy Bathgate got his start on the outdoor rinks of his hometown like most boys of his era. "When I first started playing, everything was outdoors. They were home-made community rinks. I played one game a year indoors. That would be the championship." At that time, organized minor hockey in Winnipeg was comprised of Bantam B, Bantam A, Midget, Juvenile and Junior. "Everything up to Junior was outdoors," adds Bathgate.

The Bathgates were an athletic family; well-known in the community for their accomplishments. "I have two sisters and two brothers," explains Andy. "My oldest brother Bernie played minor pro in Vancouver of the Pacific Coast League. He was also on the Penticton Vees team that won the World Championship in 1955." Andy got the opportunity to play with his brother Frank both as a junior and again in the NHL. "I played one year of junior with my brother Frank, then he went to play with Charlottetown of the Maritime Hockey League." Frank and Andy played two games together as rookies with the New York Rangers in 1952-53.

Andy was a terror around the net from the first moment he picked up a hockey stick. But his game wasn't just scoring. "I always felt that making good passes was more important than how many goals you could get," confides Bathgate. "At certain levels, you'd score, but when I played a year above my age range, I learned early that you move the puck and get in the open. I really enjoyed that and I built my career around puck movement rather than trying to be a big goal scorer."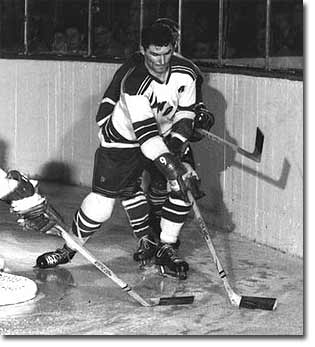 Although the Rangers only participated in the playoffs four times during Bathgate's New York tenure, Andy shone, winning the Hart Trophy in 1959 and being named to the All-Star team on four occasions.

Andy signed the contract prevalent at the time called a C Form, which locked him in as property of the New York Rangers. Although the Rangers had several junior affiliations, Bathgate ended up spending his junior career with the Guelph Biltmore Madhatters, named after the Biltmore Hat Company located in the town. "I was playing juvenile hockey in Winnipeg and I got a chance to play a junior game but I came down with the flu and I didn't play. When my brother Frank was added to the Ranger list, he went to Guelph with a couple of other guys from Winnipeg."

At that time, junior teams were only allowed a limited number of players from outside their specific geographical area. "My mother was born on Toronto Island and her father was a policeman there for a good many years. My mother thought, 'Why don't we move to Ontario?' I would not be an import if she moved there with me so we decided to leave Winnipeg."

There were no ties to Winnipeg forcing the Bathgates to stay in that area. "My father had passed away from throat cancer when I was thirteen and it was a long drawn out thing. It left us with very little — I guess you could say we had nothing. We made the most of what we had and I felt that I had to help my family."

Although there were opportunities to consider other careers, Andy realized that a professional hockey career was the path he wanted to follow. "I had a chance to go to Denver University, but at that time in my life, I thought the need was there to help my family. Frank was in Guelph and I went there and had a try-out, but after three or four days, they cut me. My brother said, 'If Andy doesn't stay, we're both going.' A fellow by the name of Jimmy Skinner was coaching in Windsor (with the junior Spitfires) and we were at the train station. We were going to Windsor, but Guelph said, 'Come back and we'll give Andy a little longer at camp.' We started to play better and I stuck."

Bathgate not only stuck but proved immediately that he had the talent to play at that level. Well, not instantly ... "Although I wrecked my knee in my first junior game — my foot went through the boards — I came back and got 21 goals and we won the OHA that year. We beat the Marlboros, who had (George) Armstrong and (Danny) Lewicki." Guelph faced the Montreal Jr. Canadiens for the chance to play in the Memorial Cup final in 1949-50, but were defeated by a line-up that included future NHL stars Dickie Moore, Don Marshall and Charlie Hodge.

Andy collected 46 points in his rookie campaign, but exploded for 33 goals and 57 assists in his second season with the Biltmores. Then, in 1952-53, Andy scored 27 goals and added 50 assists to help lead the Biltmores to the Canadian Junior championship. "I stayed in Guelph and we won the Memorial Cup in the third year," Andy recalls. "There were seven or eight fellas from that team that went straight to the NHL — Lou Fontinato, Harry Howell, Ron Stewart, Dean Prentice, Bill McCreary, Ron Murphy, Aldo Guidolin — we had a bunch of real talented players and we're still very close. We keep in touch to this day." Coached by former Ranger Alf Pike, the Biltmores beat the Montreal Jr. Canadiens in the eastern final to face the western champion Regina Pats. The Biltmores swept Regina in four straight games to capture the Memorial Cup.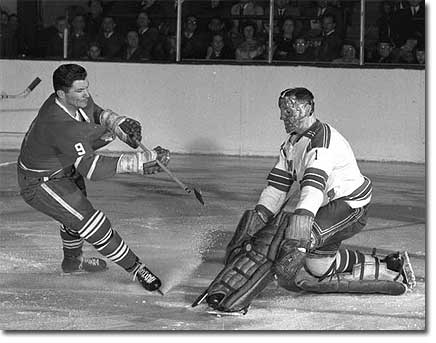 Bathgate fires at the Rangers' Jaques Plante as the Leafs drive towards a third consecutive Stanley Cup championship. Toronto coach Punch Imlach credited the acquisition of Andy from New York for securing the Stanley Cup in Toronto.

Bathgate and a couple of his teammates were summoned to play with the parent New York Rangers during 1952-53. "I was starting my last year of junior after we won the Memorial Cup and Dean Prentice, Harry Howell and me were taken off the Guelph team and told to report to Maple Leaf Gardens. We went down and they said, 'You're staying with the Ranger team.' They had lost six or seven games to start the season, so I never did play my final junior year, which I would very much have liked to play."

The New York Rangers had struggled badly through the 1940s. In 1952-53, the Rangers had only made the playoffs four times in the ensuing thirteen years since winning the Stanley Cup in 1940. "Edgar Laprade really helped me when I joined the National Hockey League," smiles Bathgate. "He was a soft-spoken, quality person and he liked to pass the puck. But the Rangers had a very small team. Very small. Edgar Laprade was considered a big man and he's five eight and 160 pounds. Don Raleigh, Paul Ronty and Camille Henry were all small guys. It was embarrassing when we played big teams. They overpowered us with no problem. Our Junior team was made of all quality, big fellas — Harry Howell and Lou Fontinato, me and Dean (Prentice), we were all six footers and 175 pounds and getting bigger every year but they stuck with the small fellas," sighs Andy.

Bathgate was frustrated by his years in New York City. Beginning with the 1955-56 season, he finished in the top ten scorers nine consecutive seasons as a Ranger. Yet, New York only made the playoffs three times during that period. "Management wins Stanley Cups. Players can only do their best. You've got to bring the right ingredients to make a Stanley Cup winner and if the manager is not doing his job, the players can only do so much. You produce and do what's right, but if you don't have the talent there, you're not going to win many games."

During the Original Six Era that began in 1942 and continued until expansion in 1967, the Canadiens, Leafs and Red Wings won the Stanley Cup in every season but one — 1961 when the Chicago Blackhawks took hockey's ultimate prize. "At that time, the league was dominated by Montreal, Toronto and Detroit. They had certain restrictions on juniors they could protect. The playing field was very uneven," explains Andy. "You just go out and do the best you can." But the Rangers didn't help the situation, either. "I played in New York for almost twelve years and never once practiced on the Garden ice we played on. Never once! We skated on it but never in game conditions. The lights would only be turned up partially. There was a small rink on the fourth floor of Madison Square Garden and it had aluminum boards and the rink was maybe 60 feet wide and 160 feet long. That's where we would practice. There were mesh screens around the ends. It was very primitive — that's the only way I can describe it."

"There was a little dinky dressing room with no privacy. If somebody got hurt, they had to lay in the middle of the room. There was no medical room or anything. It's hard to believe but it's the truth." Andy struggles to describe the conditions of the NHL team at that time.

"For the first four years I was with the Rangers, we only had one goalie. In practices, we had a board in front of one net. It was ridiculous. We had better conveniences in Junior than we did in New York! We had two goalies there. It didn't lend itself to winning hockey, that's for sure," says Bathgate, shaking his head. "They were really just filling the Garden an extra couple of nights per week. There was wrestling every Monday, boxing every Friday, the (basketball) Knicks would have two games a week and we would have two plus there'd be a concert or some other attraction There was always something on at Madison Square Garden. If we did make the playoffs, the circus would take over and we'd have to leave the Garden and play all our games on the road. There was no incentive to go out and make sure you won. It was a very poor situation. Maybe 5,000 or 5,500 people showed up when I first played in New York and then that changed. Within two years, we got some young fellas like Louie Fontinato and I started to produce, but it wasn't a good atmosphere."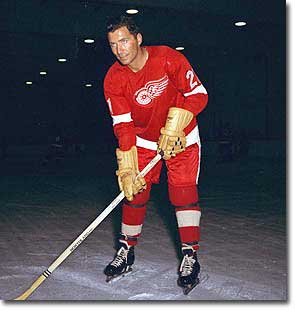 In the second blockbuster trade of his outstanding career, Bathgate, Billy Harris and Gary Jarrett were sent to Detroit for Marcel Pronovost, Eddie Joyal, Larry Jeffrey, Lowell MacDonald and Aut Erickson on May 20, 1965.

Yet, surrounded with a lineup that often looked like it was held together with bandages and hockey tape, Bathgate was able to shine. Andy was named to the NHL First All-Star Team in 1959 and 1962, and was selected for the Second Team in '58 and '63. In 1959, in spite of the Rangers finishing in fifth place and out of the playoffs, Andy Bathgate was named the NHL's Most Valuable Player, and was awarded the Hart Trophy. Bathgate and Chicago's Bobby Hull tied for the regular season scoring championship with 84 points in 1961-62, but Hull was awarded the Art Ross Trophy because he had scored more goals.

Then, the Toronto Maple Leafs and New York Rangers consummated a trade of blockbuster proportions. Andy Bathgate and Don McKenney were sent from the Rangers to the Leafs in exchange for Dick Duff, Bob Nevin, Rod Seiling, Arnie Brown and Bill Collins on February 22, 1964. Toronto coach Punch Imlach claimed that Bathgate was the final ingredient needed for the Leafs to win a third consecutive championship. "It wasn't a real shock when I got traded to Toronto. I was the captain for a while. They were trading away young fellas and it was a continual development for other teams to take our better players and those young players had quality. As the captain, I spoke up and they didn't care for that and eventually, I knew the resentment was building up and I was traded to Toronto."

Toronto was a good experience for Bathgate, who scored the Stanley Cup-winning goal that spring as the Leafs defeated the Detroit Red Wings. But the next year was difficult for Andy. "I broke my thumb and never did get going after that. Punch wanted a fourth Cup and had us practicing twice a day in the playoffs. We were pooped from practicing so much." The Montreal Canadiens sent the Leafs packing in six games in the semi-finals in the spring of '65.

That summer, Andy was traded to Detroit with Billy Harris and Gary Jarrett in another blockbuster that sent Marcel Pronovost, Eddie Joyal, Larry Jeffrey, Lowell MacDonald and Aut Erickson to Toronto.

Detroit was home to Bathgate the next two seasons but the thumb hampered his productivity. Then, in 1967, as the league doubled in size, the 35-year old Bathgate was claimed by the Pittsburgh Penguins in the NHL Expansion Draft. In 1967-68, Andy led the fledgling Penguins in scoring with 59 points, but was loaned to the Vancouver Canucks of the Western Hockey League for two seasons. "I was actually traded to Montreal and they wanted me to coach the Voyageurs (of the American Hockey League), but I didn't think I was ready to retire so I went and played two years in Vancouver and we won two championships in the Western Coast League," Andy says. "I didn't go out and dog it just because I had the NHL reputation. I really applied myself and I won an MVP (the Leader Cup) and a scoring title in Vancouver."

"Then I went to Pittsburgh for my final year," concludes Bathgate. It had been two years since Andy had pulled on a Penguins sweater, but in 1970-71, he did just that and contributed 15 goals and 44 points to the Pittsburgh attack. "Then, there comes a time that you've got to hang them up and that was the time for me. It was good. I had a really good career."

It was so much more than a really good career. Andy Bathgate played 1,069 games in the National Hockey League, scoring 349 goals and 624 assists for 973 points. A four-time All-Star, Andy Bathgate was inducted into the Hockey Hall of Fame in 1978.

Kevin Shea is the Hockey Hall of Fame's Manager of Special Projects and Publishing.