22 DECEMBER 2006
Born on June 15, 1930 in the tiny Quebec village of Lac-a-la-Tortue, a community of just 2,500 residents now part of the larger town of Shawinigan, Joseph Rene Marcel Pronovost got his start in hockey on the frozen outdoor rinks of the area. "I was five years old and we had moved to Shawinigan by then," he recalled. "Typical of every five year old, I just kind of stumbled around but I soon caught on. We played mostly on backyard rinks and at the school. When I got to ten years of age, we played parish against parish."

One of twelve children, Marcel had nine brothers, two of whom followed him into the NHL. Netminder Claude, five years younger than Marcel, played 3 NHL games, while Jean, 15 years younger than Marcel, played 998 regular season NHL contests.

Marcel quickly grasped the game and his skills and size drew the attention of local scouts. "At 14 years old, I was going to l'Ecosse Immaculate Conception. It was a college and they had a midget club. We won the provincial championship. Jacques Plante was our goaltender."

In 1946-47, Pronovost transferred to Shawinigan Tech. "We won the juvenile championship. We beat Quebec in the semi-finals 7-1 and beat Montreal in the finals, 14-0," laughed Marcel. But rival Shawinigan High had the Wilson brothers, and was the strongest team in the area. Marcel Cote, a local scout, was evaluating Johnny and Larry Wilson at a tournament in Quebec City, and Larry was signed by the Detroit Red Wings. Larry Wilson recommended that Cote make the trip into Shawinigan to see Marcel, who was a high-scoring centre at that time. "He saw me playing defence," Marcel recalled. "That year, we didn't have any defence and I was the biggest guy on the club. I didn't mind that, though."

Cote liked what he saw and had Marcel Pronovost signed to the Detroit Red Wings. "I signed with Detroit and went to their training camp in Waterloo," stated Pronovost. "I was supposed to play in Galt (now part of the city of Cambridge in southern Ontario). They moved the franchise to Windsor to be closer to Detroit. Those were the days of sponsorship."

Marcel arrived in Windsor early and enrolled in highschool. "I went to Lowe Vocational, but I didn't like that, so I went to Assumption. At home, I was pretty comfortable with the English language because mother and Dad spoke in English when they wanted to tell secrets between themselves," he laughed.

The Windsor Spitfires were a strong junior squad affiliated with the Detroit Red Wings. In 1947-48, the Spitfires finished first, and Marcel's teammates included future Wings Johnny and Larry Wilson, Doug McKay, Jim Hay, Gord Haidy and, for a few games, Terry Sawchuk. "We beat Oshawa (Generals) and then we fell to Barrie (Flyers), who went on to compete for the Memorial Cup. We had Sawchuk in goal but after four games, (goaltender) Harvey Jessiman was hurt in Omaha and they took Terry Sawchuk away from us to replace him. If we had had him, we would likely have gone on to play in the Memorial Cup."

Some of the Windsor Spitfires played in two leagues at that time. "They took one line and one defenseman from the Spitfires and put the four of them on four different clubs," Marcel explained. "The IHL (International Hockey League) was a house league, and all the teams were in the Detroit area except one in Toledo. There was Detroit Metal Mouldings, Detroit Bright's Goodyears, the Detroit Auto Club, the Windsor Hettche Spitfires, Windsor Staffords and Toledo Mercurys. I played for Auto Club and (former Red Wings goaltender) Johnny Mowers was my coach. It was like Senior B. I played with Fred Garvin, Dick Karcinak and George Rebstock. We played all the games at the Olympia, with a double-header on Monday." That season, Marcel played 19 games, contributing 8 points, and led the team with 53 penalty minutes.

The next year, Marcel again played for both teams. In nine games with Detroit Auto Club, Pronovost collected 8 points, while as a Spitfire, Marcel led the team with 153 minutes in penalties and also had 37 points. Windsor again finished first during the regular season.

"In 1949-50, I started in Omaha," recalled Marcel. "We won the league championship but we got beat in the final by Johnny Mariucci, Bob Dill and Wally Hergesheimer with Minneapolis-St. Paul. I won rookie of the year and made the First All-Star Club." That spring, Detroit's young sensation Gordie Howe was seriously injured during a playoff contest with Toronto. "When Howe got hurt, they called me up to Detroit and I played nine games with Detroit. They moved Red Kelly to the forward line to make room for me (on defence)". The Detroit Red Wings won the Stanley Cup in 1950, celebrating after Pete Babando's goal in double-overtime.

"We were down three games to one to the New York Rangers and came back and won three straight," Marcel remembered. "That's when Jack Stewart had a big meeting in Toledo, where we stayed. Jack was the captain and addressed us all. He was very well respected. He tore into Sid Abel, who was his roommate. Don Raleigh was playing for New York then. He said to Abel, 'Bones Raleigh is making an ass out of you! This is going to be the year that we win it. We're depending on you.' We came back into the room at the end of the second period down 3-1. He tore into the whole gang. He slammed his stick on the training table and said, 'Goddamn it, we're going to go out and get the win.' We went out and tied it up, then went into a couple of overtimes and Pete Babando got the winner."

Although only 20 years of age and with his only NHL experience being the post-season contests in the spring of 1950, you would imagine that the learning curve would be steep for Marcel. "Detroit was good. In 1948, they had me travel with the big club. We were playing the Canadiens, and it gave me a good feel for big league life. That year also, the Hettche Spitfires went to the Allan Cup and I played a couple of games with them when they had some injuries."

In the fall of 1950, coming off a sensational and dramatic Stanley Cup win, Pronovost was set to take his place permanently on the Red Wing blueline. "I went to training camp and I was the hotshot rookie," he smirked. "I went to split the defencemen, got hit, got knocked to the ice and ended up with a broken cheekbone. That delayed my start with Detroit. When I got better, I came back and hit the boards in Toronto and broke my ankle. On December 10, they sent me down to Indianapolis so I could get in shape. I only played 34 games but made the Second All-Star Club. The Red Wings called me back up later on. Indianapolis was in second place when I left but by the end of the season, they didn't make the playoffs."

At last, Marcel Pronovost was a strong building block on a remarkable team. Boasting a young squad that included Terry Sawchuk in goal, Red Kelly, Bob Goldham, Gordie Howe, Ted Lindsay and Marty Pavelich, along with Pronovost, the Red Wings remarkably finished first a remarkable seven straight seasons beginning with 1947-48. The team won the Stanley Cup in 1950, 1952, 1954 and 1955.

The Stanley Cup win of 1952 showed Detroit at its most dominant. "We won eight straight and Sawchuk got the four shutouts in Detroit," Marcel smiled. "We played Toronto in the semis. We beat Toronto 3-0 and 1-0 at home, then beat them in Toronto 6-2 and 3-1. Then we played the Canadiens. We opened in Montreal because we couldn't get the ice in Detroit. We won in Montreal 3-1 and 2-1 and then came back to Detroit and got two more shutouts, 3-0 and 3-0." That spring was the debut of the octopus being tossed on the ice. Brothers Peter and Jerry Cusimano, local fishmongers, tossed the eight-legged creature out onto the ice at the Olympia in Detroit to indicate the eight consecutive games won by Detroit that year. "I picked up the first octopus," laughed Marcel. "I took it to the penalty box but they didn't want any part of it. They wouldn't touch it. I knew what it was. It wasn't alive."
In 1955, the Red Wings' dynasty enjoyed one final hurrah with a Stanley Cup championship. "The last ten games of the season, we were 10 points behind Montreal. We went on a winning streak and we ended up one point behind the Canadiens. That was when the Rocket (Maurice Richard) went berserk (during a stick-swinging incident with Boston's Hal Laycoe, Richard struck an official and was suspended by the NHL for the remainder of the regular season and all of the playoffs). We ended up in Montreal on the Saturday. They were one point ahead of us. We beat them on that Saturday and that's when the riot took place. (A smoke bomb was released near NHL president Clarence Campbell and the game was subsequently forfeited by the Canadiens. Fans protested by vandalizing stores in Montreal's downtown core). We played them in Detroit the next night for the league championship. We beat them 6-0. We finished first but that gave us home ice advantage. In the playoffs, we met up again with the Canadiens. They won all their games at home and we won all our games at home. That was the big factor." Detroit took the Stanley Cup in a thrilling seven-game set.

After fifteen extraordinary seasons in Detroit, earning four All-Star selections (1958, 1959, 1960 and 1961), on May 20, 1965, Pronovost was part of a blockbuster deal that saw him, Autrey Erickson, Larry Jeffrey, Ed Joyal and Lowell MacDonald move to the Toronto Maple Leafs, while Andy Bathgate, Billy Harris and Gary Jarrett went the other way. "I knew a lot of guys on Toronto," explained Marcel. "I played junior against Horton and Armstrong so there was a kind of affinity there. It wasn't like I was walking into a strange place or anything like that. You still need to get adjusted. We had training camp in Peterborough and that's when Brewer quit. He was a hell of a hockey player but he was a funny kind of a guy. The adjustment wasn't that big. Imlach made me feel at home. He said to me, 'I'm not going to teach you anything about the game but what I require from you is hard work and the rest will take care of itself. I said, 'That's all I've been doing all my life, Punch.' He never bothered me. Frank Mahovlich used to ask me, 'How come Imlach doesn't get on your case?' I said, 'Well, he got me a little older than he got you!'"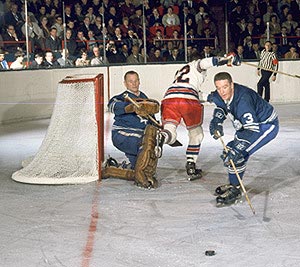 The last of Pronovost's five Stanley Cup championships came with Toronto in 1967. "Toronto was really the crowning achievement because of my age and the age of my teammates. We were the 'Over the Hill Gang,'" stated Marcel. "That was the year of Expo and we didn't want the Cup to go into the Quebec Pavillion. We wanted it in the Ontario Pavillion." During the playoffs that spring, the Leafs played twelve games. "Do you know how many goals against I was on for?" asked Marcel. "Just one." Pronovost had a superb series, and along with veterans George Armstrong, Johnny Bower, Tim Horton, Red Kelly, Bob Pulford, Terry Sawchuk and Allan Stanley, enjoyed a surprising but final Stanley Cup win, all with their best years behind them. "That was a special Cup." Marcel adds one peculiar bit of minutiae. "You know what else was special during those playoffs? We never won a game on a Thursday. No."

Marcel retired after playing seven games in the 1969-70 season, feeling he no longer had the legs to compete in the league. He was immediately posted to the Central Hockey League's Tulsa Oilers, a Maple Leafs farm club, where he enjoyed a position as playing coach.

Marcel Pronovost completed his sensational NHL career having played 1206 regular season games, in which he scored 88 goals and 257 assists for 345 points. During post-season play, the All-Star defender logged 134 games, collecting 8 goals and 23 assists. He was inducted into the Hockey Hall of Fame in 1978, long remembered as a competitive defenceman who earned glory as one of the finest at his position during the Original Six era.

Kevin Shea is the Hockey Hall of Fame's Editor of Publications and On-Line Features.