16 FEBRUARY 2007
Harry Howell's twenty-four-year professional hockey career was marked by extreme highs and a lot of lows. Yet, the savvy veteran earned his spot in the Hockey Hall of Fame by combining consistency with defensive excellence over a prolonged sand storied career.

Born in Hamilton, Ontario on December 28, 1932, Harry Howell learned his hockey in the same manner as most Canadian boys of that vintage. "You have to remember that in the late-1930's and early-1940's, there weren't many arenas around available for little guys," he begins. "We played mostly road hockey, and if someone was fortunate enough to have a rink in their backyard, that's where we headed. That was it until I was seven or eight years old. Then, you graduated to the parks. They put rinks in starting in the 1940's, so that's what I did until it came time to play bantam hockey."

As youngsters, it was the sheer love of the game that took precedence, and no player really stood out amongst his peers. "We didn't have any coaching at all until I got to bantam hockey, and that's when you start to learn something about the game," Harry states. "And I don't think anyone was that special in bantam. But in midget, then you could start to see the difference in the players." Howell credits his first coach with building the foundation for what would be a Hall of Fame career. "My first coach was Ted Menorick. He was a good man, very dedicated to helping the kids out. He knew what he was doing out there and he really helped me along when I was fourteen years old."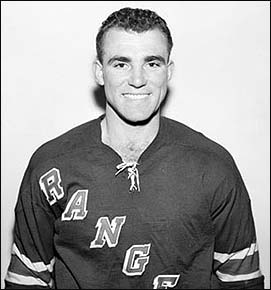 By that time, Harry was being scouted for his formidable talent. "The NHL had the Reserve List, and I remember when it came time to play junior hockey, I got a call from New York and they said, 'We understand you want to play junior hockey. You're going to play in Guelph.' I said, 'Now why would I want to play junior hockey in Guelph?' It wasn't bad because it wasn't very far from home (in Hamilton), but Frank Boucher, the general manager of the New York Rangers, said, 'You have to play in Guelph because you've been on our Reserve List since you were fourteen.'" Howell shrugs, adding, "That's the way it was."

Just sixteen years old, Harry joined Guelph's Junior 'B' squad, driving to and from Hamilton for each game with his father. "I had a chance to play a couple of games with the A's," he remembers. "My first game was against Windsor with the great Glenn Hall in goal, and that was quite a thrill. I got called up from the B's during the playoffs when they were playing the Montreal Junior Canadiens. We didn't win that series. They had half a dozen players who ended up with the Canadiens, so you know how good they must have been!"

By 1950-51, Harry had assumed as full-time position with the Biltmores. "We had a good team," recalls Harry. "We got into the playoffs and had to play St. Catharines, one of our biggest rivals, and we lost the seventh game 1-0 at home. Did that ever hurt! We had big hopes that we were going to win the Memorial Cup."

The 1951-52 edition of the Guelph Biltmores boasted a line-up that included Andy Bathgate, Lou Fontinato, Bill McCreary, Ron Murphy, Dean Prentice and Ron Stewart. "We had a great team all year long," smiles Howell. "We played the Marlies in the first round and we beat them out. Then we had to play the Northern Ontario team. Unfortunately for them, most of the good players from up north were already down south playing hockey. We played two token games against the Northern team and then we were up against the mighty Junior Canadiens and we knocked them out in six games. Then, we played Regina, whose number one player by far was Eddie Litzenberger. He was about the only one who went to the NHL from their team. We knocked them off in four straight games. That was our Memorial Cup team. The next year, a lot of us turned pro with the Rangers." Guelph outscored the Regina Pats 30 to 8 in the four-game sweep.

That group still is tight today as they were over fifty years ago. "We played together for three years," explains Howell. "It all came together when we won the Memorial Cup. We have get-togethers at Louie Fontinato's farm in Guelph. He invites all the guys up and we have a good time for a day or so. Andy Bathgate, Dean Prentice, Ron Murphy, Louie Fontinato — we all keep in touch. We're all close by. That has completed the bond."

In 1952-53, Harry made his NHL debut, turning pro at the age of 19. "I was still playing junior in Guelph," he explains. "After five games, I got a call from New York. 'We've got a couple of defensemen injured,' I was told, and of course, they started the season with a five-game roadtrip as usual because of the rodeo at Madison Square Garden. They were going to Toronto and (Frank) Boucher said, 'You can come down and fill in for us in Toronto and then you go back to Guelph.' I went to Toronto and played with Leo Reise, who was a big help to me. Leo was a great veteran and taught me an awful lot. During that (first) game, we played every second shift. After the game, Boucher said, 'Well, you've never been to New York. I think you'd better come down and just spend the week with us practicing with the team, and then you can go back to Guelph.'" But Howell found another reason to make his NHL debut memorable. "I scored on my first shot on goal," he chuckles. "It was a backhand from the blueline that went over Harry Lumley's shoulder." It turned out that Harry Howell never returned to junior and stayed with the club not only for 67 games that season, but for the next seventeen years.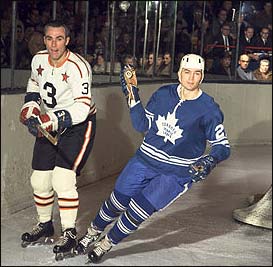 "It was a long, tough year," admits Harry, reflecting on an inaugural season that resulted in a last place finish. "When you're a rookie and you travel strictly by train, you usually stayed in the upper berth for about five years before they got rid of a veteran and down you went (to the lower berth). I had a lower berth by the end of that first year! We went through so many players in my first year in New York that I got the lower berth." Although the team struggled on the ice, Harry was able to find strong mentoring from some of the veterans. "Leo Reise was great, Allan Stanley was there and he was great, too. (Don) 'Bones' Raleigh had a suite there in the Prescott Hotel and Ron Murphy and I stayed with him. When Aldo Guidolin came up, he stayed there too."

In 1955-56, Howell became the youngest captain in team history when he accepted the 'C' at the age of 22. But two years later, he relinquished the responsibility, feeling that he was not playing well enough to be the team captain.

Through seventeen years with the Rangers, the team missed the playoffs ten times and never once reached the Stanley Cup finals. "In 1957-58, we finished a strong second. Then, management decided that we had these young players to bring up and they traded five of our veterans away, including Danny Lewicki, and that was a huge disappointment to us. The five players were not superstars, but they were really in with our hockey team, and of the five players they brought up, none of them could stick. It was a faux pas on management's part. Had they kept that team together, who knows what we would have done because we were a pretty strong team."

But something annoyed Howell even more. "We had good teams but the things that bothered me the most were things like the rodeo, the Westminster Kennel Club and the circus." He explains how these events impacted on the hockey team: "The first two weeks of the season, the rodeo was booked in at Madison Square Garden. The Kennel Club had dogs come in in February when we were making a run at the playoffs, (meaning) two more weeks on the road. And then the circus came in to Madison Square Garden right at the end of the season and if we made the playoffs, you'd be lucky to play two games at home and the rest would be on the road. Teams like Montreal and Toronto didn't have to do things like that because hockey was number one (attraction in their city), but hockey wasn't number one in New York at that time. It still isn't, but at least they get to play all the playoff games on home ice." Even further, the team held its practices at a rink designed for figure skating. "For my first ten years, we practiced at Iceland, which was on the fourth floor of the old Madison Square Garden on 8th Avenue and 49th Street. It was 160 feet long and maybe 70 feet wide with aluminum boards and mirrors all around it. Before my time, the players used to shoot pucks to break all the mirrors. That's where we had to practice. You wouldn't believe what went on! It was incredible in New York, but it was a good place to play."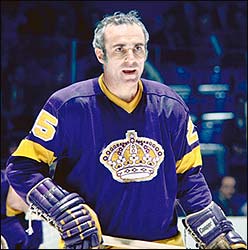 The team's fortunes began to change in the early sixties. "Jean Ratelle and Rod Gilbert came in, and that switched things around," continues Harry. "These guys were two of the best juniors and they stepped in and played a long, long time in New York. And then Brad Park came in and he was a super player and a First All-Star Team pick several times. I was his mentor for awhile but believe me, I didn't have to teach him anything."

If the frustrations had mounted through the years, then Harry found some comfort in the personal recognition he received in 1966-67. He was named to the First All-Star Team and was named the Norris Trophy winner as the league's best defenseman.

Then, in 1969-70, Howell found himself leaving Broadway for Oakland. "My back went bad on me in my seventeenth and last year in New York," he explains. "It was determined that I needed to have a spinal fusion. I had my choice — either have the spinal fusion and feel better or don't have it and don't play anymore. I did have the fusion. (Rangers GM) Emile Francis came in to see me at the hospital. He said, 'We're going to make a move. We don't think you should be playing because of your back and we'll get you a job in the front office or coaching.' I said, 'I didn't go through this operation to sit in an office or coach.' Emile asked me where I'd like to go and I said, 'How about the West Coast?' He made a deal with Oakland and there I was." Adding veteran leadership to a team already well-stocked with veterans, Harry enjoyed his time in Oakland. Then, in February 1971, he was sold to the Los Angeles Kings where he played for three seasons.

With the birth of the World Hockey Association, many career minor leaguers got the chance to play in an elite league, while several veterans, including Howell, were able to prolong their careers. "The WHA experience was different, believe me," laughs Harry, with no sense of irony. "Right off the bat, I went to the New York Golden Blades. We had white skates with gold blades. It didn't look that great. The Rangers didn't want us playing in Madison Square Garden, so the rents were just horrendous. The owner quit after ten games. He said, 'I'm going broke just paying rent!' We had a pretty good team so they decided we had to find a new owner. They couldn't just fold the New York team — that was the flagship city for the World Hockey Association. So another owner comes in and they decided they wanted to fire Camille Henry, the coach. He was a great friend of mine. They asked me to be player-coach, but I insisted Camille get his full contract for the rest of the season. The season had just started. Once he assured me he got his full payment, I told them I would do it. I got a big increase in pay, too. It worked out pretty well. We finished that season in New York, although we had to play in Cherry Hill, New Jersey. That's where we had to play because New York was costing too much!"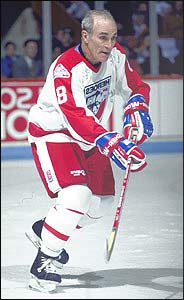 The fledgling league struggled to find its footing through its entire nine-year life. And the stories have become legendary. Harry shakes his head as he recounts his experience with the Raiders: "They loved us in Cherry Hill. Our arena was full every night. We played Houston in our first game. It was Gordie Howe and his two sons with Billy Dineen as the coach. We beat them 2-1 in that game. It was a great game and the fans were just going crazy. We had a luncheon the next day and all the fans were invited. I talked Gordie and Bill Dineen into staying and invited the owner, too. Howe gets up and makes a speech about how great our team is and how lucky the fans are and that the two teams will likely be meeting in the playoffs. He laid it on pretty good. Then Bill Dineen does the same thing. Then I called up the owner. He says, 'Thank you very much. This is a great day for us in New Jersey and I just want to tell you one thing. Next year, we're moving to San Diego.' Everybody just sagged. Sure enough, we moved to San Diego the next year, but attendance went down by half."

After one year in San Diego, Harry was signed as a free agent by the Calgary Cowboys, and concluded his playing career there. In 1,411 regular season NHL games, Howell scored 94 goals, 324 assists and 418 points. While with the WHA, he added 170 regular season games, collecting 43 points on 7 goals and 36 assists. Harry played 24 professional seasons, a hardworking leader whose consistency earned him entry into the Hockey Hall of Fame in 1979.

Kevin Shea is the Editor of Publications and On-Line Features for the Hockey Hall of Fame.