(February 7, 2003) -- During the 1960s, the Number 9 came to represent hockey excellence. In Chicago, Bobby Hull wore 9, while the Red Wings had Gordie Howe wearing that sweater. New York boasted Andy Bathgate with the 9. Dick Duff wore the number in Toronto after Ted Kennedy's retirement. Montreal retired the Number 9 after legendary Maurice Richard's career came to an end. And in Boston, Number 9 was the property of Johnny Bucyk. "When I came to Boston, Cal Gardner wore Number 9 and he retired that year. (Bruins' general manager) Lynn Patrick just said, 'Here, you're going to wear Number 9. That's your number.' And no one else will ever wear it now that it's been retired in Boston."

John Paul Bucyk was born May 12, 1935 in Edmonton, Alberta. "I grew up in Edmonton. Through peewee, midget and bantam, I actually played with the Maple Leafs organization, but Detroit was sponsoring the (junior) Edmonton Oil Kings and I went and played with them." In his second and final season of junior, Bucyk and the Oil Kings went to the Memorial Cup final. The Oil Kings won 61 of 65 games in 1953-54 to earn a berth in the championship final against the St. Catharines TeePees, who won the series in five games.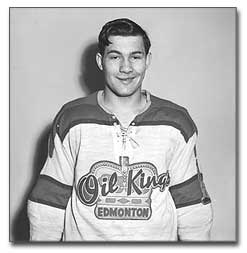 The next season, Bucyk stayed in his hometown and starred with the Edmonton Flyers of the Western Hockey League. "My first year of pro was with the Flyers, which was the farm team for the Red Wings at that time. My signing bonus was a big $1,500," laughs Johnny. "It was great to play at home. My family could come and watch me play junior and my first year of pro hockey. It made it so much easier. I was playing at home, living at home and enjoying my mother's cooking." Bucyk was selected as the WHL's Rookie of the Year in 1955.
Johnny Bucyk joined the Detroit Red Wings during 1955-56, and stayed in Detroit for two seasons. But in 1957, Johnny was traded to Boston and joined Vic Stasiuk and Bronco Horvath as part of a productive and popular trio called the Uke Line. The three, nicknamed by Boston sportswriter Leo Monahan because of their common Ukrainian heritage, terrorized competing goaltenders for four years. The three were not new to playing together, having done so briefly with the Edmonton Flyers during 1954-55. Through a circuitous route, Lynn Patrick reunited the trio in Boston in 1957. Vic Stasiuk became a Bruin when he was traded from Detroit as part of the Terry Sawchuk deal in June 1955. Bronco Horvath entered the NHL as a Ranger, was traded to Montreal, but after just one game as a Canadien, was picked up by Boston in the Intra-League Draft in June 1957. That same month, Johnny Bucyk was traded for the only time in his illustrious NHL career. Terry Sawchuk was sent back to the Detroit Red Wings, and Bucyk became a Bruin. "One of the big elements of our success was that when the three of us started playing in Boston, we all lived together in a place we rented from (former Bruin defenseman) Pat Egan. We ate together and drove to the rink together and that gave us the opportunity to discuss our play together," states the Uke Line's leftwinger.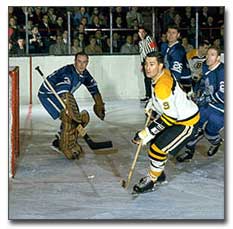 "The first few years we made the playoffs, but then there were eight years where we didn't, and that was difficult," explains Johnny. The Bruins fell onto hard times. After finishing second in 1958-59, Boston finished fifth and out of playoff contention the next season. The following five years, the Bruins finished dead last. Johnny Bucyk was one of the few bright spots on a struggling Bruins' team during those years, finishing in the top ten scoring leaders in 1962-63 and '64-'65. "I was just excited about being in the National Hockey League. By that time, I had made my home in Boston and loved playing with Boston and loved the fans. It was a great time. I never ever wanted to be traded from Boston, although there were a few times I thought I was going to be traded. There had been headlines in New York that I was traded there, rumours that I was traded to Chicago, rumours that I was traded to Toronto, but I was fortunate to be able to stay in Boston and play 21 years with the Bruins."
In 1968, the Bruins' fortunes began to change. "You could see the wheel turning," agrees Bucyk. "I knew there was the nucleus of a winning team after the big trade with Chicago for Esposito, Hodge and Stanfield and then Bobby Orr coming into the limelight and Derek Sanderson coming up." Boston's destiny took a decidedly more positive approach. After finishing last in 1966-67, the Bruins climbed to third place in the newly-created Eastern Division in 1967-68 and finished second in '68-'69. Then, for the first time in 29 years, the Boston Bruins captured the Stanley Cup in 1969-70. "That was the biggest thrill of my career," beams Johnny.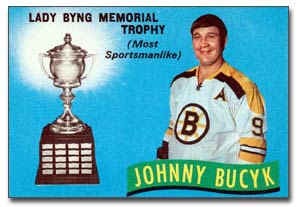 The 1970-71 season was a career-year season for the Johnny Bucyk. The Bruins finished in first place and boasted seven of the league's top 10 scorers at the conclusion of the regular season: Phil Esposito (first), Bobby Orr (second), Johnny Bucyk (third), Ken Hodge (fourth), Wayne Cashman (seventh), Johnny McKenzie (eighth) and Fred Stanfield (tenth). "That was probably our best team. We just dominated the league," Bucyk states. "That was my best year, scoring 51 goals. I was just the fifth player in history to score 50-or-more goals in one season. That was very exciting for me! I remember scoring my 50th goal in Detroit against the Red Wings, the team that traded me, so it's always a little sweeter. The togetherness we had; the talent we had - that team was unbelievable. I never had to worry about being the big star. Bobby Orr was there, Phil Esposito was there -- we had a lot of stars, but most of all, everybody worked together. No one considered themselves the big star." But in spite of setting records for most victories in a season (57), most points (121) and most goals scored (399), the Boston Bruins did not win the Stanley Cup. "We should have won it in '71," reminisces Johnny. "We ran into a hot goaltender in a short series and that's all it takes." Rookie Ken Dryden and the Montreal Canadiens wrestled the Stanley Cup away from the Bruins that season. But the Bruins weren't done by any means. "We won the Stanley Cup again in '72. We should have won it in '73, too," muses Bucyk.
Johnny Bucyk would go on to score 556 goals and 813 assists for 1,369 points in 1,540 NHL contests. He was a First All-Star in 1971 and a Second Team All-Star in 1968. Johnny was twice selected as the NHL's most gentlemanly player, becoming the recipient of the Lady Byng Trophy in 1971 and 1974. "I played physical but clean hockey," admits Johnny. "Most people think that the only reason a player wins the Lady Byng is because he is gentlemanly, but I had the ability to play physical and not draw penalties. I contributed offensively and stayed out of the penalty box."
Johnny Bucyk enjoyed a career as notable for its excellence as it was for its longevity. "Having my Number 9 retired at the Boston Garden in 1980 was outstanding. It's very exciting to see your number hanging there along with all the other great players. It's the greatest honour a player can get."
Kevin Shea is co-author of several hockey biographies. His most recent book is "Over The Boards - The Ron Ellis Story" (H.B. Fenn), released November 2002.