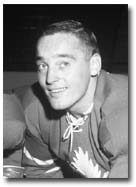 (December 24, 2001) -- The Big M cannot so easily be defined by a moment or a year as he can by his career as a whole, a life on skates and a time on ice that ran unchecked for more than twenty years. He never scored 50 goals in a season, though he came perilously close with Toronto in 1960-61 when he had 48 and in '68-'69 when he had 49 with Detroit. (But then, neither did Gordie Howe.) He never had 100 points in a year, and, amazingly, after winning the Calder Trophy in 1957-58, he never won an individual award in the NHL. But, he did win six Stanley Cups, scored 533 career goals and 1,103 points and became a member of the Hockey Hall of Fame in 1981. All because of a childhood in Ontario's cold and wintry North.
"There was a little pond," he said of his early years, in Timmins, "and my mom gave me some ribbons--red and blue--and a kettle of hot water. I melted them into the ice to make the blue lines and the red line." Problem was, he couldn't afford the blades. "The skates I got were from my godmother's son and they were a size eleven," he recounted. "I had to put on three or four pairs of socks to make them fit. That was my first time on skates, on that little pond on Cedar Street North."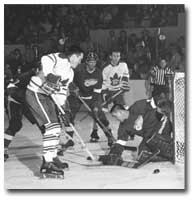 Needless to say, young Frank was as natural as the ice he glided over. He skated, played hockey, joined leagues, and developed into one of the finest young teens in the country. Conn Smythe and his Maple Leafs bird dogs scouted Mahovlich and brother, Pete, and were relentless in their pursuit of the player. They convinced him to attend St. Michael's in Toronto, a decision for Frank's parents based on the promise of a fine education, not the fine hockey program. "The Toronto Maple Leafs wanted to make sure I had good coaching," he said of his years with the school's Junior A Majors, "so Conn Smythe asked Joe Primeau to help out. 'Gentleman Joe' was the best coach I ever had. He commanded respect without losing his cool, but when you made a mistake, you knew not to do it again. I learned more from him than any coach in the NHL."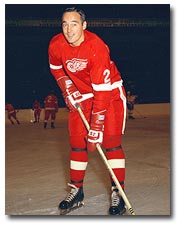 By the time he made it to the Leafs, Mahovlich was the smoothest, most effortless talent on ice anywhere. That was both his blessing and the bane of his existence, for when things went well, he looked like a star without trying. But, when times were tough, he appeared not to be trying or caring. He became a scoring sensation and the most popular man in the city, but he had battles with coach Punch Imlach that diminished his love for the game. What should have been a career highlight, the Stanley Cup in 1962, sounds instead like a time of anguish. "It just seemed like another game," he said of the Leafs' 2-1 win in game six versus Chicago in which he assisted on the tying goal. "At that time, we practised so hard that you didn't feel elated nor did you feel let down. It was kind of like, 'geez, it's over. It's good that it's over.'"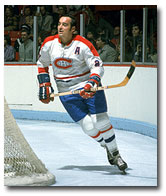 These contradictory feelings remained with him for years until he was traded, to Detroit, in 1968. "Detroit just opened everything up," he admitted. "It was like a piano had been lifted off my back. I finally felt like playing." Almost immediately, he was put on a line with Gordie Howe and Alex Delvecchio, and in the new season (1968-69), this Hall of Fame trio set a scoring record with 264 total points as a group. Their play was a seamless composition of styles that complemented each other beautifully, Mahovlich believes, and the trio was christened the Production Line II. "I had known Gordie for quite a while and always had respect for his ability. That guy was a pretty good athlete, one of the best athletes in the world. It wasn't any surprise when we formed that line with Alex Delvecchio, myself, and Gordie Howe. I knew how good they were."
Although he played fewer than three years in Motown, Mahovlich was acquired by Sam Pollock in Montreal to play alongside the great Jean Beliveau at centre. The Habs won two Stanley Cups in the next three years. The Big M led all scorers with 14 goals and 27 points in the '71 post-season, and in 263 regular season games with les Canadiens he scored 129 goals to close out his career in the NHL. He played a few years in the WHA, then attended Detroit's training camp briefly in the fall of 1979, but he knew he was done. "My mind was clear that I was out of hockey," he said. "I just came home." No matter. A career that began as a kid in Timmins had run a full course that made the Big M one of the most loved, naturally-gifted hockey players the world has ever seen.
- Andrew Podnieks is the author of numerous books on hockey including the current The Essential Blue & White Book. He is also a regular contributor to Leafs.com and managing editor of A Day In The Life of the Leafs to be published in the fall of 2002.