23 NOVEMBER 2004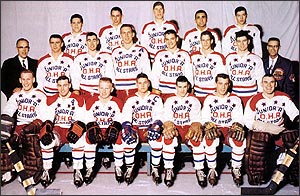 As a member of the Guelph Biltmores, Rod captained the OHA All-Star Team in 1959-60. The team also included future New York Ranger linemates Vic Hadfield (back row, third from left -- a member of the St. Catharines TeePees) and Jean Ratelle (middle row, sixth from left -- like Gilbert, a member of the Biltmores). Honoured Member Dave Keon is seated to Rod's left.

"I was born in a small town between Montreal and Quebec City called Princeville," starts Rod Gilbert, one of the finest players ever to skate for the New York Rangers. "My parents moved to Montreal when I was very young. We moved into a suburb in the east of Montreal called Pointe-Aux-Trembles." In the neighbourhood in which Rod grew up, the community has named the local arena after their celebrated former resident - the Rodrigue Gilbert Civic Centre.

"My father started a business being a blacksmith and raised five children there. I have two older brothers and an older sister. I was fourth in a family of five." Rod followed the example set by his older brothers and wanted to skate too. "I started wearing my older brother's skates, wearing my boots inside his skates. When you have five children and you have a small house, your mother puts a pair of skates on you and says, 'Go play outside.' I started skating around and by the time I was six or seven years old, I was playing eight hours a day outside."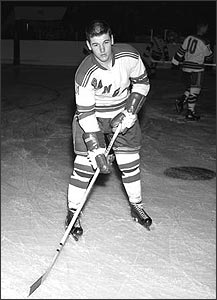 Gilbert debuted with the NHL Rangers with a single game in 1960-61, followed by one regular season game and four playoff contests in '61-62. Rod became a Ranger regular in 1962-63.

The Gilberts lived next door to a boarding school run by the Brothers of Sacred Heart. Students from all over the province of Quebec came to the school for their education. Although Rod didn't attend the school himself, the school provided ample opportunity for a young Rod Gilbert to hone his hockey skills. "One time, we were playing 'keep the puck' and there were thirty or forty kids on the rink. Jean Ratelle came to that school. He was sent by his father, who was a dentist. They lived about 200 miles north of Quebec City and they had nine children. When I first saw him on the ice, I said, 'You play with me all the time, okay?' We started playing peewee and played in the finals at a tournament in the Montreal Forum when we were twelve years old," recalls Gilbert with a grin.

As a youngster, Gilbert followed the exploits of the Montreal Canadiens by listening to games on the radio. "'Boom Boom' Geoffrion's uncle used to hang out playing checkers and trying to keep warm at my Dad's blacksmith shop," Rod recalls with great affection. "He was in his seventies and he used to brainwash me - ''Boom Boom' this' and ''Boom Boom' that.' Of course, we pretended we were Canadien players. I came from a typical French-Canadian family. We had dreams of becoming hockey players. 'Boom Boom' had this big slapshot and (we loved it because) it made a lot of noise against the boards. When TV came about, 'Boom Boom' was a scoring star and I emulated him until I got to Guelph." In fact, Gilbert tried to wear the number five whenever possible in honour of his hero, Bernard 'Boom Boom' Geoffrion.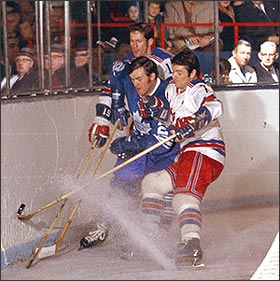 Through fifteen NHL seasons, Rod played in nine All-Star games, including 1972 when he was a First Team selection. Here, Gilbert and childhood chum Ratelle sandwich Ricky Ley of the Maple Leafs.

Gilbert's hockey skills accelerated exponentially, and it wasn't long before his talents were being noticed. "A man named Yvon Prud'homme invited me to play senior hockey with men in their late-twenties. We played for the Allan Cup. I was just fourteen." Rod had no trouble keeping up with men ten years his senior. "This man, Yvon Prud'homme, had been hired by the New York Rangers to start a competitive Junior B league in Montreal. When he signed me, I told him, 'I have a friend I've been playing with since I was a kid and he's better than me. Sign him up and we'll play together.' He signed Jean Ratelle without ever seeing him play."

When Rod was signed, he was promised a try-out with the Guelph Biltmores, the Rangers' Junior A team. "I was only supposed to be there for a week but I didn't come back. I stuck there as a sixteen-year-old." Although he only played 32 games, Gilbert finished fourth on the team in scoring.

The next season, Gilbert had an idea he felt would improve the team. "I told Eddie Bush, the coach and manager, 'There's a fellow in Montreal and he's better than me. You better bring him here. We'd like to play together.'" That 'fellow' again was Jean Ratelle. Reunited, the pair proved to be explosive offensively. Gilbert finished the 1958-59 season with 27 goals and 34 assists. Ratelle collected 51 points as a rookie. The two were teammates for three seasons in Guelph. In 1959-60, Gilbert tallied 91 points while Ratelle contributed 86. In 1960-61, with the team now known as the Guelph Royals, Rod Gilbert led the league in scoring with 103 points, including a league-best 54 goals. The output earned Rod a berth on the OHA's First All-Star Team. Pal Jean Ratelle had a league-best 61 assists and finished with 101 points, good for selection to the league's Second All-Star Team. Rod was summoned for his first NHL action, playing one game for the Rangers that year. "I was supposed to go to the Rangers when I was nineteen, but I broke my back," states Gilbert wincing with the memory. "I stepped on a piece of debris on the ice and I was paralyzed for two months. I went to the Mayo Clinic in Minnesota and they repaired it. They took a bone from my tibia and fused it with three vertebrae in my lower back. That set me back for eight months. When I came back (in 1961-62), I played twenty-one games for Kitchener Beavers (of the defunct Eastern-Provincial Hockey League)."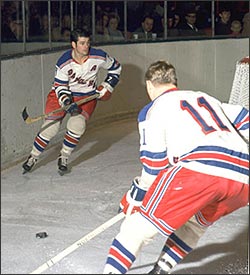 Once Vic Hadfield (pictured with back to camera) came on the scene and was inserted on Gilbert and Ratelle's line, the trio caught fire. Nicknamed the GAG "Goal-A-Game" Line, the troika finished third, fourth and fifth in regular season scoring in 1971-72, as Rod enjoyed a career-high 43 goals and 97 points.

Rod joined the New York Rangers during the playoffs in 1962, as they challenged the Toronto Maple Leafs. "I was replacing Kenny Schinkel, playing right wing with Dave Balon and Johnny Wilson. The first time I hit the ice, I scored a goal against Johnny Bower. I see Johnny all the time when we're doing promotional stuff. I said, 'Hey Johnny, thank you for letting me score my first goal against you!' He said, 'Don't feel so good - I let everybody score their first goal against me!' I scored my second one about twelve minutes later. It was 2-0 after the first period and I got both goals." Toronto went on to defeat the Rangers, and eventually collected the Stanley Cup.

"My career didn't start out on fire," admits Gilbert. In his first full season, Rod scored 11 goals and added 20 assists. But there was a reason his production was less than expected. "I was wearing a corset; a brace after my operation. The operation wasn't entirely a success. Four years later, I had to have the operation re-done. A doctor here in New York saved my career. He took a bone from the pelvis and interwove it between the fourth, fifth and third vertebrae. It made a solid piece out of it. I played another thirteen or fourteen years after that." As soon as Gilbert's back could stand the strain of a strenuous NHL schedule, Gilbert regained his scoring touch. In 1963-64, he scored 24 goals; 25 in 1964-65. After the second surgery, Rod tallied 28 goals in 1966-67 and 29 the next season. Gilbert's contributions helped turn around a sad franchise.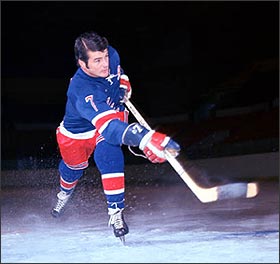 Through 1,065 regular season NHL games, Rod Gilbert retired with 406 goals and added 615 assists for 1,021 points. His totals make him the Rangers' all-time goal and point leader, and second in assists as a Ranger.

"When I got to New York, the Rangers were in last place. We were re-building," states Rod. "In 1962-63, I got to play with Andy Bathgate. I learned a lot from Andy Bathgate. He was not just my hero but he became a friend. Emile Francis had been my coach in my last year of junior, then he came up to the Rangers the following year. We had been in last place. We fought with the Bruins for fifth place. We had Muzz Patrick as our general manager. Lynn Patrick was in Boston. We used to say that whoever finished sixth won the Patrick Trophy."

But the franchise began to make some pro-active moves. Andy Bathgate and Don McKenney were traded to the Toronto Maple Leafs in 1964-65, bringing Rod Seiling, Arnie Brown, Bob Nevin and Dickie Duff to Broadway. Later, Emile Francis secured Eddie Giacomin for goal. The team drafted Brad Park, too. Then, Gilbert and Ratelle found the winger they needed to form one of the most explosive forward lines in NHL history - the GAG Line (Goal A Game). "They brought Vic Hadfield in to play left wing with us," Rod smiles. The bottom feeders of the NHL for so long became forces. And so did the Boston Bruins. "Boston acquired Phil Esposito from Chicago and this young kid that came out of Oshawa named Bobby Orr. They picked up Gerry Cheevers and soon Boston and New York were one and two in the standings," recalls Rod. "We were supposed to win the Stanley Cup in '71, '72 and '73. We had a really good team but Bobby Orr made the difference between the two of us. Boston won two Cups instead of the Rangers. What a rivalry we had! We were very close in talent."

The GAG Line clicked immediately. Smooth-skating Jean Ratelle played centre. Rod was on the right side and big, strong Vic Hadfield on the left flank. "It was quite a formation. Jean and I had played together since peewee. We were good together. We needed somebody to complement us. Jean Ratelle was a left-handed shot and he came to the right wing all the time with the puck. Jean and I needed somebody to go to the front of the net and hold his ground. Emile Francis decided that Vic Hadfield was the guy. Vic had a very short fuse. He was a tough guy; very robust. He established himself well in front (of the net) and could shake himself loose from the defense. The two of us (Ratelle and Gilbert) got him the puck and he scored fifty goals one year (1971-72). By being in front and yelling for the puck, Vic developed really good scoring skills." Rod recalls that Vic very much liked to finish the plays he and Ratelle initiated. "I recall one time being tied 2-2 going into the last minute. I'm coming on a two-on-one. The defense was favouring Vic because we usually passed it to him. The goalie was betting that I was going to pass to Vic. Both the goaltender and defenseman moved over to watch Vic, so I scored on the short side. We won the game. When I got back to the bench, Vic was yelling at me. He said, 'What's this all about?' I said, 'Whaddya mean? We won the game!' He said, 'Didn't you see me? I wanted to score the goal!' I said, 'You're getting a little too hungry for goals now (ha ha).' I said, 'Next time,' and just laughed."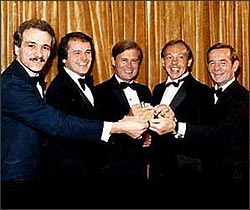 The Hockey Hall of Fame selected an extraordinary group of men in 1982. NHL president John Ziegler (centre) welcomes (left to right) Norm Ullman, Rod Gilbert, Yvan Cournoyer and Builder Emile Francis at their Induction Ceremony.

The New York Rangers found respectability, largely on the shoulders of their star right winger, Rod Gilbert. Rod contributed twelve seasons with twenty or more goals, including his career best of 43 in 1971-72. Gilbert finished in the NHL's top ten scoring leaders in 1963-64, 1964-65, 1967-68, 1971-72 and 1974-75. He was selected to the NHL's First All-Star Team in 1972 and to the Second Team in '68, and was chosen as the Masterton Trophy recipient in 1976 for his perseverance playing at such a high level after spinal fusion. Gilbert retired partway through the 1977-78 season, having played 1,065 regular season contests in which he scored 406 goals and added 615 assists for 1,021 points. Rod Gilbert was part of Team Canada in the Summit Series of 1972, and is proudly a part of Canada's Team of the Century.

"When I went to Guelph, I didn't speak English and it was very difficult," admits Rod, addressing the challenges he faced during his Hall of Fame career. "The coach, Eddie Bush, was a sergeant in the army and insisted you cut your hair. I had great difficulty playing after the two back surgeries plus concussions and so on and so forth. Then you overcome that and you get to be part of the greatest sporting event of the century in 1972. I was at the peak of my career. I made the First All-Star Team that year. That was quite rewarding." Yet, at no time did Rod Gilbert ever imagine that he would be inducted into the Hockey Hall of Fame at the conclusion of his career. "At no time do you foresee that there is any possibility that at the end of your career, your peers and the fans are going to recognize you by being elected to the Hall of Fame. You never think that. I had played all those years in New York. I didn't even think about the honour. You don't even know the meaning of it until you get the phonecall. You say, 'Oh my God, I've been elected to the Hall of Fame!'"

Election to the Hockey Hall of Fame couldn't have come at a better time for Rod than in 1982 when the honour was bestowed. "I was searching for a number of things back then. I opened a restaurant. I think the announcement of the Hall of Fame election at that particular time in my life was very, very meaningful. I was tremendously honoured and it came unexpectedly. There are so many great players who went before me who weren't in the Hall of Fame. I admired guys like Andy Hebenton and Earl Ingarfield. Those guys weren't elected. I was not prepared. The fact that I got in the same year as Emile Francis was special to me. He coached me when I was nineteen years old. That was quite a time for me. And Yvan Cournoyer went in that year, too. He and I shared an apartment in Montreal with Team Canada in '72. The three of us went in to the Hall of Fame the same year. That was quite a party. My family and friends were proud of me. I would say it was one of the biggest honours I've ever received and I wear my ring proudly all the time."

Rod Gilbert has never ceased his appreciation of what playing hockey has given him. "If I do a charity event, I can tell the kids that if they persevere and dedicate themselves to what they want to do, they can do it. I tell them my story. My difficulty beginning and the challenges I faced and then the grandiose award that I got at the end proves that it can be done if you persist and dedicate yourself and tell yourself you can. I can help the charities and that's important to me. I'm one of the fortunate ones. I have four beautiful, healthy children as well as my beautiful wife Judy. We still live in New York. Life is good."

Kevin Shea is the Hockey Hall of Fame's Manager of Special Projects and Publishing. His latest book, 'BARILKO-WITHOUT A TRACE,' was published in October 2004.