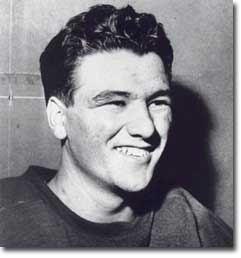 Norm Ullman joined the Detroit Red Wings in 1955 after starring with his hometown junior Edmonton Oil Kings.

(March 25, 2004) -- Norm Ullman, the smooth skating Hall of Fame centre, was born in Provost, Alberta on the Alberta/Saskatchewan border, but moved to Edmonton, some 175 miles west, as a boy. "I grew up in Edmonton and started skating there," remembers Ullman. "I think I was eight years old when I first started skating. There was an American Air Force base right across the street from where we lived. They had a skating rink there and my Dad arranged with the people there that we could go and skate. It wasn't hockey; just free skating."

Those early skating sessions paid huge dividends for Norm, who parlayed his strong skating into the foundation of a highly-effective offensive game. "When I was ten, we moved. I first started playing at the local rink and then I started playing organized hockey." Playing forward from the first time he was registered in hockey, Norm proved to be quite a sensation fairly quickly. "When I was around fourteen, I started thinking that maybe I'd like to make hockey a career. There wasn't any draft at that time. You belonged to whatever team you played for. Detroit sponsored my junior team (the Edmonton Oil Kings) so I belonged to them."

Although Ullman didn't have a favourite team growing up, it was natural that he would gravitate towards the Red Wings. "I used to listen to games on Hockey Night in Canada on the radio a bit. Detroit became my favourite because I belonged to them and I knew that someday, hopefully, I might end up playing there."

"I was just sixteen when I started playing with the Edmonton Oil Kings," recalls Ullman. In 1952-53, Norm led the West Coast Junior Hockey League in scoring with 76 points. The next year, he scored an astounding 101 points. "Fortunately, I won the scoring championship both years I played junior. Going back, we only played thirty-six games a year. It wasn't a lot of hockey. Eight year old kids play more games than that these days. Today, they say, 'You gotta play, you gotta play, you gotta practice,' but we didn't do it that much and a lot of guys that team turned pro and did well. I played on the same line as Johnny Bucyk in midget and junior."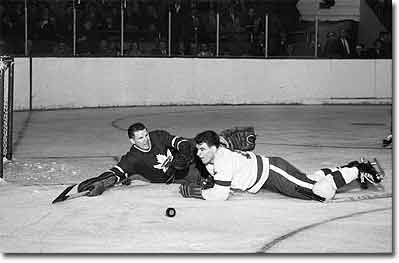 Ullman finished in the NHL's top ten regular season scorers on eight occasions. Here, he attempts to put the puck past the Leafs' Harry Lumley

"I did have two years of junior eligibility left, but Detroit decided to turn me pro at eighteen," states Norm. "It turned out that the number one farm team for Detroit was in Edmonton. I got kind of lucky — I didn't have to go anywhere — just stay where I was." That year, 1954-55, the young centre collected 59 points with the Edmonton Flyers of the Western Hockey League. He was ready to test is ability on the NHL stage. "I went to one Detroit camp when I was still playing junior and then the next year, when I turned pro, I was at the Detroit camp but I went back and played in Edmonton." By 1955-56, Norm Ullman was ready for the next step.

The Detroit Red Wings of the 1950s were a celebrated and very powerful team. They had captured four Stanley Cup championships six seasons preceding Ullman's ascension to the NHL ranks, including the celebration of 1954-55. "I was certainly in awe playing on the same team with Howe and Lindsay and Sawchuk and Delvecchio and Kelly and Pronovost. Those were great, great hockey players. That first year, they worked me in slowly. I played a fair amount but didn't get as much icetime as I did later on." Nevertheless, Norm earned 18 points and proved he was of NHL caliber. "I had a half decent first year, I guess. I didn't score a lot of goals or get a lot of points but I proved I could play there."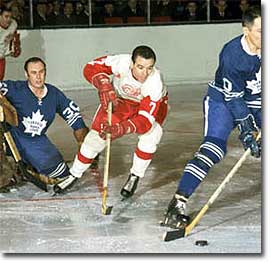 Norm Ullman was a First Team All-Star in 1965 and a Second Team selection in 1967. He participated in 11 All-Star games through his 20-season career.

"The following year, they put me on a line with Howe and Lindsay. It was amazing for a young guy coming in to get that chance," beams Ullman. "I played about two-thirds of the season with them, then I got injured." In Norm's sophomore season, he went from nineteen points to 52. "The following year, Lindsay got traded to Chicago but I still played with Howe for most of the next couple of seasons. After that, I pretty much played with a whole bunch of guys." Norm finished the 1956-57 tenth in regular season scoring. "For a few years, New York and Boston were fairly weak so you naturally got more points against those teams but it was tough to play against the better teams. Montreal won the Cup five years in a row my first five years in the league. They had a powerhouse and it was always tough to play against them. Toronto wasn't tough when I first came in but they became a pretty big force later on. They were always difficult to play against."

A model of consistency, Ullman finished top ten in scoring 1960-61 and '61-62 as well. Then, he exploded in 1964-65, leading the NHL with 42 goals and finishing second to Stan Mikita of the Hawks in the Art Ross race. That season, Ullman was selected for the NHL's First All-Star Team. In 1966-67, the third of three consecutive seasons in which Norm finished top ten in regular season scoring, Ullman was voted to the Second All-Star Team.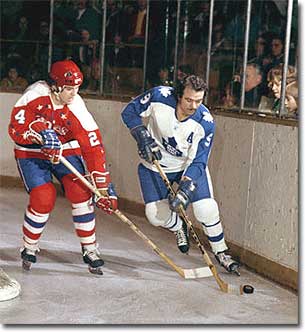 Ullman was part of a blockbuster trade that sent him, Paul Henderson, Floyd Smith and Doug Barrie to Toronto while Frank Mahovlich, Peter Stemkowski, Garry Unger and Carl Brewer were shipped to Detroit.

But partway through his thirteenth season as a Red Wing, the hockey world was rocked when Norm Ullman was part of a blockbuster trade involving Detroit and the Toronto Maple Leafs. Ullman, Paul Henderson Floyd Smith and Doug Barrie were shipped to Toronto in exchange for Frank Mahovlich, Pete Stemkowski, Garry Unger and the rights to Carl Brewer. "It was very disappointing, there's no doubt about it," admits Norm. "I figured I might play my whole career in Detroit but it wasn't meant to be. The opportunity came along to make some deals. Both Toronto and Detroit were struggling at the time; they wanted to shake things up, I guess. That was a fairly big deal for that era. They had a chance to get Mahovlich, so I guess they figured they'd better do it."

"The way it worked out, it was great," continues Ullman. "It was a real strange feeling after playing for one team for so long and then all of a sudden, you're wearing a different uniform. Punch Imlach thought a lot of me and insisted that I be in on the trade with Mahovlich and said he wouldn't make the deal without me. About a year later, he announced that I was the best centre he ever coached so that was quite a feather in my cap." Imlach, who didn't deal compliments like he did punishment, was rewarded with a hard worker who fell nicely into the Toronto Maple Leafs' system. Norm finished top ten again in 1967-68 and finally in 1970-71. "I enjoyed my years in Toronto except for the last year and a half. After my second year in Toronto, they put Ron Ellis with Paul Henderson and myself. We had five or six real big years together." Wearing blue and white, Ullman produced 85 points, Henderson 60 and Ellis 53 in 1970-71.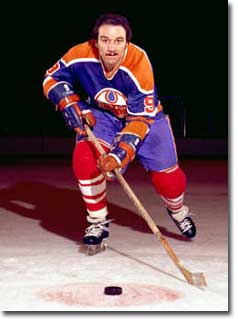 After starring in 20 NHL seasons, Norm Ullman concluded his career with two campaigns with the WHA's Edmonton Oilers.

But the tide turned — and very suddenly. "I just couldn't understand what happened," Norm admits forlornly. "The second last year I played in Toronto (1973-74), I was fifth in the NHL in scoring at the All-Star break and had the second most votes to (Phil) Esposito for centremen for the All-Star Game. I played in the game in Chicago that year. Then the rest of the year, I hardly got on the ice. And it was the same the whole following year."

A disappointed Ullman jumped at the chance to join the Edmonton Oilers of the World Hockey Association in 1975-76. "The reason I went there was because I was from Edmonton. They wanted me so I thought, 'It might be nice to go back and finish my career where it all started.' So I went there and had a really good time. It seemed to be a little more relaxing than playing in the National Hockey League. The calibre wasn't up to the NHL but it was pretty good hockey and they had a fair number of players that moved into the NHL. It was a pretty good league. Winnipeg had a powerhouse. So did Houston. Those teams could have made the playoffs if they had been in the National Hockey League. I enjoyed myself there. It was nice to finish there."

Norm Ullman retired in Edmonton following the 1976-77 season. In two WHA seasons, Ullman scored 47 goals and added 83 assists for 130 points. Through 1,410 NHL games over twenty seasons, Norm collected 490 goals, 739 assists and 1,229 points. He participated in eleven All-Star Games. To celebrate an outstanding career of creativity, consistency and productivity, Norm Ullman was elected to the Hockey Hall of Fame in 1982. "Being selected for the Hall of Fame was awe-inspiring," a proud Ullman states. "It's the biggest accolade you can get to be honoured as one of the best in the game. After being entered, it's all kind of a blur. All of a sudden you sit back and say, 'My God, I'm in the Hockey Hall of Fame!' It is a great honour and really caps off a career for a player."

Kevin Shea is the Hockey Hall of Fame's Manager of Special Projects and Publishing.