(March 18, 2002) -- Ken Dryden once asked his coach, Scotty Bowman, what the hardest part of his job was. Bowman replied simply, "Getting the right players on the ice." During the 1970s, that job was an easy one for Montreal's crease, for Dryden was invariably the right man to have on the ice and in the nets for the Habs.
A kid like any other growing up in Hamilton, Dryden loved hockey and played it with his every energetic breath. "When I was seven or eight years old," he wrote in The Game, "the Toronto Marlboros...had a goalie I liked named Johnny Albani...when Albani led his team onto the Gardens ice he would drop the puck he held in his catching glove and shoot it off the protective glass to the right of his net." And so, in due course, little Kenny developed his own ritual and superstition. Wayne Gretzky always missed wide right with his first shot during warm-up, and Dryden, like Albani, always wanted to get a shot off before any other player had a chance to do the same.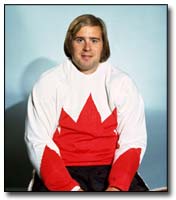 Dryden was more than superstitious--he was observant, and he wanted to turn his thoughts on the game into a book. "The book was lived and researched over twenty-five years," he wrote in his introduction, trying to explain his obsession with another part of the game not typically attributed to a player. In years previous, Lloyd Percival had written a brilliant analysis of the game, and, of course, many biographies were published about the superstars of the day. But Dryden wanted to understand the game, and wanted fans to understand what went into those faceoffs and shots and saves that everyone saw at a typical NHL game.
"The Canadiens have two rules that are almost inviolable: the team must travel together, and the team must stay in the same hotel. It took me a long time before I would even ask about the flexibility of those rules. We play in Toronto only twice a year. My parents live in Toronto, and the few hours we have there each time we play are never enough to do all that should be done. A few years ago, I asked Bowman if I could leave Montreal early and stay at my parents' house. He thought about it for a moment, then, after satisfying himself that he would give the same perk to anyone who asked, he agreed," Dryden told of his days with the Habs.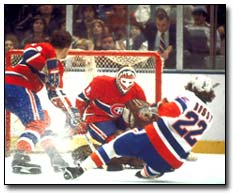 Stories like that abound in his book, stories that are part anecdote, part personal, part deconstruction of a moment in the life of a pro hockey player. The story serves to illustrate the discipline of a Habs team that wins regularly, the fear behind players' violating those team superstitions and regulations, the confidence of a superstar goalie to try to break those rules, just as Jacques Plante had done when he refused to return to the ice without a mask that fateful game in 1959. Had Plante been a second-rate goalie, he never would have played again in the NHL. And Dryden's last line, a personal assessment that is likely wrong as right (Bowman likely wouldn't have granted that request to a fourth-liner or rookie, but a fourth-liner or rookie would never have asked for the perk to start out with!).
Dryden always seemed different--in many ways he still does--a Habs Hall of Famer becoming president of the arch-rival Maple Leafs!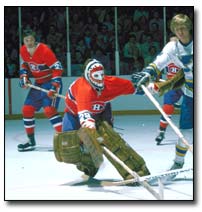 In life terms, that difference could be explained simply because he was more educated than any of his teammates, and in hockey terms the difference could be explained because he was a goalie, and, hey, all goalies are different.
The paradox was, though, as he tried to explain, that he wasn't different, that despite all his seeming differences, he was, in fact, just like his teammates. "I think it took me so long to want to be part of the team because I was afraid of a team. Afraid of always having to do what a team does; afraid of losing my own right to be different. When I realized I could be part of a team, and still be different, I could then be less different. Then I realized I wasn't very different at all...I may seem different, as others may seem different from me. But together we have one common passion. It has taken much of our time, and most of our energy. Time has shaped us." Indeed. After all, Dryden didn't tend goal all those years so he could write a law book!
- Andrew Podnieks is the author of numerous books on hockey including the current The Essential Blue & White Book. He is also a regular contributor to Leafs.com and managing editor of A Day In The Life of the Leafs to be published in the fall of 2002.