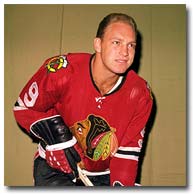 (December 11, 2001) -- Today, Bobby Hull deals in cattle, works with retired hockey players through the Alumni Association, and runs his website, www.bobbyhull.com. But in his previous life as the world's most exciting skater, playing the game was the be-all and end-all for the Golden Jet. "I can't ever remember a time that I didn't want to be a professional hockey player," Bobby Hull says of his youth. "The Christmas just before I turned four [he was born January 3] my parents bought me a pair of little black skates and the Bay of Quinte was frozen and my two sisters took me out there and held my hands and taught me to skate. Now I don't know if this is true--although it sounds good!--but rumour has it by the end of the day they couldn't keep up with me."
Regardless, Hull even today is most proud of his skating ability, a skill he considers the ABC's of hockey. "I think for kids it's the most important part of the game. You have to be able to skate forward and backward, stop and start, go from side to side. Those are the basics of the game." Hull never had a favourite team. He saw his first game at Maple Leaf Gardens but also saw games in Montreal and Detroit, and at ten was transformed one night after a Red Wings game. "My mom and dad took me to one game," he reminisced, "and I was fortunate enough to get an autograph from one Gordon Howe who signed on the top of a pack of Export 'A' using a stubby little pencil my dad had."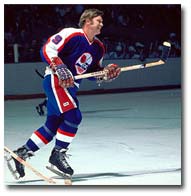 Hull moved away from home at age 14 to play Junior B in Belleville and at 16 he signed a C-form with the Chicago Blackhawks, owner of that minor-league team and owner of his hockey career. He got $100 for signing and the promise of a further $1,000 if he ever made the NHL. He collected, all right, but how could he know then that one day he would sign a contract not with two zeroes or even three, but SIX! A million bucks to leave the NHL after 1971-72, a season in which he scored fifty goals for the fifth and final time in the league!
"The Winnipeg Jets signed me in the hopes I would be the backbone of the league. I felt I had a job to do and that was to make the league exciting and offer great entertainment for the fans," he says of his first days in the WHA. But while the new league offered generous paydays and chances for some skaters to play serious hockey, Hull was not deluded by the calibre of competition. "Many players played well and you could count on them. They were given a chance that they never got in the NHL and they took it. But there were others, especially in those first three years of the league, and I could see why they hadn't cracked the NHL for any length of time." Hull not only helped establish the league, he was also integral to the successful infusion of European talent into the North American game, playing on a high-scoring line with Swedish superstars Anders Hedberg and Ulf Nilsson. The trio set numerous scoring records and while blending the finest aspects of the game from both sides of the Atlantic. In his first four years with the Jets, Hull scored an astounding 234 goals, including a pro record of 77 in 1974-75.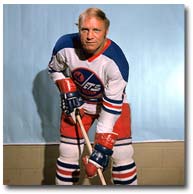 Although Hull played a few games in the NHL again in 1979-80 at the age of 41, they were not a part of his career, he feels. "I was retired," he said flat out. "But, I was still involved with the team and [Winnipeg] management convinced me to come back for a bit. That's not how I want to be remembered, though."
No, indeed. He is better remembered for playing in twelve successive NHL All-Star Games, for winning three Art Ross Trophies, for winning the Stanley Cup in 1961, Chicago's first since 1938 (and still most recent triumph, the longest drought among Original Six teams). These days, Hull jokes that his claim to fame is being the father of Brett Hull, but make no mistake, he became a Hall of Famer for meritorious achievement of his own through a long and distinguished career.
The vintage Bobby Hull, the Golden Jet, was among the fastest and most exciting skaters and owner of the most intimidating shot in the league. Those were his weapons more than his toughness. "My first fight was with Tex Evans," he recalls. "We ran into each other a couple of times and the gloves came off and I ended on top of him. I cocked my arm and was ready to hit him, but I just got up. 'Kid,' he said to me, 'you're gonna be around for a while.'"
- Andrew Podnieks is the author of numerous books on hockey including the current The Essential Blue & White Book. He is also a regular contributor to Leafs.com and managing editor of A Day In The Life of the Leafs to be published in the fall of 2002.