15 FEBRUARY 2005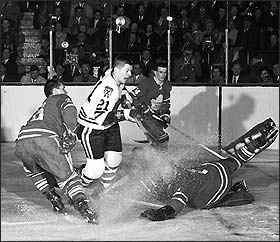 After a sensational junior career with St. Catharines, Stan Mikita joined the Chicago Blackhawks full-time in 1959-60 at just nineteen years of age.

Stan Mikita has more than earned his status as one of the greats in hockey's long history. After an extraordinary twenty-one season NHL career, all spent with the Blackhawks, Mikita retired as Chicago's all-time leader in games played (1,394), assists (926) and points (1,467) and sits second to teammate Bobby Hull for most goals in franchise history (541). But the story of Stan Mikita is one that didn't begin in the manner so traditional to hockey stardom in the 1960's.

Born Stanislaus Guoth on May 20, 1940 in Sokolce in what today is Slovakia, the young lad moved to St. Catharines, Ontario and was adopted by his aunt and uncle, the Mikitas. "I got to St. Catharines just a few days before Christmas in 1948," remembers Stan. "I was eight years old and back home, I was in the third grade so they put me in the third grade here after the Christmas holidays. I was there for a couple of weeks but I had no idea what was going on because I didn't speak any English. I did excel in math because numbers you can do in any language. There was a suggestion made that they put me back in kindergarten to see how I'd respond and it was probably the greatest thing that ever happened to me." Stan laughs when he recalls those early days in the Canadian school system. "I felt like the giant in Jack and the Beanstalk with all these little kindergarten kids as I was head and shoulders taller than everybody in my class. I picked up a lot of little things with the language. They kept me there (in kindergarten) for three weeks and then they sent me back to the third grade."

One of the NHL's all-time greats had never seen hockey before moving to Canada. "I didn't know much about anything else going on in the world except for sports. I wanted to try every sport possible, but other than soccer, I didn't really know any other sport. I saw the kids out on the street playing road hockey." Stan made friends with a classmate named Archie Maybe. "He came up to me one day and said, 'Stan, there's an ad in the local paper that says that the Canadian Legion is sponsoring a local program for little league hockey. Why don't we go and sign up?' I had never skated in my life and didn't even own a pair of skates. He said, 'Don't worry about it. Let's see if they'll take us. If we make it, maybe you can ask your Dad to buy you a pair of skates."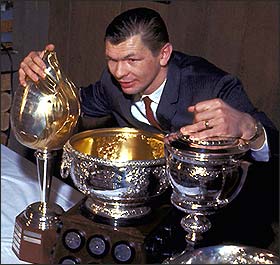 It was unprecedented when Stan Mikita collected three major trophies in 1967 -- the Hart (left), Art Ross (centre) and Lady Byng. Mikita duplicated the extraordinary feat in 1968.

The two pals went to sign up for hockey. Stan, not able to speak much English, let his friend Archie do the talking. "The man said, 'This league is for boys a little bit older than you two. How old are you?' Archie said, 'Nine.' The man said, 'This league is for eleven, twelve and thirteen year olds. Come back when you're a little older.'" Disheartened, the boys left. But the following week, Archie indicated that the ad had run in the newspaper again. "Archie said, 'They probably couldn't get enough kids. Let's go try again.' I said, 'That one guy knows us. He's going to know we're too young,' but Archie said, 'Did you notice there were three other tables for signing up? We'll sneak past that guy and go to one of the other tables and tell them we're ten-and-a-half. Maybe they'll take us!'"

Stan and his buddy Archie stayed as far as possible from the man to whom they had previously spoken at the previous week's registration and went to another table. 'We're here to sign up,' Stan's friend declared in the deepest voice a nine-year-old can muster. They were asked, 'How old are you boys?' 'We're ten-and-a-half,' they replied. The man at the registration desk said, 'You look kind of small for your age, fellows.' Stan smirks and recalls, "I got the hint and in whatever little English I knew, I said, 'My mother and father are very small.' The man at the registration desk signed both of us up. That's how I started my hockey career," laughs Stan.

Mikita embraced the game immediately and turned into a rinkrat, hanging around the arena in St. Catharines as much as possible. "I had never seen an NHL game. The Toronto Maple Leafs used to train in St. Catharines. The Leafs were the first team I saw. I had no idea what they were doing. They were sweating a lot and skating up and down and doing a lot of swearing. I wondered, 'Why are these guys training so much?' I was told they were in the National Hockey League.'"

Already excelling within his age group, Stan was just thirteen when he was informed that he was a member of the Chicago Blackhawks organization. "The St. Catharines TeePees were a junior team in the Ontario Hockey Association, and they drafted me out of bantam or midget. I didn't know until much later that that meant that if I played professional hockey, I could only play with the Chicago Blackhawks." The St. Catharines TeePees were a junior affiliate of the Blackhawks at that time.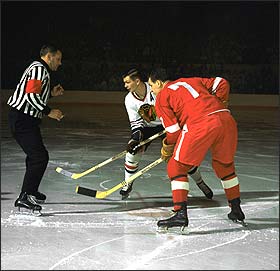 In 1961, the Chicago Blackhawks faced the Detroit Red Wings in the Stanley Cup final. Winning in six games, Chicago earned the franchise's first championship in twenty-three seasons.

Mikita played three seasons of junior, bettering himself exponentially with each season. As a rookie in 1956-57, Stan finished with 47 points. The next season, he finished fourth in the league, collecting 78 points. In his third and final junior season, Stan Mikita led the OHA in points with 97, also scoring 38 goals and a league-leading 59 assists. He also accumulated 197 minutes in penalties. That season, 1958-59, Mikita was named the most valuable player in the OHA.

Mikita's scoring prowess earned him a shot in the NHL at the age of eighteen. "Although I did go to a training camp with the Chicago Blackhawks one year, I didn't show much. But Tod Sloan got hurt and as luck would have it, the old Teepees coach and part-owner of the Teepees, Rudy Pilous, became coach of the Chicago Blackhawks." Pilous replaced Tommy Ivan behind the Chicago bench partway through the 1957-58 season. "He (Pilous) said to me a couple of years before, 'Stan, I know you're normally a rightwinger but if you're going to do anything in hockey, I'm going to switch you to centre ice.' He said, 'The Chicago Blackhawks need help at centre ice.' I just wanted to play, so I said, 'Fine!'" Hall of Famer Harry Watson was coaching the junior TeePees at the time and called the young Mikita into his office. "He said, 'Stan, I just talked with Rudy Pilous and he wants you to go to Welland to pick up a train so you can be in Chicago tomorrow morning. There's a hockey game there tomorrow night and he wants you to play.' I said, 'Quit the kidding and what do you want from me?' It took him about ten minutes to convince me that he wasn't kidding around. I had my little suitcase and I had no idea where I was going or what I was doing. I got on the train and said, 'I've got this ticket and I'm supposed to have a sleeper.' The man said, 'This ticket isn't for a sleeper. It's just for coach.' So I went into the coach and looked at the old wooden benches and said, 'Where do I sleep?' The guy said, 'This is it, pal.'"

What little sleep Mikita did get that night wasn't very comfortable. Between the clattering of the train, the numerous stops, the uncomfortable bench and Stan's anxiety, the rookie barely slept. "I got into Chicago about eight o'clock in the morning. Rudy Pilous met me and said, 'We're going to have a light work-out this morning and I want you to go with Bobby Hull for the rest of the day.' I knew Bobby because we played junior together. I got to the rink and they handed me a uniform that was three or four sizes too big."

After years of not being competitive — the Blackhawks only made the playoffs six times between 1942-43 (the beginning of the Original Six era) and the Stanley Cup championship 1960-61 season — the team was finally producing a team of fine young talent that on any given night could beat any team in the league. Goaltender Glenn Hall ad been obtained in a trade with Detroit. Ed Litzenberger arrived in Chicago from Montreal. The scouts had secured Bill Hay from Western Canada while the Ontario junior ranks had provided talent like Ken Wharram, Elmer Vasko, Mikita and Bobby Hull. "Bobby was the first guy to put his arm around my shoulder and say, 'Just give it your best shot and you'll do fine.'"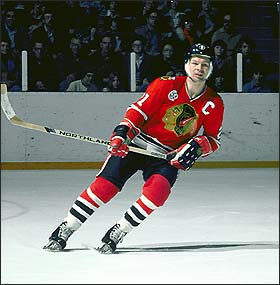 Stan Mikita was one of the premier players in
the NHL through the 1960's, winning the scoring championship four times the most valuable player designation twice and named an NHL All-Star
on eight occasions.

Although Stan played three games as an injury replacement during the 1958-59 season, he became an NHL regular in 1959-60. As a Blackhawk rookie, Mikita collected 26 points and a whopping 118 penalty minutes. "The reason I was a little rambunctious was because when I came into the league, I was eighteen years old, 5'8" and I weighed 152 pounds. My first left winger was Ted Lindsay — a tremendous hockey player. The one thing about Teddy is that he hates to lose. I looked at him one day and said, 'Teddy, you're thirty-five years old. You've been in this league for sixteen years and you're about the same size I am. I'm a young punk kid. I said, 'How the hell did you ever last that long?' He looked at me and said, 'Kid, hit 'em first.' I said, 'Whaddya mean, hit 'em first?' He said, 'Just don't let them run you out of the league.' That's what they wanted to do in those days. They wanted to see what you were made of. They kept coming at me and I kept fighting back. I didn't win too many fights but they knew they weren't going to scare me out of the league. I got my licks in there. I thought, 'This ice surface is as much mine as it is yours so try to take it away from me. If you can, God bless you. If you can't, get out of the way."

Stan Mikita scored nineteen goals and added thirty-four assists in 1960-61 on the way to Chicago's winning their first Stanley Cup in twenty-three years. It was heady times for Mikita and the Hawks. The next season, Chicago went to the final, only to lose to the Maple Leafs. They went to the final again in 1964-65, but were beaten by the Canadiens that time. In the process, several Black Hawks emerged as the elite of that era's NHL. In 1961-62, Bobby Hull led the league in scoring with 84 points with Mikita fourth, collecting 77 points. 1962-63 saw Stan finish third in scoring with 76 points. He led the NHL in scoring in 1963-64 with 89 points. Teammate Bobby Hull was second with 87. Stan was the NHL scoring leader again in 1964-65, tabulating 87 points. Hull led the league in 1965-66 with 97 points with Mikita second, collecting 78. In the final season of the Original Six (1966-67), Stan Mikita again won the Art Ross Trophy as the NHL's scoring leader with 97 points, seventeen more than runner-up Bobby Hull. Stan won his fourth scoring championship in 1967-68, collecting 87 points. Stan finished in the NHL's top ten again in 1968-69 (fourth) and 1969-70 (third). Through that decade, Stan Mikita was the NHL's First Team All-Star centre six times and a Second Team All-Star twice. Besides winning the Art Ross Trophy as scoring champion four times, Mikita also added the Hart Trophy as the NHL's most valuable player in 1967 and 1968. But there was a new wrinkle added to Mikita's game. Through the first six seasons of his Blackhawk career, Stan was an ornery, aggressive player, feared and loathed by many of his opponents. His penalty totals exceeded 100 minutes per season in four of those six seasons, with one at 97 penalty minutes. And then ... it all changed.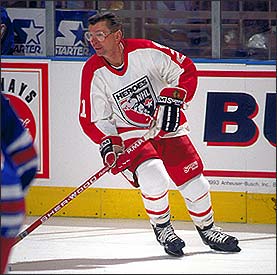 After retiring in 1979-80, Stan Mikita leads all Blackhawk alumni in games played, assists and points. His number 21 was retired by the Chicago organization to commemorate his remarkable career.

"Somebody once said, 'It takes an awfully long hockey stick to score from the penalty box,'" Stan recalls. "I never gave it much thought. I figured I was going to play tough because Ted Lindsay played that way and he stuck around a long time. I figured if I could be half the player that Ted Lindsay is and was, it would be a nice career to have. After awhile, the other players got tired of running after me and trying to kill me, so all of a sudden, I wasn't getting hit as much but I was still as rambunctious as ever. I was doing stupid things I shouldn't have been doing."

It took the advice of a four-year-old to make Stan Mikita see the light. "One day, we got home from a short road trip. We played the game the night before and it was on television back to Chicago. Our oldest daughter, Meg, was four years old at the time. She said, 'Daddy, Mommy let me stay up and watch the hockey game for the first period.' She said, 'You were sooo good out there. All those people were clapping for you!' I said, 'Honey, they weren't really clapping for Daddy, but it's nice of you to say that.' Then she said, 'I couldn't understand one little thing, Daddy. When that guy with the stripes on his shirt blew his whistle, Uncle Ab (McDonald) and Uncle Kenny (Wharram) and Uncle Bobby (Hull) went to their side of the ice and they sat together with all their friends. Then, you had to skate all the way over to the other side and sit by yourself. Why did you do that, Daddy? Didn't you like those players?' I had to tell her, 'Well honey, that meant Daddy did something bad and he had to go sit out for two minutes.' It got to me — a four year old child who doesn't know hockey but wonders what's going on."

Stan consciously examined how he could eliminate a large percentage of penalty minutes. "I looked at my statistics and I jotted down the two-minute penalties and what they were for," Mikita explains. "The majority were what I call lazy penalties — hooking, holding, tripping. With an extra stride or two, I could have caught the guy and done it cleanly. Then I looked at the misconducts. One year, I must have had five or more. That's fifty minutes right there! So, I said, 'Keep your mouth shut. Don't change your style of play but don't take those lazy penalties and let's see what happens.' The next season, in the first twenty games, I only had one penalty. It was unbelievable!"

It was unbelievable! Mikita went from 154 penalty minutes in 1964-65 to 58 the next season. Then, astonishingly, Stan collected only 12 penalty minutes in 1966-67. That season, once known as one of the bad boys in the NHL, Mikita was rewarded with the Lady Byng Trophy for gentlemanly play. That major award gave Stan the hat trick — the Art Ross as scoring champion, the Hart as MVP and the Lady Byng as well as selection to the First All-Star Team. It was the first time any NHL player had won three major trophies in one season. But Stan duplicated the accomplishment in 1967-68! He again won the Art Ross, Hart and Byng, and was again picked to the First All-Star Team.

Stan retired in 1979-80 after playing twenty-one exceptional seasons, all with Chicago's Blackhawks. The Hawks retired the number 21 he made so memorable. "It came too easy at certain points," admits Stan. "I thought it would go on forever." Although the career did not, the legacy certainly has. In 1983, Stan Mikita earned entrance to the Hockey Hall of Fame. That fall, Mikita joined Harry Sinden, Ken Dryden and longtime friend and teammate Bobby Hull as Honoured Members in hockey's most elite company. "I got a phone call at home. Tommy Ivan called me and said, 'Stanley, you've been selected to the Hockey Hall of Fame.' I said, 'Okay, thank you very much. Why the joke?' He said, 'No, no, no. This is very serious.' He said, 'If you don't believe me, it'll be in the newspapers tomorrow.' I'll be damned if I didn't see it in the paper the next day. Then I believed it."

Stan Mikita, the little boy from Slovakia who had not grown up with hockey coursing through his veins, embraced the game that adopted him and thrust him into the spotlight as one of the superstars in the storied history of the National Hockey League.

Kevin Shea is the Manager of Editorial Services and Publishing at the Hockey Hall of Fame.